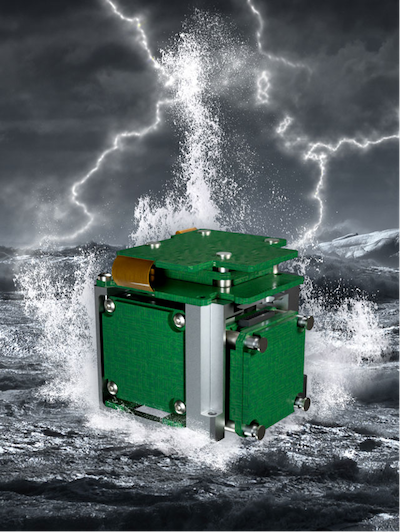 Silicon Sensing has introduced a new ultra-precise, 9 degrees-of-freedom inertial measurement unit (IMU), the DMU41, delivering the performance of its predecessor the DMU30 in a much smaller form factor.
With volume, weight and power consumption reduced by more than 40%, the silicon micro-electromechanical systems (MEMS) DMU41 was designed through a customer-led process for the high-requirements applications of small satellite stabilization and control, autonomous air, ground and marine vehicles, machine control and motion measurements, airborne, railway and hydrographic mapping and more.
At 50x50x50mm, weighing 200g, the DMU41 represents a 54% reduction in volume and a 42% reduction in weight over the DMU30.  It has a typical power consumption of less than 1.5w, which is 50% lower than DMU30's typical usage.
"The 50-mm cube form factor was set quite early on," recalls Jeff Ince, Silicon Sensing sales and marketing executive, "based on customer feedback.  The greatest challenge our engineers had to meet was that aside from 3 gyros and 3 accelerometers, there was only one other component shared with the DMU30, so this was designed from ground up. Three magnetometers were added, the analog-digital converter and the processor are new. They all needed evaluating, and they needed to work with and fit into this small form factor."

The DMU41 brings ultra-precise motion sensing to far smaller and more restricted platforms and applications whilst delivering performance that competes directly with heavier, larger fiber optic gyro-based units.
The best argument over FOGs is the cost, weight, size and power (C-SWAP), says Ince. "But aside from that, the point that customers have touched on is reliability and robustness for MEMS over FOG. Fundamentally, they're much simpler in the basis that they are various layers, no dither motors or anything like that. There's a lot less complexity and extra components.
"It's the simplicity and elegance of etching your design on a silicon substrate."
The DMU41 combines excellent angle random walk and bias stability (angular – 0.1°/hr, 0.02°/√hr; linear – 15μg, 0.05m/s/√hr) with exceptional low noise characteristics (rms to 100Hz: 0.90mg).
All sensor data is blended to give optimal motion sensing information, with DMU41 providing data at variable output rates up to 2kHz. Outputs can combine angular rate, acceleration, delta angle and delta velocity, temperature and built-in test results.  Every DMU41 is calibrated over the full operational temperature range to guarantee sustained, reliable performance.
To guarantee product reliability, adds Darioosh Naderi, business development manager, "We have industry standards that define the environmental conditions, DO160 being one of those.  On top of that we've got our own inhouse test regime, based on 30 years' experience. We have an advanced calibration regime through the full temperature range that every unit goes through.
"DMU30 has been tested numerous times and we've been consistently told it's the highest performing silicon MEMS IMU that's available.
"With DMU 30 our aim was very honestly to put the best sensors into a box and calibrate it.  We didn't think of all the different ways that customers want to use it.
"We've learned that some customers want different output rates, some customers want different data streams, some customers have different power requirements.
Thus, the DMU41's configurable message rate and content and user-programmable bias trim offset. The variable output rates up to 2kHz can include a combination of angular rate, acceleration, delta angle and delta velocity, temperature and built-in test results.
"We've taken the last 4-5 years to deliver the capabilities that the customers in the markets have been asking for," resumes Naderi.  "We don't just satisfy the autonomous vehicles market, or the small satellites, or the sub-sea vehicles. We've got surveying and mapping, rail track surveying, etc. Launch vehicle applications we've been on."
"We developed DMU41 in close consultation with customers across many sectors, many of whom have expressed a need for a highly compact, tactical-grade IMU that is not International Traffic in Arms Regulations (ITAR) controlled," explains general manager Steve Capers.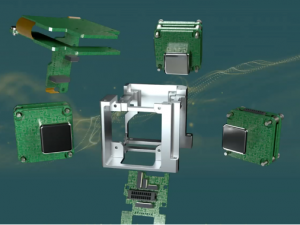 "This being a customer-led project, we'll be sending an evaluation kit out to existing as well as potential new customers and asking for feedback on it. That will be another list of considerations for new variants to come forth."
Silicon Sensing Systems Ltd is jointly owned by Collins Aerospace and Sumitomo Precision Products. Although the company was formed in 1999, it draws on more than 100 years of heritage in inertial sensing. It has supplied nearly 40 million MEMS gyroscopes and accelerometers to thousands of customers worldwide.
"We've gotten a lot of customer feedback to try and incorporate," concludes Ince. "We'll never cater to all of them, but the team has done a fantastic job to improve on what we've got while shrinking it down.  It's a good sign for the future."