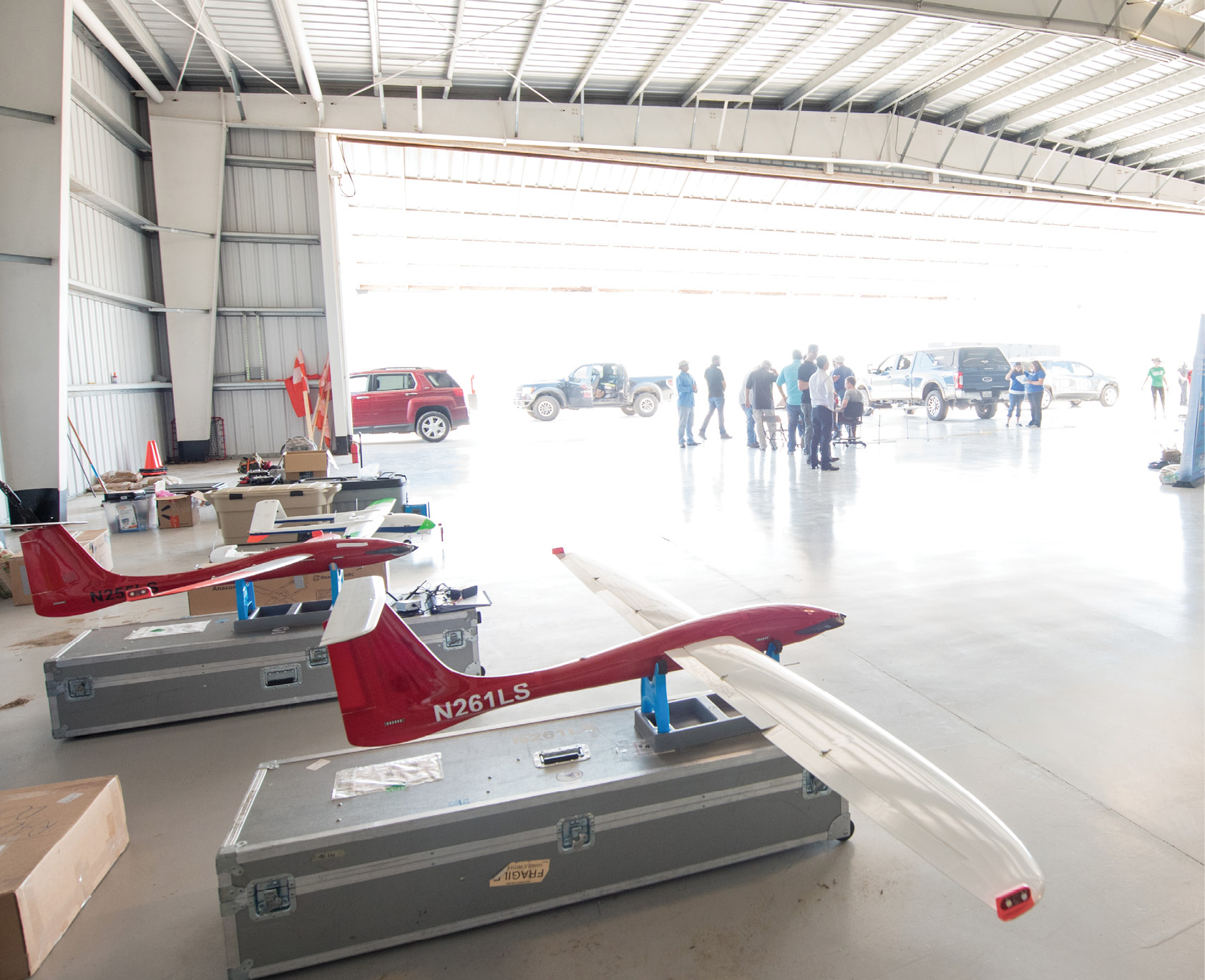 For unmanned aircraft systems (UAS) to realize their full potential commercially, they must be able to undertake missions beyond the visual line of sight (BVLOS) of their operators. This capability will open up a whole new world of opportunities for unmanned aircraft firms, particularly in industries like oil and gas, utilities and emergency response.
There is, however, a lot of work to be done before BVLOS flights can become routine. Drones, whether they're flying within the operator's line of sight or beyond it, must be safely integrated into the national airspace system (NAS) so they can operate without creating greater risks for manned aircraft—and that's where unmanned traffic management (UTM) technology comes in.
NASA, drone manufacturers and the test sites designated by the Federal Aviation Administration (FAA) are focusing on developing UTM technology to enable safe integration of low-altitude UAS operations. The envisioned system helps with mission planning and flight de-confliction up front, and sends notifications to alert pilots to any problems, such as intruders or their system going out of the designated area, while they're in flight.
Inside Unmanned Systems recently spoke with officials from the Northeast UAS Airspace Integration Research (NUAIR) Alliance, The Northern Plains Unmanned Aircraft Systems Test Site and the Lone Star UAS Center of Excellence and Innovation at Texas A&M University-Corpus Christi (LSUASC) to learn about the role they're playing in moving this technology and the commercial UAS industry forward. For all those involved, it's about mitigating risk and working toward one common goal: safely integrating UAS into the National Airspace, which includes BVLOS flights.
New York's UTM Corridor
In September, the NUAIR Alliance launched Phase 1 of its 50-mile UTM corridor that connects two New York state airports between Rome and Syracuse. The corridor will provide a space where drone developers and manufacturers can safely test BVLOS operations using ground-based radar, NUAIR Executive Director Larry Brinker said. The effort is the result of a partnership between NUAIR and NASA and marks the creation of the NUSTAR UAS test facility at Griffiss International Airport.
The first five miles of the corridor are already operational, with construction on the full network of sensors expected to begin in 2018. Completion of the next phase is expected by the end of 2018. The state contributed $30 million to support the expansion and program managers are in the process of selecting partners to help build out the corridor.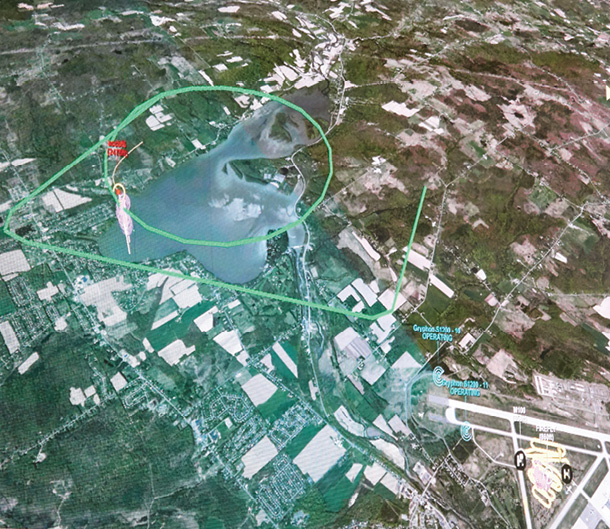 During a demonstration to officially activate the corridor, which for now is a loop around the Griffiss International Airport, ground-based sensors and radars from Gryphon Sensors were used to detect and track two aircraft—one manned and one not. Air traffic managers were able to keep the systems a safe distance from each other, demonstrating what the technology can do and how different sensors and systems can be tested.
"The essence of all testing is provability for the public," Brinker said. "Until the public accepts the fact that UAS can be operated safely and efficiently, Dominos will never be able to deliver a pizza with a UAS, and Amazon will never be able to deliver a package. We have test sites to prove the technology to be safe, and that advances the ball down the field when it comes to the commercialization of UAS."
The corridor is in a relatively rural area, making testing safer and easier to complete, said Marke (Hoot) Gibson, the new NUAIR CEO. It opens up more opportunities to fly, and the more flights they can get in, the more they can learn. Through the corridor, he expects to not only test radar, but also remote identification systems, such as transponders like ADS-B, and blended detect-and-avoid technologies that include ground-based and on-board systems.
"The corridor is that fundamental first step," Gibson said. "You can isolate from manned aircraft and have minimal impact on the community below you to develop reliable data and learn how we can integrate ground-based sense and avoid and all the pieces in the solution set. Ultimately, we want to fully integrate with manned aircraft and meet the airspace requirements of traditional aviation so there's never any conflict. The long term goal is for us not to talk about this a decade from now like we do today because it's more accepted and more prevalent in our everyday lives."
The push to further UAS technology and its operating parameters always has been about the economic potential of these systems, Brinker said, and the ability to fly BVLOS is a big factor in realizing that potential.
Advancing UTM technology is critical to safely achieving BVLOS operations, Gibson said, and getting there will take collaboration between folks with backgrounds in traditional aviation who know the safety requirements and who tend to be risk averse, and the engineers who are developing the various software and technologies.
"It's not really a light switch that you'll hit one day and BVLOS will be available," Gibson said, noting there are companies, such as BNSF Railway, already flying BVLOS missions. "The routine BVLOS flights will probably start with utilities and then the public arena, meaning governmental entities, within five years—and it will continue to increase over time."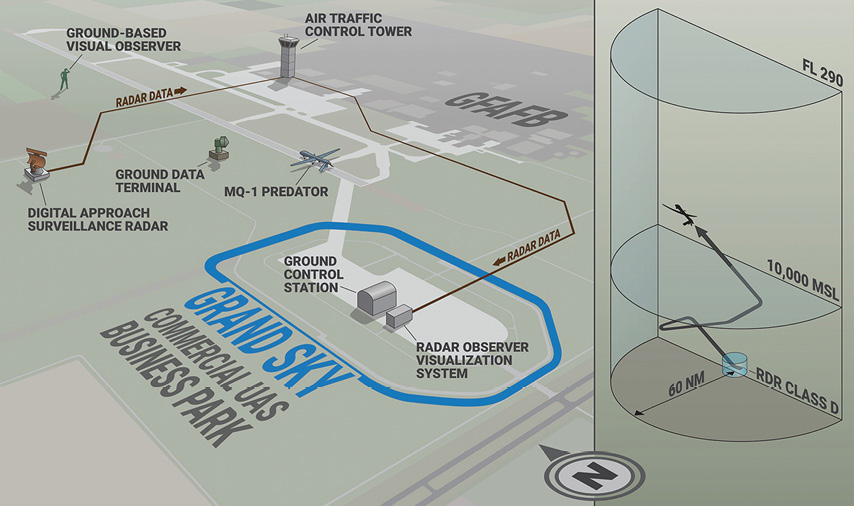 Testing in North Dakota
Initially, BVLOS testing at the Northern Plains Unmanned Aircraft Systems Test Site began because of a customer need, Executive Director Nick Flom said. General Atomics was looking for airspace to train pilots to fly its Predator drone, and the Grand Sky UAS Business Park, which was made possible through an Enhanced-Use Lease agreement with the Grand Forks Air Force base, seemed like the perfect fit. The only challenge was they didn't have the approval to fly BVLOS.
Flom began the process to get that approval from the FAA about two years ago, he said. It's been slow going, partly because the FAA didn't yet have a repeatable process in place to review and grant the request. They do now, which should make the process smoother moving forward.
"Every step of the way is groundbreaking," Flom said. "The ability to see other air traffic is one of the limiting factors and why we're not flying BVLOS today."
For the BVLOS flights, the site has a radar feed that Flom said is similar to what's used for air traffic control. There's an observer behind the radar display screen, and instead of having control of all the planes in the airspace, he or she stays focused on the UAS and making sure it's properly separated from other aircraft. The observer communicates with the pilot to ensure the UAS avoids other aircraft in the area, including those without transponders and who didn't plan their flight in the UTM system.
Researchers at the site have access to a DOD radar feed, DASR-11, which was made possible through the Enhanced-Use Lease agreement. The FAA approved flights last December, but they then had to wait to secure the radar feed to begin testing, which just happened a few months ago.
During the first phase of the testing, the team is tasked with analyzing the airspace as the UAS flies, Flom said. They want to know if the manned chase airplane, which they're required to fly for now, is seeing anything the radar isn't (which Flom noted hasn't been the case). They're also flying the drone at the same time as manned aircraft, adding a conflict in the airspace that the UAS has to avoid.
In the next phase, the drone will fly without a chase airplane, Flom said. He hopes to move onto that phase by the end of the year.
"When we put this together, I wasn't only thinking about General Atomics and the Predator aircraft," he said. "I'm a test site, and am trying to enable the industry to come to us. We have a concept of operations that are not aircraft specific. It's actually fairly aircraft agnostic. There are some performance requirements the aircraft needs to meet, but if another company wanted to do flights at our site we could use the same concept of operations and work with the FAA to add them into the mix."
This might include testing airborne equipment that's designed to meet the FAA's radar requirements for sense and avoid. They could run their ground-based-only solution as a primary means for separating the aircraft as the non-certified airborne solution is tested.
Flom has also read about Facebook's plans to use drones for Internet connectivity, which would mean putting long endurance UAS up in the air for six months at a time. A ground-based radar solution would be perfect for this, he said, eliminating the need for the aircraft to carry on-board radar that it will only use during take-off and landing.
None of this has ever been done before, making it an exciting and challenging time to be part of the industry. But there's still a lot to learn and a lot of work to be done.
"I don't think there's one solution that's going to fully enable BVLOS," Flom said. "A ground-based solution might work well for certain areas across the country where there's already an existing infrastructure like the type of radar we're using. But it only has a 60 nautical mile service volume, so there's a limited area where you can use this ground-based radar. If you want to fly further than that, you can use ground-based initially and then an airborne solution to fill in the gaps."
The North Dakota site has also worked with NASA as it develops the UTM technology, and was part of national testing that took place over the summer. The testing looked at the functioning of mapping, sensing and radar technology while drones flew different types of missions.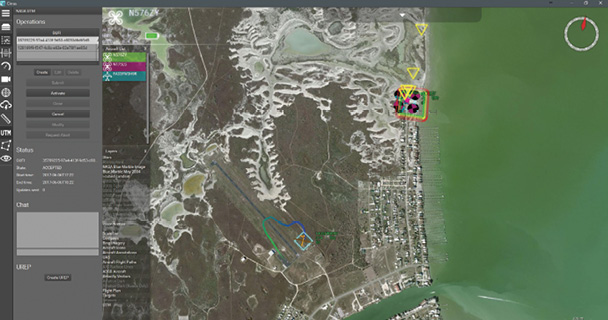 Texas Testing
The Texas site has collaborated with NASA to test UTM technology since 2015, said Jerry Hendrix, LSUASC executive director, beginning with simulations and then moving on to actual flights. Early tests focused on making sure the system sent out proper notifications to pilots about the airspace, such as alerting them when they flew outside their authorized area. They then moved on to more complex tests, including the just-mentioned multi-state tests that involved five other tests sites including North Dakota.
Development of NASA's UTM will be completed in four phases, with each Technology Capability Level (TCL) adding more complexity. The tests completed over the summer were part of TCL2.
The three-week campaign in June focused on flying small drones BVLOS over sparsely populated areas. LSUASC completed several successful flights, one of which involved three UAS flying together over a simulated capsized boat in the Laguna Madre. The AirRobot AR 180 flew the MESA-DAA airborne sense-and-avoid radar from Echodyne. This radar is designed to enable BVLOS flights.
"A notice goes out through UTM that there's a distressed ship in the area," Hendrix said, describing the test. "The aircraft reroute together and work collectively under the UTM structure to help find the distressed vessel. The other scenario was a missing child. We had someone role play and instructed them to keep moving. The aircraft was successful in locating the "child" four out of five times."
All the test sites operated their missions then reported back to NASA's central repository. Instead of pilots being sent notifications from their ground control station, the site handled that with a central location at the test range. This puts a layer of control between the operators and the UTM, so that they only receive notifications they need to act on.
In another test, the UAS had to react to intruder aircraft, with communications coming from ground control saying they had to adjust their flight plan. They also simulated a disaster survey mission. The aircraft received notifications to inspect damage in a certain area—which is exactly what the team did during later recovery efforts after Hurricane Harvey.
The next mission, TCL3, will be even more complex and will introduce active sensors, Hendrix said. Researchers did put an active radar on one of the aircraft during the last test, which allowed the drone to accurately survey the area and was one of the ways it identified an intruder, but the next set of tests will be much more detailed. He said they'll complete flights with the on-board radar fully integrated with the terrestrial command and control structure in about 15 different scenarios. Hendrix recently completed the first draft of the first test plan, and expects flights to get underway in 2018.
The site is also working with NASA to flesh out the requirements for a UTM Service Supplier, or USS. This approach gives operators the ability to interface with a system that's specific to their use case, such as delivery and disaster response. This model will plug into the NASA UTM system.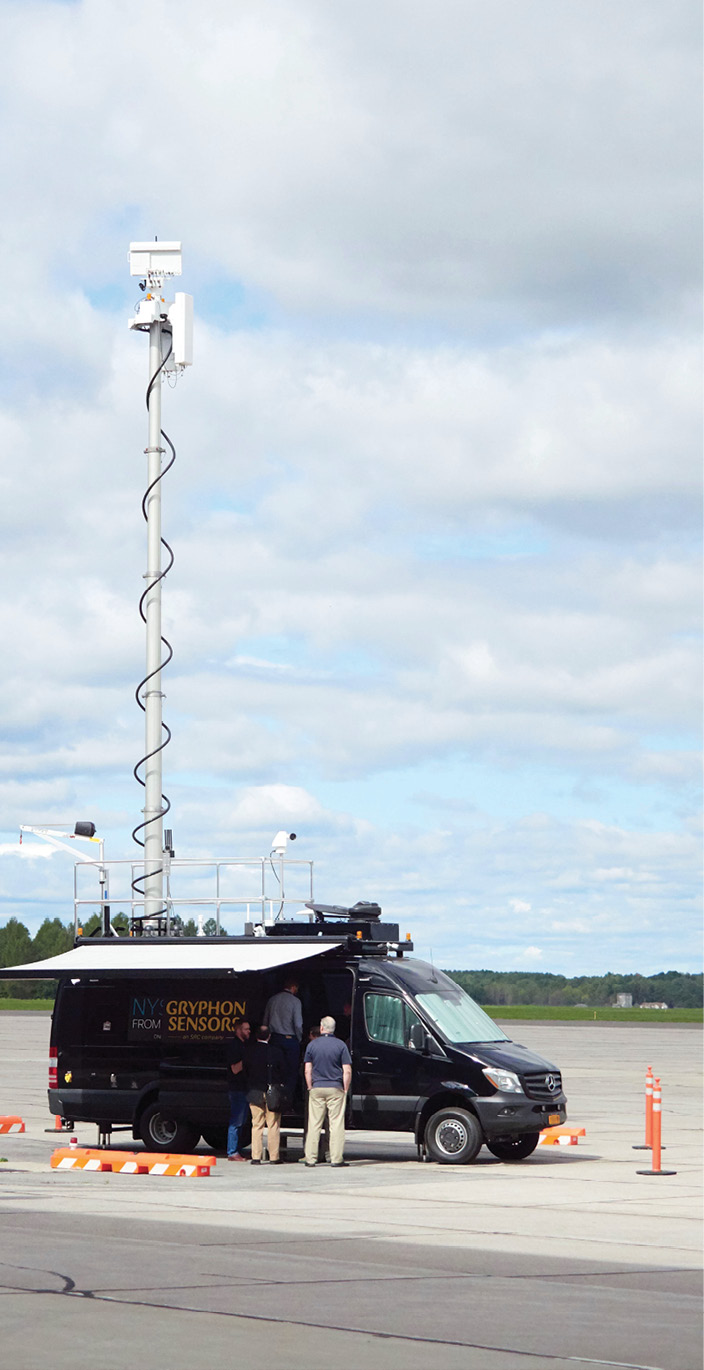 There are a variety of risks involved in BVLOS operations and colliding with other aircraft is one of them. The UTM system is designed to avoid such accidents and will help make it safer for operators to perform BVLOS missions—a vital capability no matter where or how far the aircraft is flying.
"So what do you do to allow permission to operate BVLOS? It gets down to what would mitigate risk so you can have safe operations," Hendrix said. "And safe operations have to be equivalent to (the current safety levels of) manned flight."
Getting to BVLOS
It could be several years before BVLOS drone flights become routine, but the test sites are doing their part to help move that along.
NASA's UTM technology must complete all four phases of development before BVLOS can be fully enabled. Beyond that, the detect and avoid requirement won't be put into place until 2020, Flom said, and that standard is necessary for manufacturers to build their equipment.
"It's a catch 22," Flom said. "We don't necessarily have the technology all the way there and we don't have the standards fully developed yet for companies to be able to develop their own technology."
The test sites will continue to work with the FAA and other partners to advance the necessary technology, which will one day lead to a world where flying drones BVLOS for pipeline inspections, surveying of railroads and even delivery are the norm.