Unmanned surface vessels are becoming the tool of choice for mapping seafloors before new maritime infrastructure is put in place.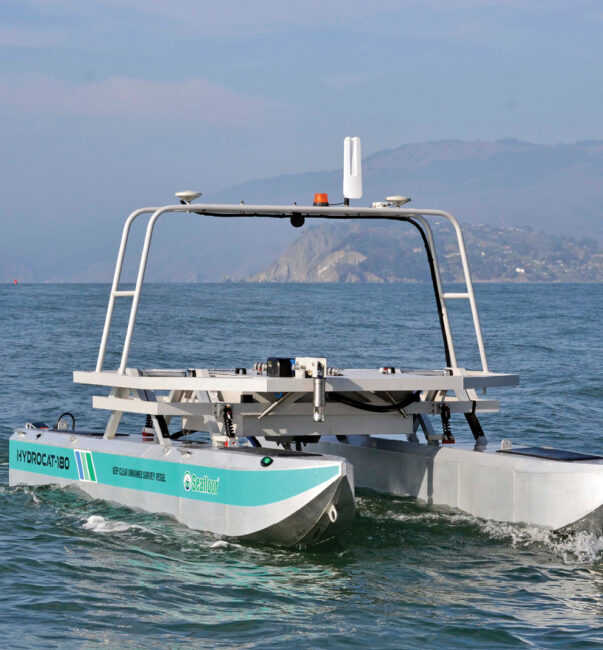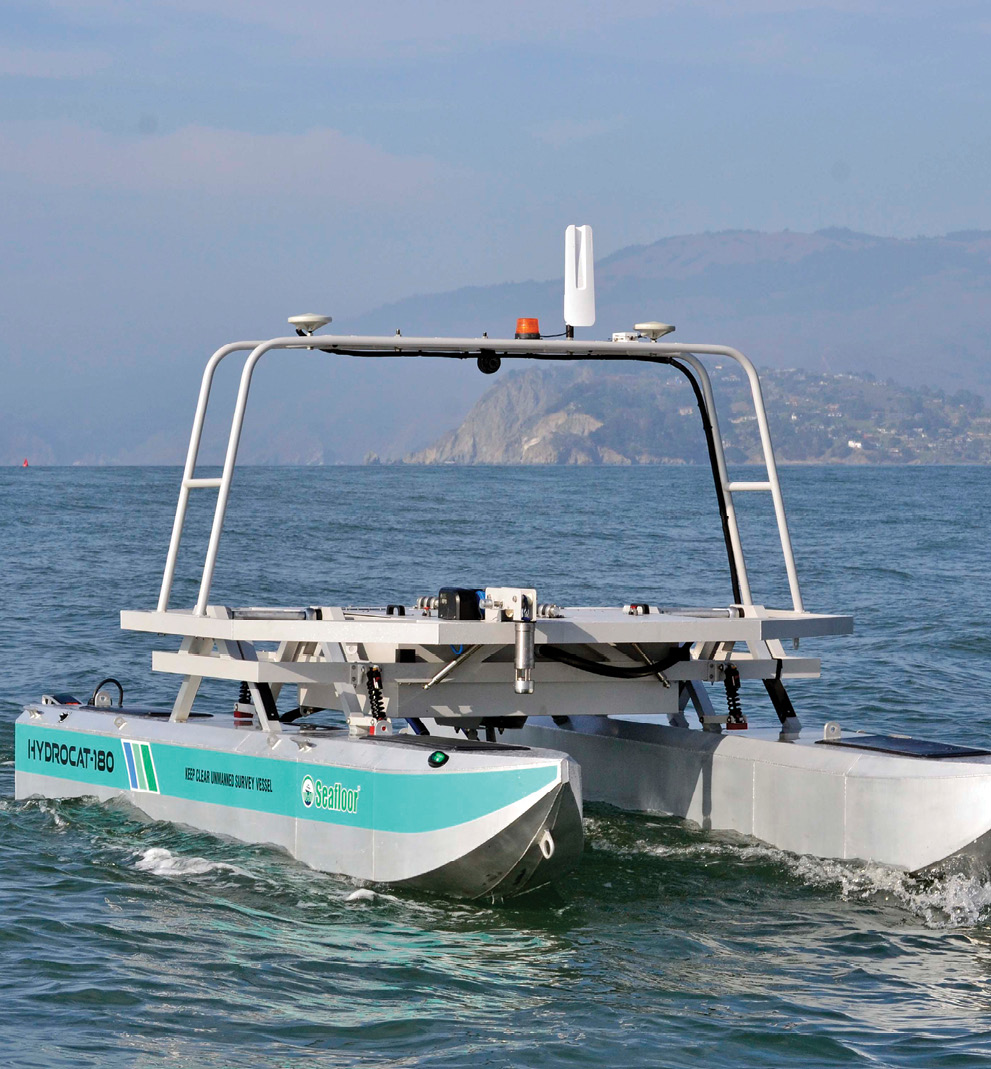 Off the coast of northern Europe, more than 120 wind farms have sprung up in the North Sea and Atlantic Ocean, either mounted on the seafloor or floating in deep water. But before these massive wind turbines are installed, a critical step must take place—surveying the ocean bed.
That is the task Unmanned Survey Solutions, based in Cornwall, England, sets out to accomplish in an area up to 15 nautical miles offshore with its Accession unmanned surface vessel (USV), which measures the water's depth and identifies any obstructive objects embedded on the seafloor.
Energy companies and hydrographic surveyors are increasingly turning to USVs to map the seafloor before offshore wind farms are built because of several advantages they offer. "They are less risky because there's nobody on board so you don't risk putting a person at sea," said James Williams, CEO of Unmanned Survey Solutions. "They are cheaper to operate primarily because they burn less fuel, and also they save huge amounts of carbon emissions."
Over the past five years, government agencies and private companies around the world have been deploying USVs in place of crewed boats to map and survey oceans, rivers and ports before critical infrastructure—from wind turbines to tunnels—are constructed. In response to this demand, USVs are evolving so that they can operate at sea for longer periods of time and can conduct more accurate measurements with advanced sensor technology.
"Uncrewed surface vessels are becoming much more popular because a lot of the sensors from a size, cost and weight perspective have really gotten smaller so that they can all be incorporated on these USVs," said Vitad Pradith, technical director of construction technologies for Teledyne Marine, a manufacturer of USVs based in Thousand Oaks, Calif. "That's where this coalescing of all these technologies and uncrewed boats and sensors are all aligning to really solve a problem. And the problem here is just trying to collect data in typically inhospitable environments."
MAPPING LAKE ERIE
Last September, the Thomas Jefferson, a ship operated by the National Oceanic and Atmospheric Administration (NOAA), arrived in the port in Cleveland to begin mapping Lake Erie for the first time in 35 years. NOAA conducts the hydrographic survey of major U.S. waterways to determine the water's depth and to identify obstructions and potential hazards to navigation.
Working alongside the ship was the DriX, a USV created by the French technology company iXblue that was also surveying the seabed. In a partnership with the University of New Hampshire, NOAA's Office of Coast Survey had conducted extensive testing of the DriX in 2019 and was taking the USV out on its first mission.
"The ultimate goal is to increase the efficiency of our manned, our crewed survey ships," said Rob Downs, chief of NOAA's Hydrographics and Systems Branch. The Thomas Jefferson, he said, can survey for up to 24 hours at a time, while two smaller boats used in the process can map for up to 10 hours a day.
The DriX, which cost about $2 million, can operate 24 hours a day for five days at a time. Its speed, which can reach 10 nautical knots, and endurance allows NOAA to map about 40% more of the area during the survey.
"Rather than having a crew out on a small boat that has to be brought back to sleep and be fed and have change watches, we can have one or two people monitoring the USV from the ship and the USV can be operating 24 hours at a time," Downs said. "So, we can make more efficient use of our ship and the personnel aboard our ships by using uncrewed systems."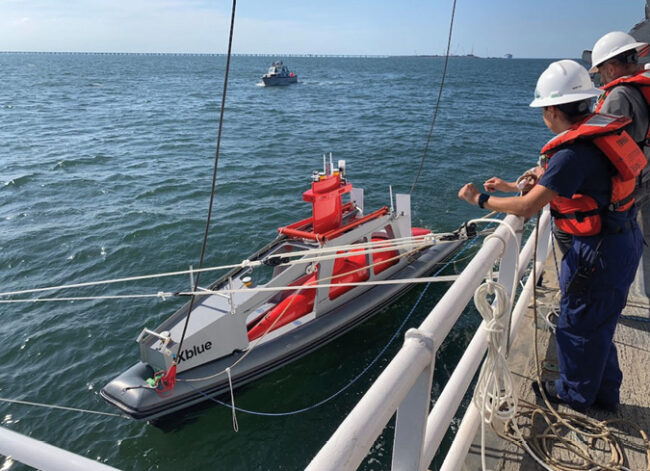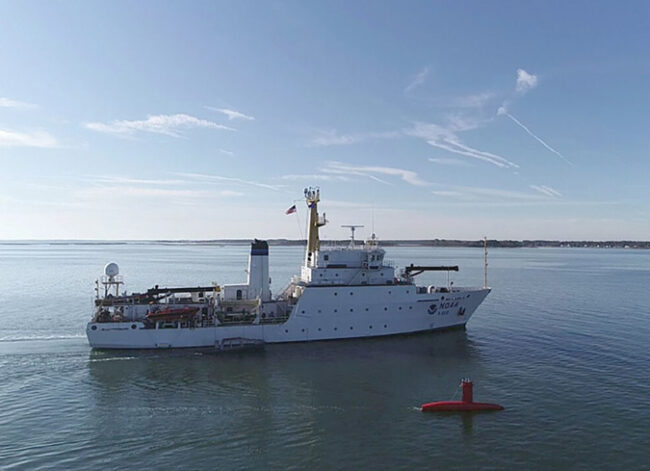 Creating maps for the nation's nautical charts is not the only way that NOAA will use the DriX. This July, the USV will be headed to Alaska to conduct a fisheries survey, which will help NOAA use sonars to count the fish. The results are used to determine the regulations that set the catch limits for commercial fishing boats.
"If we have a ship plus a USV team, and both of them have the sonars to count the fish, we can just really improve the productivity of that exercise," said Capt. William Mowitt, director of NOAA's UXS Operations Center. "For substantially the same inputs, we can count the fish more efficiently—we can count them faster."
The increased efficiency of the surveys is critical to NOAA because of the impact climate change is having on the fish population, Mowitt said. Because of global warming, fish are moving and changing their ranges, which means NOAA needs to expand many of its surveys.
"We don't have more sea days so if we can create these ship-plus USV teams, we really increase the productivity of our fisheries survey mission," Mowitt said.
NOAA is also using USVs to monitor ocean conditions and provide data to help forecasters better understand hurricanes. Last year, NOAA launched seven surface drones created by Saildrone Inc. to track hurricanes in the Gulf of Mexico, the Atlantic Ocean and the Caribbean Sea.
In September, one of the Saildrones was operating inside Hurricane Fiona, a Category 4 storm that killed 31 people in the Caribbean and Canada. One of the goals of the operation was to gather data that could help predict the rapid intensification of hurricanes, which would improve storm forecasting and better prepare communities in the path of a hurricane.
After nearly a decade of evaluating USVs, NOAA hopes it will integrate unmanned vessels throughout its operations. "We're getting to the part where we're putting these into routine operations to support NOAA missions," Mowitt said. "We're not evaluating, we're not testing—we're doing. It's exciting to see that transition from promise to evaluation to routine operations."
AIDING WATERFRONT CONSTRUCTION
In any construction project near the water's edge, USVs are becoming an indispensable tool in mapping the seafloor to eliminate potential hazards for new infrastructure.
In Virginia, the largest construction project in state history is relying on USVs to survey the seafloor in a harbor connecting Norfolk and Hampton, where a bridge will be moved, two new tunnels built, and a highway widened.
During the construction of the $3.8 billion project, two HydroCat-180 USVs made by Seafloor Systems Inc., based in Shingle Springs, California, were deployed to determine if there had been any changes in the seafloor as the new tunnel was constructed.
"They want to makes sure that bottom isn't changing at all as they're building this new structure and driving the piles," said Cody Carlson, business development manager for machine control at Seafloor. "They're ensuring that all of this construction material is going in the right place and in the right quantities."
The USVs produced by Seafloor all use a single beam or multi-beam sonar system that time stamps an acoustic ping and measures the time and angle of its return. The USVs can also create 3D terrain models of the seafloor.
Using uncrewed surface vessels equipped with sonars has replaced the time-honored method of measuring depth—having someone on a barge drop a rod or a line with a weight into the water. "The uncrewed surface vessel is a platform that carries sensors and technologies which allow end-users to gather information," Pradith said. "They do it in a way that is usually more efficient and safer than the way it used to be done."
In Europe, a rapidly growing industry—offshore wind farms—has started to leverage USVs to survey the seafloor before new wind turbines are built at sea.
Before a wind farm is constructed, governments offer energy companies an area of the seabed that is available for the project. USVs are then used to survey the area and determine whether the depth is correct and whether there is any unexploded ordnance from World War II, a common problem in the North Sea, said Williams, the founder of Unmanned Survey Solutions.
The preconstruction mapping conducted by the USVs must also include a cable route survey to determine where the cables can be placed to connect the wind turbines and to carry the electricity back to land, he said.
The increase in offshore wind farms is being driven by the opposition of residents to the large turbines being located in their backyards and by the push to transition to clean energy. The European Union and the United Kingdom plan to become carbon neutral by 2050.
USVs are not only helping to expand alternate energy sources with their work on offshore wind farms, but they are also a more environmentally friendly tool than the traditional crewed boats. The USVs manufactured at Unmanned Survey Solutions use a small amount of diesel fuel for long-range missions but they have also reduced carbon emissions by 95% compared to crewed boats, Williams said. "That's one of the other reasons why these vehicles are good at what they do," he said. "They lower the risk, they are cheaper to operate and they reduce carbon emissions."
Rather than having a crew out on a small boat that has to be brought back to sleep and be fed and have change watches, we can have one or two people monitoring the USV from the ship and the USV can be operating 24 hours at a time."

Rob Downs, chief, NOAA Hydrographics and Systems Branch
THE NEXT STAGE
As automobiles and other vehicles adopt to a cleaner energy design, the USV industry is also expected to transition away from using diesel fuel. Williams said he expects the industry to shift to hydrogen energy, which in its carbon-neutral form is produced by electrolysis powered by renewable energy.
"By 2025 or 2030 at the very latest, a lot more vehicles offshore will be using hydrogen or something similar," Williams said. "Everybody's deadline is different, but the way the industry is going, the way it's changing, is that there will be hydrogen-based within the next seven years."
Another change in the design of USVs is their integration of AI that enables more advanced data analysis. The USVs produced by Unmanned Survey Solutions, for example, uses an AI system that provides situational awareness by taking the video feed from five onboard cameras and then, through an algorithm, detecting whether there any floating objects or boats around it and then notifying the operator what it finds.
USVs are also now being used as force multipliers that work in tandem with manned ships to boost productivity in mapping or surveying a patch of seafloor. This strategy reduces the need for human resources because one person from central command can control numerous vessels.
NOAA, for example, used a USV as a force multiplier when it deployed its DriX with the Thomas Jefferson to map the port of Cleveland. Combining the USV along with a ship and two small boats increased NOAA's efficiency in conducting hydrographic mapping.
Using USVs in swarms is another new direction the technology is moving, and the strategy has already been tested by the defense industry. The U.S. Navy, for example, incorporated USVs as part of a swarm of drones in a coordinated attack that destroyed a target in an operation off the coast of California in 2021.
"The defense space is a probably a good indicator of where the current technology is in terms of how ready we are," said Pradith, who works on commercial applications of USVs for Teledyne. "The hope is that a lot of the technologies in that space filter down to other applications, certainly on the commercial side. It's the same technology—it's just doing a different version of the work."
USVs will transform into more truly autonomous vehicles that can operate on missions without human operators. A USV that is completely autonomous, for example, could go on a search and rescue mission to find a plane crash without an operator directing the vessel and then independently report back what it has found, Pradith said.
"For us the Holy Grail is you have minimum interaction with this unmanned platform," he said. "We're making very small incremental strides toward this goal but really for these things to really mature and have value, that's where they have to go."