For unmanned aerial vehicles, precise positioning, navigation and timing systems are widely seen as absolutely requisite, and their resilience needs to be assured. As weaknesses in GNSS technologies are recognized, Europe is eyeing alternatives, often as they appear in military applications.
Most unmanned vehicles depend on global navigation satellite systems (GNSS)— including GPS, Europe's Galileo and other similar systems—for crucial positioning, navigation and timing (PNT) services. Autonomous mining, farming and construction equipment, self-driving cars, drones and autonomous marine vessels, and indeed many manned systems across all modes of transport all depend, to a greater or lesser extent, on GNSS.
Then again, GNSS is a vulnerable technology, employing weak signals that are subject to interference, both intentional and unintentional. GNSS satellites are also vulnerable to direct physical attack from the ground, a fact demonstrated quite brutally last year, when Russia destroyed an orbiting derelict satellite with a ground-to-space missile.
This susceptibility is troubling in contexts where human safety is in play, in the case of autonomous road traffic, for instance. It is even more troubling in the context of deliberate military action, where humans and property are targeted and defended and where the systems in operation are deadly.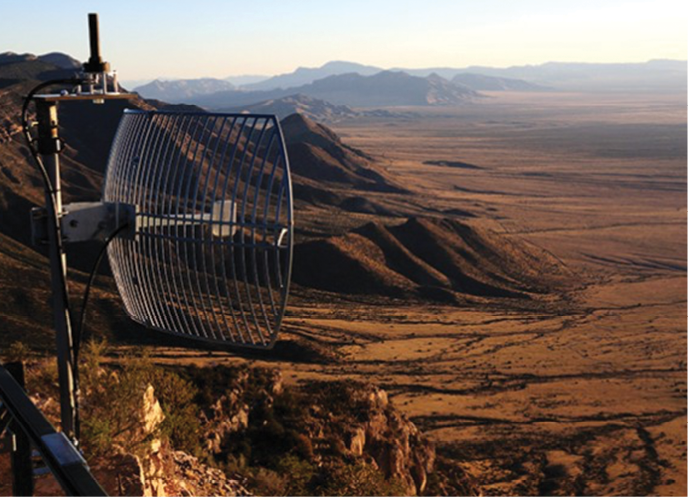 EUROPEAN MATTERS
Military conflicts around the world create the severest of environments for testing the capacities and failures of unmanned vehicles, including drones, and their PNT systems. The EU Aviation Safety Agency (EASA), in a bulletin released last March, said both GPS and Galileo signals were being impinged upon in areas surrounding Russia. "Someone is interfering with these systems, either by jamming or spoofing [feeding misleading data]," according to the notice. "Jamming and spoofing activities have intensified especially in eastern Finland, over the Black Sea, along the eastern Mediterranean and in the Baltic Sea, off the coast of the Russian province of Kaliningrad."
This comes as no surprise. The tactical importance of GNSS, combined with the glaring weakness of its signals, means that, with a minimum of technical effort, it is almost always jammed forthwith in war zones, by one side or the other, or both. Consequently, modern military systems almost always have to employ, for starters, some form of fortified GNSS system, like GPS Precise Positioning Service (PPS), as opposed to the readily accessible, open GNSS signals available to the public. Back-up and alternative, non-GNSS-based PNT systems are also widely employed in such settings. Now, with a shooting war raging on its eastern border, the question of alternative means to GNSS for obtaining PNT is now of increasing pertinence to the European Union (EU).
The EU has long held to its tenet of civilian ownership and control of Union-supported technology assets. More recently, however, EU voices have begun to acknowledge the strategic nature and dual-use potential of such assets.
At this year's EU Space Conference in Brussels, Antoine Noguier, executive vice president, strategy, Airbus Defense and Space, talked about what was needed to bolster European security and defense. "We are entering into a dependence on space," he said, "and that dependence creates vulnerability. The threat element is increasing, with the chief threat coming from the Earth."
After noting Russia's downing of the orbiting satellite, Noguier continued to outline the security concern. "Kinetic threats are important, because our space assets are not protected. But we also see other developing threats, those being non-kinetic—jamming, cyber, these are coming. We need connectivity, high-enough broadband to establish communications superiority, which is what you need today on the battlefield."
As a highly reliable European Commission source told Inside Unmanned Systems, "secured navigation and timing is essential for most military operations, as illustrated by the current widespread use of GPS PPS." PPS is the extremely accurate military positioning, navigation and timing service reserved for authorized users, broadcast on GPS L1 and L2 frequencies and containing an encrypted navigation data message.
"Similar applications can be envisaged based on the Galileo Public Regulated Service (PRS)," our source continued. "The PRS offers a navigation service restricted to government-authorized users for sensitive applications. These are applications requiring a high level of service continuity, using strong, encrypted signals notably in the area of security and defense. The PRS, like GPS PPS, is designed to offer unlimited and uninterrupted service worldwide. Significantly higher radio frequency power levels are also an important element in this context."
Brian Manning, CEO of California-based Xona Space Systems, speaking at this year's Satellite Summit in Munich, amplified this concern. "Trusted location and time are among the most foundational pillars of safe operation of really any device or vehicle, and this is becoming even more critical as autonomy continues to rise and human interaction is reduced."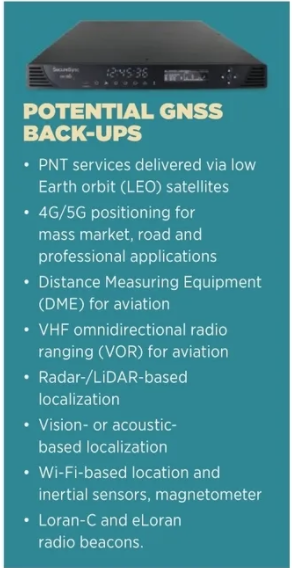 HIGH-LEVEL INTEREST
Francisco-Javier Benedicto Ruiz, director of navigation at the European Space Agency, the design authority and development entity of the Galileo program, stressed this unease to Inside Unmanned Systems, "We are very much concerned about the vulnerability of our assets and the services provided by those assets," he said. "For what concerns satellite navigation, we are very concerned about resilience, potential interference, ground-based jamming and spoofing of the signals."
In addition to the PRS, he continued, "We are developing the Galileo OSNMA [Open Service Navigation Message Authentication] service, which is about providing assurance to the user that the signal is the correct signal. And in the future we are going to develop other technical solutions to increase resilience of the services on the ground."
The possibility of PNT services being delivered via low Earth orbit (LEO) satellites is a current hot topic. "LEO is indeed offering that possibility," Benedicto Ruiz said. "LEO is not there to replace the MEO GNSS constellations. It is there to complement or provide for alternate means. It is also to go beyond where MEO constellations can go, in particular in providing strong signals in urban canyons, penetrating indoor and resisting urban interference by providing navigation signals in other frequency bands, providing also through the LEO orbital dynamics, enabling other processing solutions at the level of the receiver which are going to provide for additional robustness."
Benedicto Ruiz does not think there is any scenario that leads to a complete failure of GNSS. "The different systems are pretty independent from one another—GPS, Galileo, GLONASS and BeiDou," he said, "but we have to look carefully at the threat scenarios and design a resilience solution for each one. It could be that, for one reason or another, GNSS does not work in a specific region. The solutions to that could be alternative frequency bands, jamming detection systems, processing at the level of the receiver, etcetera. And there is room for seeing in what way other technologies, Loran-C, for instance, can contribute to mitigate vulnerabilities of GNSS." Loran-C is a hyperbolic radio navigation system that transmits position via low-frequency radio signals from fixed land-based radio beacons.
A European Commission spokesperson told IUS the Commission is currently analyzing existing non-GNSS technologies that could serve as GNSS back-ups, including 4G/5G positioning for mass market, road and professional applications, and DMEs/VORs for aviation. According to the EU Radio Navigation Plan, published in 2018, "In some specific cases, e.g. for critical applications requiring both continuous availability and fail-safe operations, GNSS cannot be the sole means of PNT information. Contingency plans must be devised for such cases, resorting to redundancy, fault tolerance, recovery procedures, and/or independent back-up PNT solutions." The Plan continues: "There are many possibilities: radar, LiDAR, vision- or acoustic-based localization, Wi-Fi, inertial sensors, magnetometers."

ALTERNATIVE PNT FOR UNMANNED SYSTEMS
The military and defense sectors are of course well aware of the need for assured PNT, for unmanned and other systems. Orolia, which is currently being acquired by Safran, is a world leader in resilient PNT solutions for civilian, military and space operations. The company's Vice President, Advanced Research and Development, John Fischer, said, "Our SecureSync time server contains an atomic clock, a multi-constellation GNSS receiver with anti-jam and anti-spoofing technology, and a fiber optic network interface for a terrestrial network time reference. We can ensure the time reference from GNSS is protected from cyber attacks, and we can also augment GNSS with the alternative STL time reference, a stronger and encrypted signal from low Earth orbit satellites."
Paul Zweers is Orolia's executive vice president, global sales, marketing and customer Services. "The danger of cyber attack is well documented," he said. "We have a wide portfolio of resilient PNT components, products and solutions for UAV applications. This includes the rugged and highly customizable VersaPNT, embeddable software products like our IDM suite or critical components like our low SWaP-C Miniaturized Rb Oscillator, specifically designed to meet core requirements for military airborne, ground and mobile radio communications applications.
"We cannot comment on the location or use of our equipment in theater," Zweer added, "but we can confirm that our solutions are in use and have proven to be reliable. There is a significant increase in demand for our resilient PNT solutions for critical operations in GNSS/GPS-denied environments."
Another company offering precise positioning in such environments is Australia's Locata. The company operates networks of ground- based LocataLite transceivers. Among its partners is NASA, which is using Locata positioning for its next-generation drone research and development program, and the White Sands Missile Range in New Mexico.
Speaking at the recent AltPNT Technologies Demonstration Day at the European Commission's Joint Research Centre in Ispra, Italy, Locata CEO Nunzio Gambale said, "At White Sands, the U.S. jams GPS completely over hundreds of kilometers. To be blunt, the U.S. military jams GNSS better than anyone in the world, and they are using us as the truth reference system for their technology developments."
Locata has set up LocataLites about 35 kilometers apart within the missile range. "The aviation uses for this are really important," Gambale said. "We are delivering better-than-a-couple-of-centimeters positioning and nanosecond timing across six-and-a-half thousand square kilometers. I put to you that there is no better example on Earth of an independent GNSS back-up."
But is it enough? "The dynamic described here mimics that of an arms or technology race, said Orolia's Paul Zweers. "There is no doubt that despite all of the technology advances and increased resiliency and redundancy, there will remain vulnerabilities given increased cyber threats and even possible attacks against space-based systems.
"At the same time, the use of GNSS-based time and location services will continue to proliferate, and the impact when they fail will continue to increase at the same pace. There is full awareness and increased readiness on the side of military and government entities. However, in the commercial and civilian markets, we see significant delays."
Whatever their applications, civilian or military, unmanned systems are increasingly valuable and often life-critical. It therefore behooves all of us to recognize and address the fundamental vulnerabilities that can affect their performance. We'll be glad we did so, later.