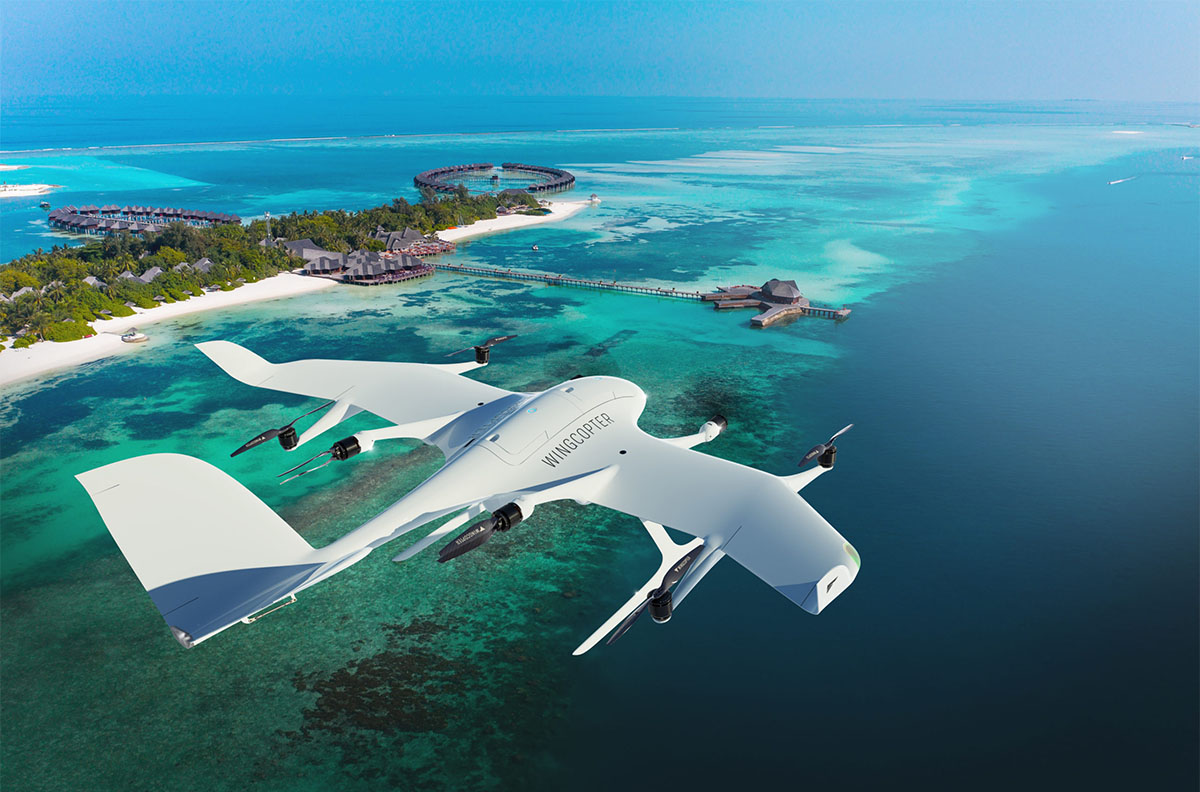 Wingcopter's newest drone, the Wingcopter 198, can deliver up to three packages to multiple locations during one flight.
The triple-drop drone is an eVTOL fixed wing system that can be used as a fleet solution, according to a news release. One operator can simultaneously manage up to 10 drones from anywhere using new control station software, creating logistical highways in the sky.
Based on the company's patented tilt-rotor technology, the system can take off and land vertically without additional infrastructure. The system is designed to address the middle or last-mile gap, especially in remote areas.
The UAS can carry payloads up to 13 pounds and travel about 47 miles on one battery charge and 68 miles with a lighter payload. With the ability to reach 93 mph, it can be used for on-demand express deliveries.
The drone's triple-drop mechanism enhances efficiency, making it possible to deliver three packages to three different locations. The UAS also can deliver two medium-sized packages or one large package. Deliveries are fully automatic and the system features advanced maintenance technology to avoid unplanned downtime, improve parts reliability, and lower maintenance costs.
Safety is a priority, with the drone designed and developed to aviation safety standards. It is also undergoing FAA type certification. The redundant system architecture includes eight motors instead of four, enhancing reliability and safety. Essential components, including the flight controller, airspeed sensor and battery, are also redundantly integrated.
The main communication link to the operator is LTE/5G, backed up by satellite. The system is also equipped with detect-and-avoid software that combines ADS-B, Flarm, Remote ID and visual AI to interpret the flight environment in real-time and automatically initiate evasive maneuvers if necessary. The drone's downward-facing cameras use AI-based optical sensing to accurately drop packages, land precisely and avoid obstacles.
Wingcopter 198 software makes BVLOS and automated deliveries possible. Smart batteries can be changed in a few seconds, maximizing time in the air. Wingcopter Cloud allows for mission planning to be independent of the operation, while APIs enable a seamless integration of fleet information into customer software solutions.
The system can be deployed for a variety of deliveries, including medical supplies, food and tools.
"The Wingcopter 198 is a game-changer for drone-based deliveries, ready to create logistical highways in the sky," Wingcopter CEO Tom Plümmer said, according to the release. "It can be perfectly utilized as a fleet solution in delivery networks to create new opportunities, everywhere."