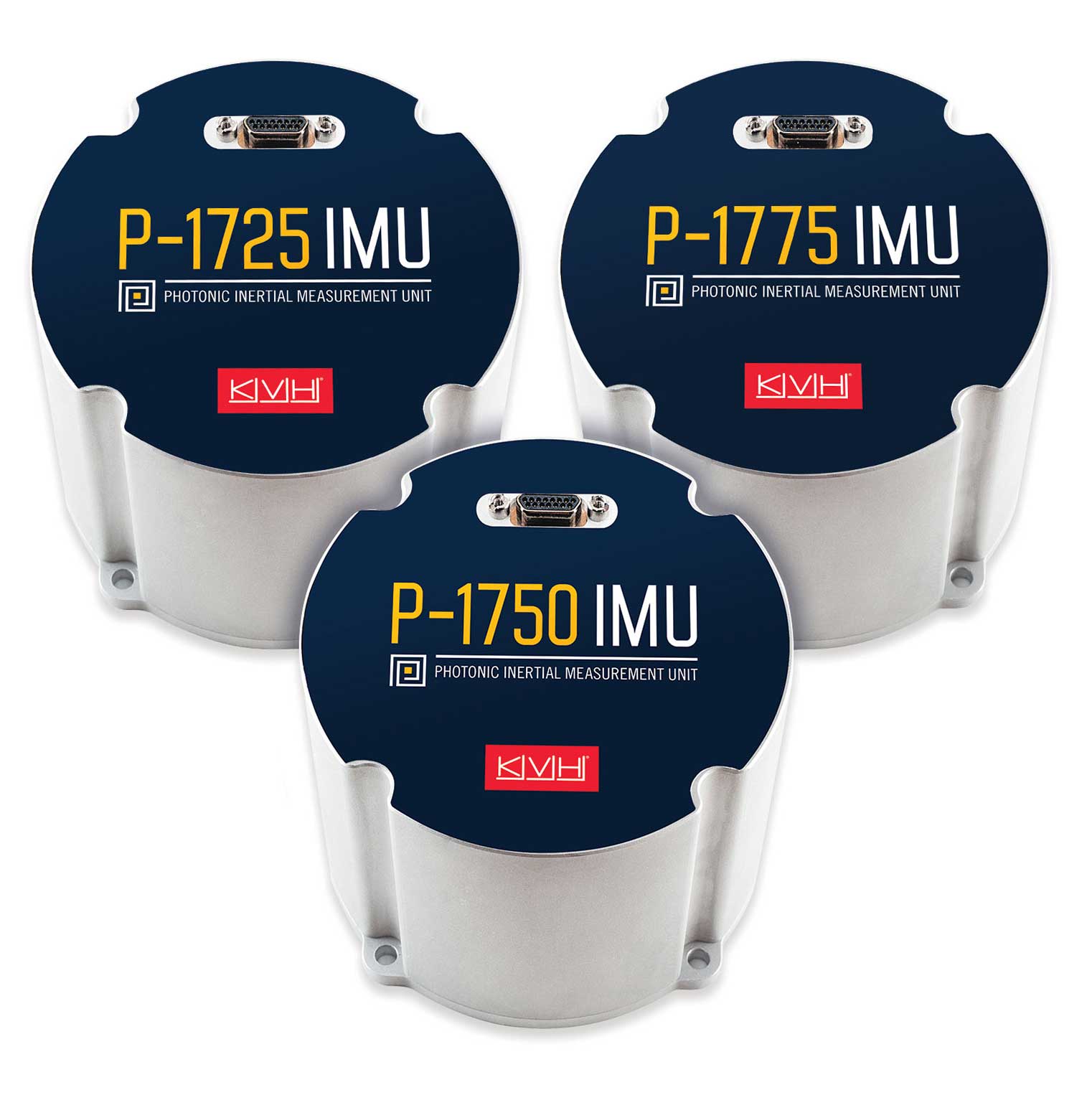 KVH Industries introduced the P-1750 inertial measurement unit (IMU) and the P-1725 IMU to complement its previously released P-1775 IMU and create a full line of IMUs that feature high-performance accelerometers and KVH's patented photonic integrated chip (PIC) technology. The KVH P-series IMUs are offered in the same compact IMU housing. They offer dynamic and accurate sensor performance, delivering improved navigation capability and environmental robustness in vibration and shock capability for challenging applications, particularly the autonomous market.
The P-series IMUs are designed for the most challenging applications on land, sea, and air, including autonomous trucks and people movers, drones, AUVs, ROVs, and platform stabilization. The industries that leverage these applications include transportation, military, agriculture, construction, and mining.
"KVH has been active in autonomous technology developments for more than 15 years," saidMartin Kits van Heyningen, KVH's chief executive officer, "going back to the 2005 DARPA Grand Challenge for self-driving vehicles up to the autonomous shuttles and trucks currently being tested on the road with our inertial products. Our PIC technology is the latest example of our innovation."
KVH's PIC technology features an integrated planar optical chip that replaces individual fiber optic components to simplify production and increase reliability. The accelerometers used in the P-series IMUs offer greater sensitivity and accuracy in their dynamic ranges. This means KVH P-series IMUs are designed to deliver an order of magnitude better drift (bias instability) and noise (velocity random walk) performance than prior products and offer more than 10 times higher accuracy than less expensive MEMS inertial measurement units. KVH P-series IMUs feature easy integration with flexible power and communications interfaces, outstanding repeatability unit-to-unit, and increased product life as a result of the PIC technology.
With the expanded line of P-series IMUs, KVH provides multiple options for autonomous engineers who are seeking improved performance and a choice of low-noise, high-performance accelerometers at a favorable price point.
The P-1775 IMU is KVH's premier IMU in terms of accuracy and is offered with 10g or 30g accelerometers to meet autonomous platform specifications.
The P-1750 IMU is a versatile high-performance IMU featuring a choice of 10g or 30g accelerometers for autonomous and manned platforms.
The P-1725 IMU is a compact, commercial IMU featuring PIC technology and 10g accelerometers for outstanding performance and serves as an affordable alternative to lower performing MEMS products.
KVH's widely fielded TACNAV tactical navigation systems are currently in use by the U.S. Army and Marine Corps as well as many allied militaries around the world. KVH's fiber optic gyros (FOGs) and FOG-based IMUs are in use today in a wide variety of applications ranging from optical, antenna, and sensor stabilization systems to mobile mapping solutions and autonomous platforms and cars.