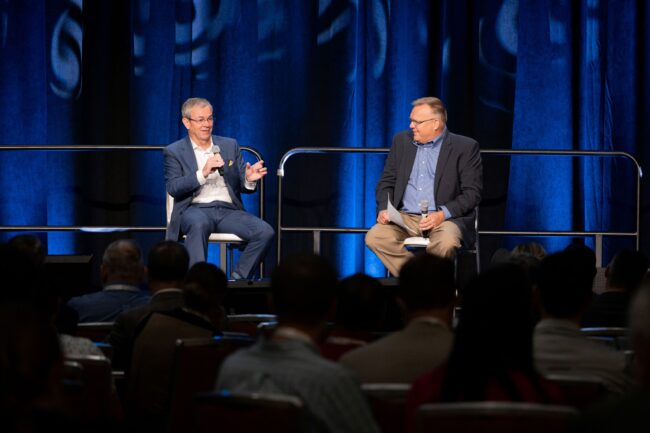 BALTIMORE—New BVLOS proposed regulations may be as much as a year away, an FAA official said at the start of this year's FAA Drone Symposium, but the agency is taking steps to speed up the regulatory process as much as possible.
"We're trying to streamline any process we can," David Boulter, the FAA's acting association administrator for aviation safety, said after saying the Notice of Proposed Rulemaking will come by next August. "We owe you a regulatory path to operations in the NAS [National Airspace System]."
In the meantime, the agency is looking to use summary grants to award as many exemption grants as possible for operators who are looking to do the same missions, what he called "templating."
"That just comes with a word of warning, if you want to do something unique, it's going to take a minute," he said. "If you want to do something that's in an existing exemption, please get it in and we'll move it."
Boulter spoke alongside AUVSI President and CEO Brian Wynne on the first day of the 2023 FAA Drone Symposium, held in Baltimore. The conference will continue for half a day on Wednesday before becoming the 2023 AAM Summit.
Boulter said the FAA is planning to signal what will be in the final rule through its exemption awards. "Our goal is to use exemptions to signal what we're thinking, and what we're thinking of allowing in the rule," he said.
Field Testing
Following field tests of unmanned traffic management (UTM) systems led by the Virginia Tech Mid-Atlantic Aviation Partnership, the FAA now is planning more such tests at a pending site in Dallas, Texas.
"It strikes me as a perfect example of how industry has been empowered to bring solutions to deconflict and create strategic deconfliction in a way that probably the FAA wouldn't have the resources to catch up to," Wynne said.
Boulter said the site could involve as many as five companies interoperating with their own methods of strategic deconfliction, something that will be necessary to scale up BVLOS flights, as creating a replica of the air traffic management system for crewed aircraft would be unworkable—any UTM for drones will need to be heavily automated.
"It's perfect for us from an FAA air traffic perspective, because ultimately we know in this space there will be multiple players and then those players, if they're talking to each other, then we just have to figure out how to get those talking to the air traffic system," Boulter said.
"That's not anything we're building, that's what you're building, the folks in this room."
The new site, called the UTM Key Site, still has a lot of unknowns associated with it, such as where exactly it will be located, when it will start and how industry can take part.
But Praveen Raju, an FAA program manager, said later that day that it will be a community-based cooperative ecosystem complementary to the FAA's ATM system, providing services below 400 feet—where ATM isn't provided—and to drones weighing 55 pounds or less. NASA, which has been working on UTM systems for years, will be a key player in the site.
Flight services will be provided by multiple unmanned service providers for multiple operators. Lessons learned will be provided directly to the FAA's rulemaking team, Raju said. The site will also use supplemental data service providers, which can provide the location of crewed aircraft, weather updates and more.
Peter Sachs, the FAA's UTM implementation program manager, said "we do want to get this going on the order of months to next year."
Asked whether setting up the site and feeding data from it to the rule makers could delay the BVLOS notice of proposed rule making, Sachs said, "what's stated in the spring unified agenda is an NPRM in August of 2024. I think what's going to determine the schedule on that is the number and extent of comments that we receive."