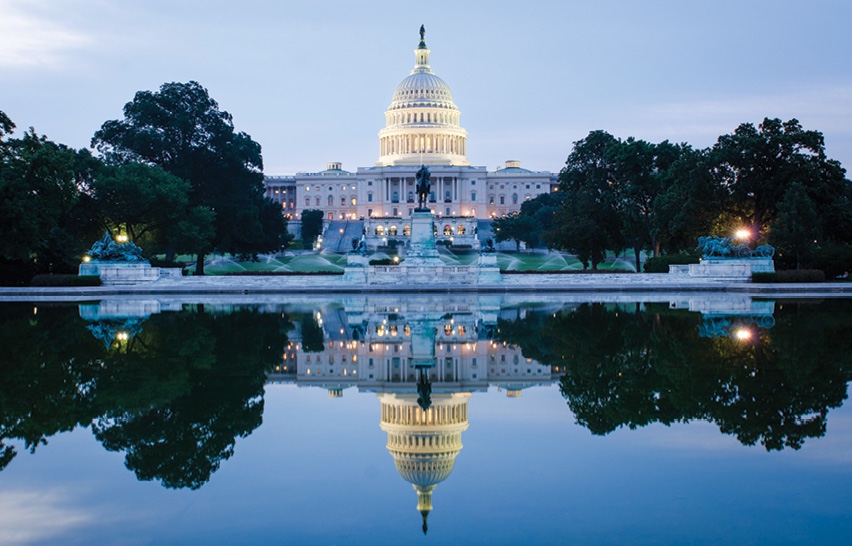 Bridge collapses, impossible traffic, water main failures and other crises have made it clear that the nation's core structures need repair and remodeling. Both the White House and congressional lawmakers have expressed their support for improving and repairing U.S. infrastructure—which is politically popular—but, like foxes sizing each other up across a promising picnic basket, they have yet to sink their teeth into anything.
"We think there are some political conditions that are conducive to getting something done this year, so we're very hopeful that a deal can be reached," said James Nash, spokesperson for the National Governors Association (NGA). "It's an opportunity for bipartisanship. It's also an opportunity to do something in the greater public interest. And, of course, that's important for elected representatives to do—and be seen as doing—things on behalf of their constituents."
Both the House and Senate have held hearings on the issue and House leaders have set aside floor time in June to work on an infrastructure bill, said Amanda Armistead, a senior vice president at McGuireWoods Consulting, which advises the Small UAV Coalition. Moreover, she said, staffers are collecting ideas about what might go into an overarching infrastructure bill.
"There is, I would say, a significant bipartisan effort to put something together, and we've seen sort of more meat on the bones than we have in the past," Armistead said.
One of the proposals floated during this early phase is to incentivize federally supported infrastructure projects to spend less and move more quickly by leveraging advanced technology—including drones.
"Using drones can save a lot of money. It can save a lot of time and it can obviously protect workers as well," Armistead said. "So, there's a lot of interest in using drones to create efficiencies that will let projects be done more quickly and more inexpensively."
The U.S. Federal Highway Administration already has a program to help organizations working on highway transportation adopt new technology. Under the Accelerated Innovation Deployment (AID) program, the Arizona Department of Transportation got approval in 2018 to use $18,100 in federal funds and $4,525 in state matching funds for eight new drones. The drones will be used to help engineers inspect bridges and perform surveying work along state highways. AID has awarded more than $60 million in technology demonstration grants so far, according to FWHA.
Moreover, the White House and Congress have already demonstrated their support for using drones more fully. President Donald Trump signed an executive order in December directing the greater use of drones to fight wildfires. Three months later he signed the John D. Dingell, Jr. Conservation, Management and Recreation Act, which had passed by wide margins in both the House and Senate. That bill included language giving the Department of Interior six months to come up with protocols and plans to that same end.
"I know that Congress is eager to pass an infrastructure bill," Trump said in his State of the Union address, "and I am eager to work with you on legislation to deliver new and important infrastructure investment, including investments in the cutting-edge industries of the future. This is not an option. This is a necessity."
What Are the Chances?
Pronouncements notwithstanding, there is little agreement on the nitty-gritty of an infrastructure bill and time is running out. The longer it takes to reach consensus, the more difficult it will be to negotiate a deal for both political and practical reasons. For example, an infrastructure package could get pushed back as the clock runs out on must-do funding bills. Moreover, as the election campaigns heat up, Congress must also raise the debt ceiling and address sequestration caps—again—or deal with financial calamity.
And, as of press time, there is no clear agreement on how an infrastructure bill would be funded.
"Of course, the devil's in the details—and the details here are how to pay for it," Armistead said.
Congress has been wrestling with reauthorizing the Highway Trust Fund, a repository for gas taxes that has helped pay for many road projects. The fund is insolvent, however, and needs a number of fixes, including a possible boost in the gas tax—which hasn't been raised since 1993.
When asked during a March 27 hearing if she and the president supported raising the gas tax, Secretary of Transportation Elaine Chao said, "nothing is off the table."
"When we talk about the Highway Trust Fund, obviously, it's very important," she told the Senate Appropriations Subcommittee on Transportation and Housing and Urban Development. "There's infrastructure discussions ongoing at the White House; the chairman of the House Transportation Infrastructure (Committee) will be proposing some kind of a bill by May."
She noted, however, that the Surface Reauthorization Bill, which authorizes Amtrak monies among other things, also needs to be completed and might be a better overall vehicle for addressing infrastructure, including issues with the Highway Trust Fund.
"Does it make sense," Chao asked, "to have two vehicles, an infrastructure bill and a surface (transportation) reauthorization? Given the compressed timeframe, it may very well be that it's easier for everyone, ourselves as well as the Congress—Senate and the House—to have one vehicle. And that perhaps would be the Surface Reauthorization Bill."
Fortunately, not all infrastructure projects will have to wait on the federal government to hammer out new legislation. State lawmakers and frustrated voters are stepping up to fund local transportation and other projects.
States Step Up
According to an analysis by the Eno Center for Transportation, voters in 28 states approved 142 of 185 transportation ballot measures in 2018, putting $40.9 billion on the table for transportation spending. That does not include an additional half million dollars annually from mileage-based user fees approved by voters last year in Michigan and Ohio.
By far the biggest part of that $40.9 billion total is coming from a penny sales tax increase approved in Florida's Hillsborough and Broward counties, which is expected to raise $24.4 billion. California voters gave a thumbs up to the second highest amount, $8.6 billion. Rounding out the top five are Texas with $1.4 billion, Michigan with $1.2 billion and Missouri with $924 million, according to the Eno Center.
Of the ballot measures considered last year, 113 were for roads, of which 80 were approved. Thirty-four of 39 transit measures were OK'd, as were 10 of 12 measures supporting multimodal transportation.
That's not indicative, however, of where most of the spending will be. The vast majority of the money being raised, some $24 billion, will go to multimodal transportation. Those ballot measures will support transit, roads and other modes, but it's too soon to tell how the money will be divvied up, according to Eno. Voters approved $9.3 billion specifically for transit projects and another $7.5 billion for roads. In a very distant fourth place was $174 million for bikes and pedestrian infrastructure.
The trend for more state funding is continuing into 2019, said Garrett Eucalitto, transporation director at NGA's Center for Best Practices, with states actively pushing for investments in their infrastructure. "Numerous states have proposals on the table," he said, "and a few are actually already signed into law to increase investment in infrastructure."
Alabama and Arkansas, for example, enacted new legislation in March to increase funding for transportation. Alabama approved a gas tax increase, which will be indexed to road construction costs, and fees on vehicles. Arkansas imposed new registration fees and boosted its gas tax by 3 cents per gallon on gas and 6 cents per gallon on diesel. The state will get additional new funding from added registration fees and casino revenue.
And more bills are in the hopper, Eucalitto said. "Minnesota, Michigan, Ohio and Wisconsin all have proposals that were introduced by their governors to increase transportation revenue. Connecticut's governor has proposed a transportation package as well—that would be based on tolling, not a gas tax."
And it's not just about transportation. Indiana's Next Level Broadband program will invest $100 million to expand broadband to rural areas. It is part of a $1 billion effort to improve the state's infrastructure that will be funded via fee increases on heavy-duty commercial vehicles using the Indiana Toll Road.
This focus on action does not mean, however, that states can make up for missing federal dollars.
Federal transportation funding of state projects is done on an 80/20 cost share basis, Eucalitto explained. "So federal funds will provide 80 percent of the cost of a project" and states—in the case of highways—pick up the rest."
Unfortunately, as higher-mileage cars and inflation undermined Highway Trust Fund spending power, state needs outstripped available federal monies and states had to pay a larger percentage.
"States are doing more than their share," said NGA CEO and Executive Director Scott Pattison in an emailed statement. "In 2016, direct federal spending on nondefense infrastructure was less than 0.1 percent of GDP, whereas state and local spending was about 1.4 percent of GDP. State initiatives and voter-approved bonds help, but they're not the whole picture. We need federal leaders to step up."