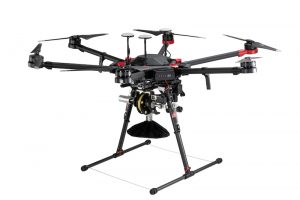 The RDS1 tethered freefall drone delivery system from A2Z Drone Delivery, along with drone services provider DroneUp, recently completed its first residential delivery.
DroneUp selected the mechanism for its rapid delivery capabilities that reduce time on station to 30 seconds per delivery, according to a news release, and worked with A2Z to customize RDS1's controls into its proprietary software.
"For our partners at DroneUp to put their trust in our system was the best proof of concept that we could imagine and was a memorable benchmark for our whole team," A2Z Founder Aaron Zhang said, according to the release. "The unique capabilities of the RDS1 were tailor-made for this type of residential delivery where our tethered freefall mechanism can accurately and quickly deposit payloads while hovering far from people, homes, trees and utility wires."
The device minimizes intrusive rotor noise and limits the risk to people on the ground, making it possible for drones to complete deliveries without having to descend from cruising altitude.
The RDSI features a variety of integrated safeguards to keep payloads secure throughout the flight, including an automated pre-flight weight check that ensures the flight platform is not overloaded. The built-in payload status detection monitors the payload throughout flight and delivery.
Manual delivery control is backed up by intelligent safeguards that calculate the payload freefall and when to slow the descent to the ground, while a passive payload lock protects against package loss during a power fluctuation. In an emergency, the payload and tether can be abandoned to save the aircraft and protect people and property on the ground.
"No matter how many flight hours you have as a UAV pilot, adding the dynamic of delivering packages to the ground is still a new concept, so having the tether controls seamlessly integrated into the pilot software is imperative," DroneUp pilot Ethan Burnette said, according to the release. "Also, knowing the redundant safety systems are in place gives you the added peace of mind you need as you become accustomed to flying a drone with a payload slung below it."