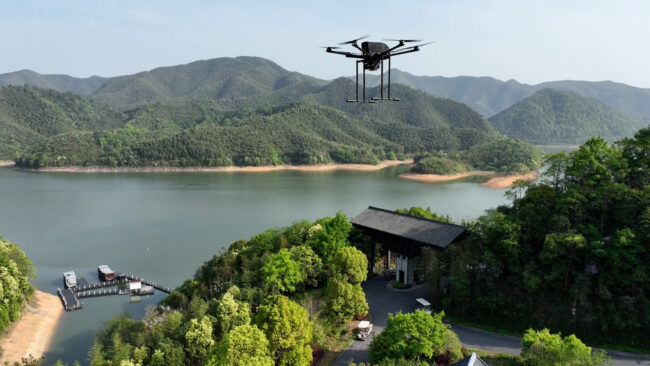 LOS ANGELES—A2Z Drone Delivery Inc., a developer of commercial drone delivery systems, has launched its second-generation RDST integrated cargo drone.
The RDST Longtail features the company's factory-integrated RDS2 drone winch, enabling payloads to be deposited safely from altitude where spinning rotors are kept far from people and property. The RDST Longtail hexacopter design is available in Standard configuration, offering a 20-kilometer maximum range, and a rainproof Premium version with battery quick-release system offering a maximum range of 26 kilometers.
With no need for specialty payload boxes, the RDST Longtail is able to auto-release the shippers' own boxes without the need for a recipient to be on site to receive the payload. The RDST Longtail's all new bag auto-release mechanism allows for easy pickups and auto-releasing any bag during deliveries.
With its integrated drone delivery winch, the RDST Longtail offers drone service providers and logistics operators an off-the-shelf, ready-to-fly delivery UAV for last mile delivery. Delivering or retrieving payloads up to 5 kilograms over a distance of 11 kilometers, the RDST Longtail is ideal for local parcel or food delivery, emergency medical deliveries, drone-born water sampling programs, offshore logistics, search and rescue operations, open mines, solar farms, and more. Designed to meet the 55-pound FAA maximum takeoff weight requirement, the RDST Longtail is Remote ID compliant with a factory-integrated Remote ID beacon.
Ready to fly through inclement weather, the RDST Longtail Premium edition opens new use cases to the benefits of drone delivery, and its quick-release battery system gets flights back in the air quickly to limit downtime.
"In upgrading our off-the-shelf RDST platform, we've streamlined the overall design and upgraded the propulsion system, but the most sought-after upgrade from customers has been the rainproofing built into our new RDST Longtail Premium edition," said Aaron Zhang, Founder and CEO of A2Z Drone Delivery, Inc.
"The RDST Longtail is further democratizing commercial drone delivery by allowing businesses of any kind to quickly and easily launch a drone logistics operation from delivering parts to offshore energy platforms, to deploying live-saving medical equipment to first responders right on scene. As residential parcel delivery continues to expand, the RDST Longtail is positioned as an accessible flight platform for the proliferation of this cost-saving, and more eco-conscious last-mile delivery method."