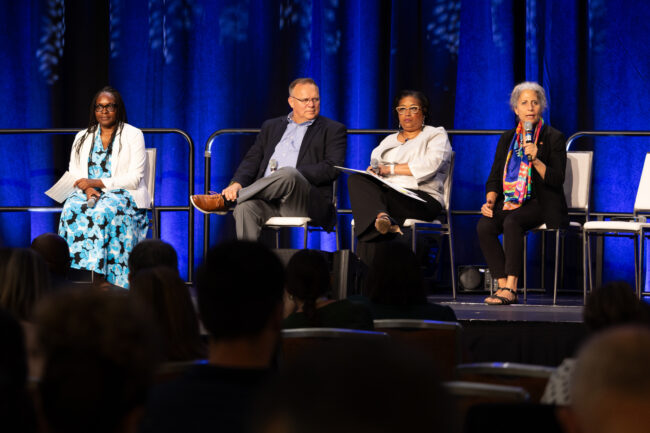 This year, the FAA and AUVSI combined their eighth drone symposium with the first AAM (advanced air mobility) Summit. Several themes jumped out from the content—the importance of collaboration, the need for operational data to inform regulations, organizational streamlining and, of course, safety.
An earlier roundup can be found here. This article provides another breakdown of the hottest updates, reveals and trends from the conference using the FAA's crawl-walk-run metaphor to characterize current progress.
Beyond Visual Line of Sight/Part 108 (Walk)
The big news: stand by for a Notice of Proposed Rulemaking (NPRM) on BVLOS, or what everyone is already referring to as Part 108, by August of next year.
The interesting nugget about this is the U.S. House's bipartisan, five-year FAA reauthorization bill (HR 3935), "Securing Growth and Robust Leadership in American Aviation Act," directs the FAA to issue that NPRM "not later than 4 months after the date of enactment of this act." If the Senate adopts this language, the FAA will already be lagging behind the congressionally mandated timeline.
What will be in the rule? David Boulter, the FAA's acting associate administrator for aviation safety, said, "Take what we're asking for in exemptions for rulemaking as a signal of what we're thinking."
The FAA published four exemptions in May and put them out for public comment. Brandon Roberts, Executive Director at the FAA's Office of Rulemaking, revealed the agency hoped to issue those exemptions "this month."
The agency also pushed out a BVLOS Request for Information (RFI) around the same time as the exemptions. This RFI only pulled in a bit over 400 comments. Jessica Brightman, manager, Implementation Branch, UAS Integration Office, pulled one thread from them. She said previously the main concern was a collision between a drone and a general aviation aircraft, but now it's drone-on-drone. The FAA plans to use these comments to also help inform agency thinking on the UAS traffic management (UTM) ecosystem.
UAS Traffic Management (Crawl)
Speaking of UTM, the FAA updated its FAA UTM Concept of Operations (version 2.0) in April.
Thereafter, it participated in an industry-led and NASA-supported "real world" strategic deconfliction trial in Blacksburg, Virginia. No information has been published on this yet, but speakers noted that five operators worked together and across, talking to each other and air traffic controllers. The bigger reveal, however, was that a "live op" will occur in December in Dallas, Texas.
How is all of this happening if the FAA does not have a UTM rule or approval process? The FAA has created a new Near Term Approval Process (NTAP) to approve UTM services in low risk environments alongside a Part 107 waiver or exemption safety case and related approval. As with the summary exemption grants, once the agency approves a UTM concept, third party UTM providers should be able to apply using the same language to other operations. Boulter recommended we "keep an eye out for UTM language" in some of the forthcoming Dallas-related public exemption notices.
Also in the absence of its own policy, the FAA is following the ASTM F3548 standard specification for UTM-UAS service supplier interoperability. It includes network connection protocols and levels of assurance for data.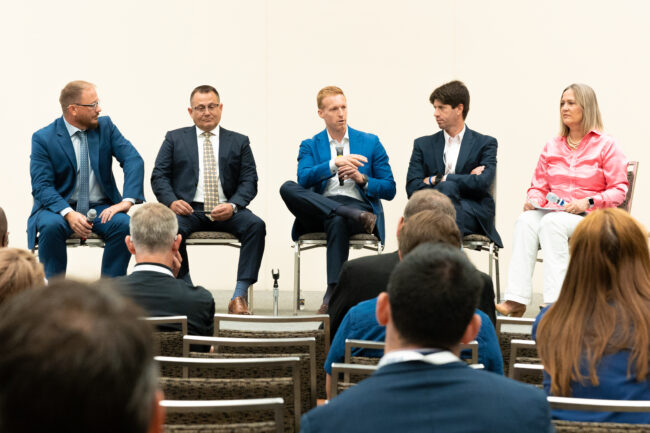 Counter-UAS (Crawl)
Speakers acknowledged that UTM and full integration requires clearing the skies of those drones flown by careless, clueless and criminal actors. For the past five years, pursuant to congressional mandate in Section 383 of the FAA reauthorization act, the FAA has been conducting counter-UAS testing at five airports across the country (Atlantic City, Syracuse, Huntsville, Columbus and Seattle-Tacoma). That authority is set to expire this September, if not renewed by Congress.
According to Ryan Berry, the FAA's UAS Security Division manager, additional testing is needed because "some systems are not matching up" with their advertised capabilities. In one case, a radar interfered with ASR9 airport radar surveillance because it was not operating on the right frequency.
Other challenges Berry noted included: dark UAS that do not emit RF frequencies; deconfliction of some CUAS systems with detect-and-avoid systems; and how to best interface with ATC during counter-UAS incidents. Berry also said that authority to testing beyond the airport environment, at urban sites, will be required. Security scenarios happen at other critical sites daily.
Also per Section 383, the FAA formed the CUAS Aviation Rulemaking Committee. Berry said the team consists of 56 members and 40 observers, who continue developing recommendations to the FAA on how to certify and allow CUAS to operate domestically. The ARC held its second meeting just prior to the symposium, but all members are sworn to secrecy and everyone seems to be towing that line.
In the meantime, not only is Section 383 on track to sunset. So are the CUAS detection and mitigation authorities for the small shot group of federal agencies given permissions from Congress in the Preventing Emerging Threats Act of 2018.
Remote ID (Walk)
Further on the topic of security, Remote ID operator implementation becomes effective Sept. 16. One of the biggest shockers occurred during the "Coming Soon! Remote ID Operational Compliance. Ready?" panel. When some asked, "If I'm in my backyard and point my phone up at the sky, with a Remote ID app, can I identify the drone?" FAA panelists said, "Maybe."
Maybe? Apparently, Android phones are better suited to receive the Remote ID signals than Apple phones. It remains unclear whether Apple will fix this glitch.
In the meantime, the FAA has only approved (provided Declarations of Compliance, or DOCs) for about 25 Remote ID broadcast modules. Only half of these are commercially available today. Those that are available run at about $300 a pop. For a company with even a small drone fleet, that can add up quickly.
Other glitches discussed include that these apps, which are purely commercial and not FAA-approved, may also have security issues authenticating real law enforcement officers who are entitled to FAA registration data correlation data, as opposed to posers.
From the operator perspective, trying to determine whether one's drone is RID compliant can present a challenge. The FAA's DOC website lists approved manufacturer serial numbers. These serial numbers are not always in an obvious location on the drone and might require a pilot to contact the manufacturer directly.
The RID rule also requires operators to update their drone registrations in the FAA DroneZone to indicate RID compliance. Normally this would require a $5 fee, but the FAA has opened a free editing window and may keep that open through the end of the calendar year. For a large commercial fleet, the cost of upgrading drones and these additional fees can add up. One university participant griped that it will take $15,000 to upgrade and register his R&D fleet.
Dipasis Bhadra, an FAA economist who participated in writing the FAA's Aerospace Forecast (Fiscal Years 2023-2043), during a separate R&D panel noted the combination of the uncertainty around remote ID (and BVLOS) has slowed industry growth projections for the next five years. Many Part 107 operators are waiting to see how these will "pan out," he said. At the same time, as certain sectors take off, "accelerate is the theme."
Part 137 Streamlined (Walk)
Streamlining approval processes has fueled some of this acceleration. Associate administrator Boulter highlighted that the FAA team had significantly streamlined the Part 137 certification process, which governs the use of agricultural aircraft, including drones, to dispense or spray substances (including disinfectants). In the past year, the FAA has granted more than 100 Part 137 certs, over 400 related exemptions and has reissued over 750 certs.
Boulter attributes the FAA team's ability to do this to the high adoption of drones and the related operational data that demonstrated an exceptional level of safety to the FAA. He quipped, "The more ops we get, the more data we get, the more comfortable we get."
Ninety percent of these aircraft consist of hexicopters that fly about 20 feet over crops. There have been no midair collisions in this context in over 8 years. According to Derek Hufty, Manager, Special Programs Section, Flight Standards Service, "This looked like a farm process, not an FAA process. We amended our internal processes so we could expedite."
As a recent win in this arena, the FAA highlighted the ground-breaking cert of Pyka's Pelican Spray, an autonomous electric aircraft designed for complex agricultural operations. This aircraft combines best-in-class spray precision and chemical drift reduction technologies to provide safe, clean and cost-effective crop protection at scale (see Inside Unmanned Systems coverage here).
Advanced Air Mobility (Crawl)
The one and a half day AAM Summit centered primarily around AAM challenges and the plans in progress to address them.
In March, the White House issued its National Aeronautics Science & Technology Priorities. At the AAM Summit, Dr. Ezinne Uzo-Okoro, assistant director for space policy at the White House Office of Science and Technology Policy, outlined the seven guiding principles for the federal government and industry in the AAM space: safety, sustainability, competitiveness, innovation, security growth and equity.
Using those principles, the FAA and NASA continue collaborating with other federal agencies and industry partners, to quote Pam Melroy, deputy administrator of NASA, to "solve the breathtaking systems engineering problem" of integrating novel aircraft into legacy systems.
Additional tough challenges include overcoming the public's lack of trust in autonomy, gaps in spectrum, demand from ADS-B (5G C-Band issues), a lack of low altitude weather data, cybersecurity, operational prioritization (how to deconflict takeoffs and landings with GA and AAM), standards harmonization and regulatory uncertainty.
To address these challenges, the Department of Transportation has formed an interagency working group (IAWG). NASA chairs its Community Subgroup and recently published its AAM Community Integrations Considerations Playbook. The IAWG intends to release an AAM National Strategy in 2024, so stay tuned.
In the meantime, the FAA has pushed out a number of publications over the past several months: vertiport design guidance, an NPRM for pilot training (Integration of Powered-Lift: Pilot Certification and Operations; Miscellaneous Amendments Related to Rotorcraft and Airplanes), an RFI on AAM, an updated UAM CONOPS 2.0 and an AAM Implementation Plan (Innovate28 or I28). The FAA plans to put out the final pilot training rule by 2024.
As for what's next, according to Jessica Sypniewski, deputy assistant administrator of NextGen, DOT plans to bring AAM and surface transportation together. "A whole of government approach will be key for this new era of aviation," she said.
But the really big news is the FAA plans to have pockets of real world AAM ops by 2025 and full operating capabilities by the Olympics in 2028. Meanwhile, companies like Archer, Joby, Wisk and Overair keep pressing on.
Parting Thoughts
It seems portions of the UAS/AAM industry are either at the "walk" stage or nearing it, such as BVLOS, Remote ID and some specific sector operations (Part 137). Even so, challenges remain and timelines to resolve them appear to be long. We now can anticipate a third quarter 2024 BVLOS NPRM. Closer in, we may have a better picture of how Remote ID implementation is going by the end of this year.
But many areas continue crawling along, UTM, CUAS and AAM among them. Keep an eye out for additional higher level scaffolding strategies and plans over the next several months and for further information on the Dallas UTM trials.
Projected Key Dates
August / September 2023 – FAA Approval of 4 Key BVLOS Exemptions
Sept. 16, 2023 – Remote ID Compliance Date for Operators
Sept. 30, 2023 – CUAS & Section 383 Authorities Expire
Dec. 2023 – Dallas UTM Trials
Dec. 31, 2023 – End of FAA Free Remote ID Registration
August 2024 – BVLOS NPRM
2024 – U.S. National AAM Strategy
2025 – Initial Operating Capability for AAM
2028 – Final Operating Capability for AAM