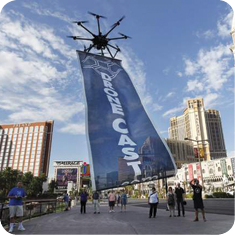 Aspiring entrepreneurs are offering drone-enabled promotions using techniques ranging from flourishing custom banner ads to delivering product models at meetings and even mixing drinks.
DroneCast in Philadelphia bills itself as the world's first drone-based advertising company. It started with signs hung under drones, eventually expanding to more bold forms of advertisement for Fortune 500 clients such as Ford and Sony.
The company's CEO and founder Raj Singh came up with advertising drones as a freshman at Drexel University. "I was watching the 60 Minutes segment on Amazon's plans for delivery drones, and I was thinking about what the next steps for Amazon would be after successfully doing drone delivery," Singh said. "As we've seen with multiple companies, the easiest way to monetize is through ads, so we looked at that."
DroneCast's first attempts at aerial advertising using off-the-shelf banners and off-the-shelf drones "didn't work so well," Singh recalled. For instance, the banners could act like sails and interfere with flight.
The firm then experimented with creating its own banner material. "I remember walking through Walmart trying to find out what might work," Singh said. "We went through everything, from garbage bags to T-shirts."
DroneCast's proprietary banner material, developed after partnering with a printing company, "is a combination of a plastic and a vinyl, and has a mesh-like structure," Singh said. "It can keep rigid, but also let's air flow past it and does not necessarily act like a sail. It also has a weighted bottom to keep it from flapping. We can fly banners as large as 12 feet tall and 3 feet wide."
The Hardware
The company also developed its own proprietary DroneCast SR1 drone, a quad-rotor with a carbon-fiber body, aluminum arms, carbon-fiber propellers and a 1-meter wingspan. It has a carrying capacity of 6 pounds and can sustain 60 minutes of flight time in ideal wind conditions. "Say you need a drone to fly for four hours at South by Southwest," Singh said. "We can bring the drone down, swap out batteries, and have it back up in five minutes."
The DroneCast SR1 drone can also fly up to 60 mph. "You don't need the drone to fly that fast for advertising," Singh said. "But if you have a banner that can act a bit like a sail and you're in high winds—such as flying a banner at the beach, or near large buildings that can essentially create wind tunnels—you want to counteract those forces."
DroneCast partners with a network of roughly 4,000 pilots "that allow us to fly all over the world," Singh said. "Let's say you live in India and work for an ad agency out there. We'll give you the equipment; we'll teach you how to fly the drone. We have a large client base, we take care of contracts, insurance and billing, and every time there is an event in your area, we'll provide jobs that you can accept or deny—and we'll only take a 20 percent commission. It's basically a model similar to Uber's."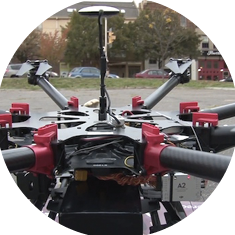 The firm works directly with clients to create graphics for their banners. It then prints the banners out on its proprietary material and ships it to its partners in time for events.
Delivery
DroneCast also provides indoor advertising, including dropping products into the hands of audiences at events. "In January 2015, at the North American International Auto Show, we had quite a few drones fly indoors during exhibits indoors in Detroit at Cobo Center," Singh said. "We had drones deliver toy cars in custom-made boxes branded for Ford and DroneCast. They were of a new truck that Ford had just launched, the Ford Raptor. Attendees would text in, and we would send them back a time they should wait for a delivery. We had specific landing zones set up, and the drone would fly over, and the attendee would catch the drone. It was quite an interactive experience."
"Ford loved it, and attendees loved it," Singh said. "We got Ford and ourselves 40-something different news articles published in a day. Looking at that attention as the sole metric, when compared to the numbers you see from other types of advertising methods previously used by Ford, it was a very successful campaign."
Other firms are also using drones to promote brands at events. "We work with massive companies—Marriott, Vonage, Pepsi, Renaissance Hotels, Mountain Dew and others—big names who have the budgets to spend on these events," said Brett Velicovich, managing partner of Expert Drones. "For me, our events department is the most entertaining thing we do. I got into business to do cool things with drones, and each week people ask if we can do one surprising thing with drones or another, and our team thinks about if it's realistic and legal to do these things."
For instance, Expert Drones devised a drone cocktail bar for Pepsi that mixed and delivered drinks at the grand opening of the SLS Brickell luxury hotel in downtown Miami in 2016. "Everyone's been to bars, but to see drinks mixed with drones makes the experience more entertaining and memorable," Velicovich said.
One model that Expert Drones used as a drone bartender was the DJI Inspire 1. "We knew how much payload it can hold, so we knew the amount of liquid and ice it could carry," Velicovich said. "We told our 3-D printing guys to make something in which the drone could shake a cocktail, and we got a servo that, with the push of one button, can make the shaker go up and down, and with another button pour the cocktail into a glass when it lands."
"We also had a drone that could securely hold an average-size cocktail glass that you might put scotch or Jack and Coke in that can be delivered to people," Velicovich said. "We had a drone deliver a cocktail drink to the owner of the SLS chain while he was delivering a speech on stage. Everyone in the crowd just stopped to watch him. He looked like a champion. That's golden in terms of advertising."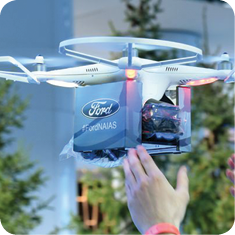 Regulatory knowledge is key to hosting drone events. "We get people saying, 'Hey, we'd like to do an event with drones in downtown New York City,' and we're like, 'Downtown New York City is a pretty dangerous place to fly drones outdoors—you've got major airports and millions of people. Can you move this indoors?'" Velicovich said. "Or, if you want an outdoors event when it comes to Miami, we can ask if we can do it in an area that's not restricted airspace. Our clients are looking to us to be the people who tell them what's right and wrong."
The Drone Edge
The advantages of using drones for advertising are many. "The main one is that drones capture a lot of attention," Singh said. "They are hot in the news right now, and they reinforce the underlying idea of the future."
Velicovich concurred. "Everyone's talking about drones," he said. "And nearly every big brand is thinking about some way to use drones. If you're not thinking about how drones can be integrated into your marketing or advertising budget, you're behind the power curve."
"Past that, in a lot of ways, drones can be a lot more interactive than traditional advertising media," Singh said. "People drive past billboards every day all over the world and tune them out, and you can just skip right past them on your DVR or Netflix. By making advertising interactive, like we did with Ford, you stick out more and drive a larger return on your investment. It's a lot cooler than just picking up a toy from the show—people wanted to try it, it was unique."
"The Pepsis of the world are finally realizing that drone technology has matured in a way that can be of value to their brand," Velicovich said. "I think that brands are increasingly going to understand the importance of integrating drones into their portfolios in 2017."