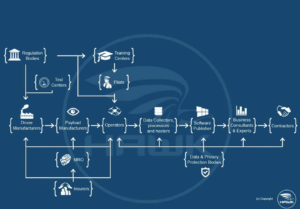 In partnership with the AETOS Cluster, Nouvelle-Aquitaine, a region in France, launched the Drone City project in 2010 and has become the biggest European center of "Open Sky" drone experiments.
With collaboration between public authorities, innovative start-ups and SMEs, industrial players and universities, AETOS gathers a dynamic network of 100 industrial companies, laboratories and researchers, covering the whole remotely piloted aircraft systems (RPAS) value chain. The region has successfully built an ecosystem capable of designing, developing and experimenting drone services in real conditions.
AETOS is a highly specialized cluster focused on technologies for aeronautics, robotics and RPAS.
AETOS Cluster Drones will be attending AUVSI XPONENTIAL 2018. Several selected innovative drone projects will be presented at AETOS' booth #3407.
For more information on XPONENTIAL, check out the Inside GNSS/Inside Unmanned Systems' Official Show Navigator here.
By Xin Liu, Inside Unmanned Systems Correspondent