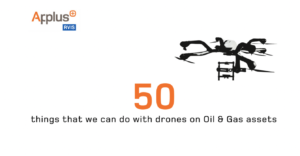 Drones on oil and gas assets have demonstrated strong potential to execute rescue operations, optimize processes and strengthen security, according to a project conducted by Spain-based remote visual inspection services provider Applus+ RVIS.
Based on the one-month performance of inspection drones and pilots deployed in Dutch oil and gas company NAM, Applus+ RVIS has discovered 50 applications of drones. These range from locating individuals within five minutes in small-site rescue, detecting heat loss or product cooling within pipes with infrared cameras, preventing collateral damage from water accumulation on roofs and monitoring suspicious activities on assets.
A complete list of the 50 applications can be found at: https://www.linkedin.com/pulse/50-things-we-can-do-drones-oil-gas-assets-bas-pauw/
For more on expanded drone applications, read: "The Drone Evolution at SXSW" here.
By Roxanne Liu, Inside Unmanned Systems Correspondent