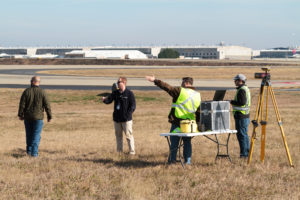 Airbus Aerial, the commercial aerial services business launched by Airbus less than a year ago, continues to expand its market presence in the United States, recently conducting runway mapping and inspections at the world's busiest airport – Atlanta's Hartsfield-Jackson International (ATL).
With bases in the U.S., Europe and Asia Pacific, Airbus Aerial's services leverage the best software and aerospace technology from across the globe to offer actionable data and analysis of information provided by drones, satellites, high altitude aircraft and other sources. Airbus Aerial provides this customized analysis to customers across a range of markets, including insurance, public utilities and infrastructure.  The runway mapping at Hartsfield-Jackson opens the door to new markets and applications for the company.
The airport has held its ranking as the world's busiest airport since 2012, both in passengers and number of flights, by accommodating 100 million passengers (more than 260,000 passengers daily) and 950,119 flights annually.
Officials from Hartsfield-Jackson requested Airbus Aerial conduct mapping of its south runway to help it assess the benefits of using the aerial service to conduct critical runway inspections. The airport has engaged in this work in the past but Aerial was able to provide the highest levels of data quality, accuracy, and simple cloud based tools to easily interact with and share this valuable information, according to the company.
Due to the high volume of activity in this class B airspace, a special clearance from the Federal Aviation Administration to fly drones in this airspace was required before any mapping work could begin.
"We are excited by this opportunity and very pleased with the outcome," said Jesse Kallman, President of Airbus Aerial. "These results show the time and cost savings our service provides and demonstrates our ability to successfully conduct such critical work in this tightly controlled and high-volume airspace. This is such a natural fit for a company like Airbus to be engaged in as a world aerospace leader," he said.
In conducting the runway mapping, the Aerial team used a senseFly eBee Plus drone with specialized RTK GPS capabilities to capture aerial images of the runway with an accuracy of <5 cm. The eBee Plus is autonomous, can cover up to 40 km2 (15.4 mi2) in a single flight, and acquire images with a ground sampling distance of down to 1 centimeter (0.4 in) per pixel. This drone is fully automated and can map an entire runway in one flight with a single operator there to provide safety oversight, offering considerable time and cost savings.
Once imagery was in–hand Airbus Aerial engineers developed a comprehensive assessment report for airport officials, including 3D mapping, contour layers, and traditional high-resolution imagery, all within Aerial's cloud based geospatial platform to ensure ease of access, use and sharing across airport officials.
The mapping work at Hartsfield-Jackson airport is but the latest engagement in the Atlanta area for Airbus Aerial. The business has conducted beyond visual line of sight (BVLOS) inspections of power lines for the Southern Company, the region's largest utility provider with more than 9 million subscribers. That effort marked the first time drone and satellite imaging technologies have been used jointly for power line inspections, and the first BVLOS drone operation in Georgia.
In the Houston, Texas area, Airbus Aerial played a critical role in recovery efforts following Hurricane Harvey by providing leading insurance companies access to its aerial data to help process claims faster than ever. Mere days later, Airbus Aerial again proved its effectiveness to insurers following Hurricane Irma in southern Florida.
More recently, the business assisted catastrophe response teams in mitigating the destruction caused by the Thomas Wildfires in Ventura County California, which burned more than 281,893 acres.
In early February Airbus announced the addition of an Asia-Pacific operation based in Singapore to the two existing hubs of Airbus Aerial in Atlanta, U.S. and Munich, Germany.