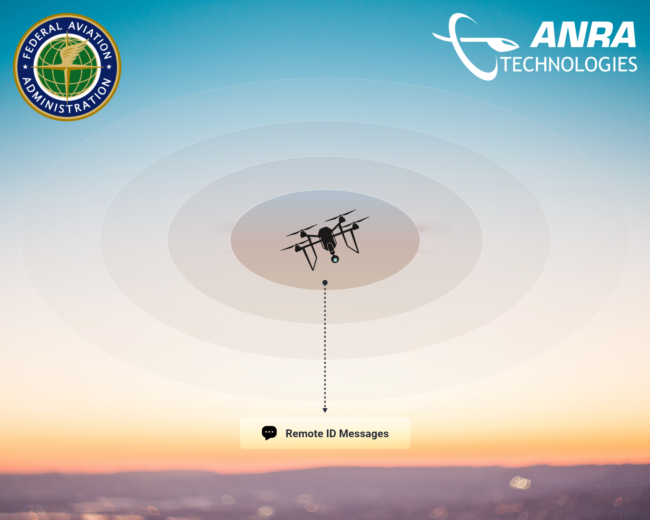 WASHINGTON, D.C. – ANRA Technologies said it has won a Federal Aviation Administration contract to demonstrate the ability to collect, aggregate and retransmit Broadcast Remote ID (B-RID) messages.
The company will convert the B-RID messages to Network Remote ID (N-RID) messages that can be shared in the UAS Service Supplier (USS) Network, an FAA-funded project to test and validate advanced air traffic management functions for drones to safely operate in compliance with the FAA's Remote Identification Final Rule.
However, for widespread and scalable UAS traffic management (UTM) deployment, the service supplier network will need the ability to track drones and other air traffic—crewed and uncrewed—across long distances to manage operations and prevent collisions. This project will demonstrate a remote identification system composed of B-RID transmitters and field networked RID receivers to communicate broadcast messages among a federated and integrated UTM network.

In partnership with Nevada Autonomous, Nevada's designated Unmanned Aircraft Systems Test Site managed by the University of Nevada, Reno, and uAvionix, ANRA will deploy B-RID equipped drones and field ground-based N-RID receivers to demonstrate the ability to collect, aggregate and re-transmit B-RID data converted to N-RID data that can be shared in the USS network. The network will then process these messages, notionally termed B+N RID messages, to make them discoverable within the federated USS network.

Some key objectives of the project include demonstrating new uses cases for public safety, law enforcement and crewed aircraft entities enabled through aggregated RID data that can be shared on the USS network; exploring the use of B-RID messages by crewed aircraft operators to increase their situational awareness in the national airspace system; and supporting the direct receipt of B-RID messages on smartphones applications without needing a network.

The outcomes of this project will be foundational to enabling more advanced UTM functions, ANRA said. With B-RID information in the cloud, new use cases will emerge to support historical, real-time and predictive uses from commercial UAS operators, USS, public safety and law enforcement stakeholders.