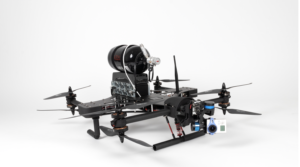 The system is powered by a hydrogen fuel cell from Intelligent Energy.  
FlightWave Aerospace Systems introduced the Jupiter unmanned aircraft system (UAS), which features Intelligent Energy's lightweight 650-W Fuel Cell Power Module, at this year's AUVSI XPONENTIAL meeting in Denver.
The system can be powered either by hydrogen or a battery pack, FlightWave Director of Business Development Callie Mortimer said during the show. Jupiter can fly for more than two hours when powered by hydrogen fuel and for 50 minutes with a lithium-ion battery pack. The tool-free mounting system makes it quick and easy to swap out the two power systems, Mortimer said, so users can add the extra endurance hydrogen provides without having to invest in another system.
Hydrogen is a clean, environmentally friendly power source that offers various benefits, including more flight time—which is something many customers want out of their systems, Mortimer said.
"FlightWave believes hydrogen is the fuel of the future," she said. "We don't want to wait for battery technology to get better. We met Intelligent Energy at InterDrone and it just seemed like an obvious partnership. We designed the drone around the fuel cell stack. We're also looking at fuel cells for other product lines, so this is the start of a great partnership."
Payloads can be clicked on and off the system's nose cone, and customers have the option to integrate their own payloads, Mortimer said. All FlightWave payloads can be used interchangeably with any of the company's UAS platforms.
The Jupiter's hydrogen power module system houses the hydrogen tank, regulator, and Intelligent Energy's fuel cell stack in a single unit. Large energy storage allows Jupiter to carry more than two pounds of payload, including additional on-board computing power.
The drone also features independent tilt rotors that allow it to travel in any direction while remaining stable. Two forward pods rotate in pitch, while the back two rotate in roll, allowing for motion in any direction without tilting the frame as well as the ability to rotate in place with no tilting or translation. This feature makes the system will suited for flying in windy environments as well as indoors for applications such as warehouse management.
Jupiter measures only 72 cm tip to tip and is powered by eight high-performance motors and propellers with a lift capacity of over a kilogram.
The UAS will officially launch in September.