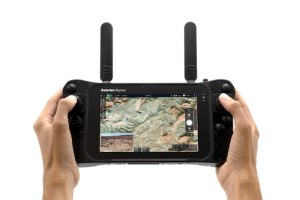 U.S. government agencies increasingly rely on unmanned aerial systems (UAS) to carry out their intelligence, surveillance and reconnaissance (ISR), border control and search and rescue missions. As that reliance continues to grow, many of them are rethinking how to update and streamline their diverse and growing fleets.
To help customers take a more innovative approach to operating their drones at scale, Auterion Government Solutions recently launched Skynav Gov, a scalable handheld ground controller designed to easily manage autonomous flights, live video streaming and data collection.
It features an operator-friendly design that reduces the controls and data needed for mission planning and deployment, as well as an interoperable, open-source platform that can control any type of UAS—whether it's a quad, multi-rotor, VTOL, fixed-wing, or even ground vehicle—with a single unit.
"Most controllers on the market are proprietary to some degree," said Auterion Government Solutions CEO David Sharpin. "We based Skynav Gov on our open source software legacy because we wanted it to be as ubiquitous as possible. Putting open hardware, software and interfaces in our customers' hands is important because it allows them to morph their programs over time."
Sharpin noted that this long-term approach to UAS fleet management is critical for customers who are preparing their fleets to meet the mission requirements of the future.
"This isn't just about drone control, it's about how operators are able to manage the mission," said Sharpin. "We take a forward-thinking approach that helps enable our customers to concentrate on what's most important, which is getting the data and knowing what to do with it. Skynav Gov displays what an operator needs to know without overloading them with information."
That's accomplished through Auterion's Mission Control, which puts everything at the operator's fingertips, including setting waypoints, surveying areas, scanning corridors and more. It streamlines the collection of data from a variety of sources, including day and nighttime full-motion video, high resolution still photos, and signals intelligence and metadata to reveal complex patterns and connections.
Other Skynav Gov features include:
Scalable control: The ability to use a single controller for any Group 1 and Group 2 UAS communicating over MAVLink
Versatile connectivity: Skynav Gov supports three different radio transceivers (Microhard, Silvus, Persistent Systems) and has built-in LTE.
Reduced cognitive overhead:Skynav Gov is made for operators, not engineers, as the primary user. See only the controls and data that you need, to safely pilot your payload
"We're taking a different approach to help governments manage their UAS ecosystems by breaking down stovepipes wherever we can with the technology we have, allowing customers to have access to data they wouldn't have access to otherwise in a more propriety system, and gaining their feedback as we go along and really feeding that back into what we're doing," said Sharpin.
Auterion began beta-sampling Skynav Gov with select customers when the product launched last week, and the company will start taking orders widely in August 2020. For more details, visit www.auterion-gs.com/skynav