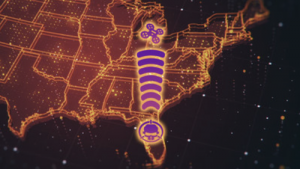 Fat Shark, a wholly owned subsidiary of Red Cat, recently partnered with Skypersonic to remotely conduct a long-distance drone flight.
Through the test, a drone pilot in Orlando controlled a drone flying in Detroit, according to a news release. The flight integrated Fat Shark's "Shark Byte" with Skpersonic's Skycopter UAV and remote pilot software system. Flight instructions from the pilot to the drone were transported through Skypersonic's servers in Italy.
Skypersonic plans to update its entire drone fleet to the Shark Byte digital system, CEO and Founder Giuseppe Santangelo said, according to the release. Customers like Exelon rely on the company's drones for difficult, dangerous inspections, he said, and described Shark Byte's low-latency high-definition video as a "significant advance from prior analog systems" that allows for a higher level of performance and safety.
"The ability to control the flight of a drone from thousands of miles away should accelerate the commercial adoption of drone technology, expand the number of business services that can be provided by drones, and lower travel and training costs for companies deploying drones." Red Cat CEO Jeff Thompson said, according to the release. "The combination of our recently launched Shark Byte digital system and Skypersonic's patent pending software platform provides video resolution that will enable pilots to navigate more safely and execute commercial flights that were not possible with an analog system."