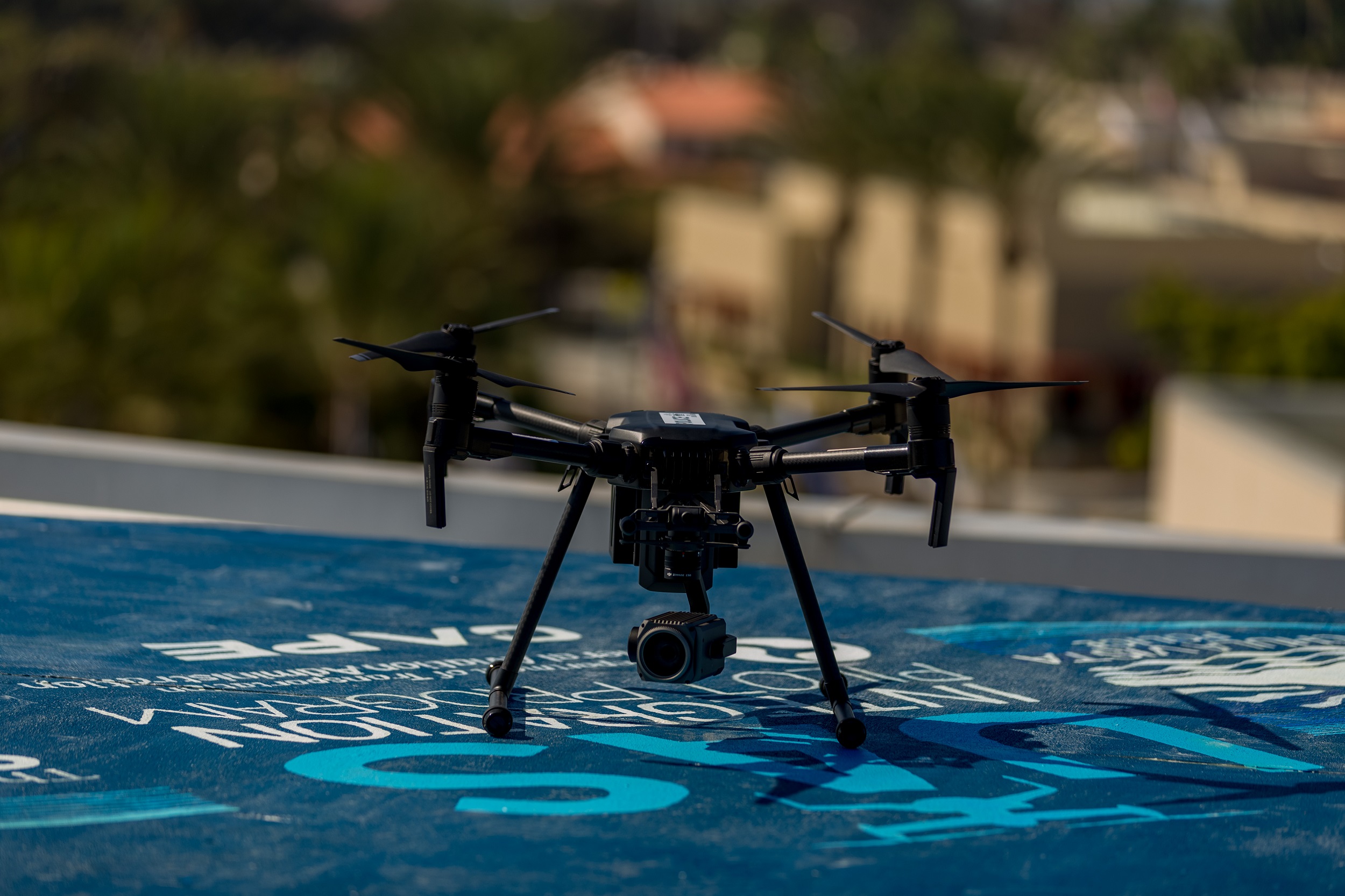 Chula Vista PD program is part of a regional consortium with FAA Approval
The City of Chula Vista Police Department has completed more than 30 drone flights having announced on October 25, 2018, a program with the Federal Aviation Administration (FAA), City of Chula Vista, City of San Diego, San Diego Regional EDC and Cape. The test program deploys drones for proactive public safety operations, in a new program operated by the police department.
This project has been made possible through the FAA Unmanned Aerial Systems (UAS) Integrated Pilot Program (IPP). As part of the IPP, drones equipped with Cape Aerial Telepresence software can be deployed to a scene within two minutes from Chula Vista Police Department headquarters, to provide police with video and decision quality data. These drones are serving as first responders, assisting in incidents such as life safety, crime in progress, fleeing subjects, fire and more. 
A demo is available for viewing or download at: http://cvapps.chulavistaca.gov/video/CVPDActiveShooterDemo-2minute.mpg
The drone program is an element of the Chula Vista Smart City Action Plan to implement technology and data tools to enhance city services, advance public safety, promote the efficient use of taxpayer dollars, engage residents and encourage growth in the local economy.
Since CVPD began operations on October 22, a drone has been deployed more than 30 times. About 30 percent of those calls were related to some type of disturbance and about 17 percent of the time, drone pilots were able to clear a call without ground units responding (e.g., the subjects were gone), thereby keeping officers free for higher priority calls. The drone also was used to locate a felony domestic violence suspect in a transient camp surrounded by heavy vegetation. The drone pilot was able to safely direct officers to the camp while observing the suspect's actions until he was arrested. A drone also was used successfully to locate and direct officers to arrest subjects on two other disturbance calls. These are just a few of the early successes of CVPD's UAS pilot program. Drone pilots and patrol officers recognize the potential for even more public safety benefits as the program evolves. 
"I am extremely excited that the Chula Vista Police Department was selected to be part of the San Diego IPP program," said Chula Vista Chief of Police Roxana Kennedy. "Contemporary policing is very challenging, and this technology enhances the safety of our officers and the public. The concept of using drones to respond to calls quickly will ensure our officers have the information and decision quality data to make the best choices in any given situation."
As one of the first public safety agencies in the United States to become operational, the CVPD is leading the way for the future of drone integration using Cape-enabled drones proactively in emergency situations versus traditional reactive response and support efforts. Drones now are available to assist on service calls for 10 hours per day, with plans to increase over time. Drones are being dispatched on top priority calls in proximity of the CVPD headquarters, which is one of the heaviest call zones in the City of Chula Vista. 
A CVPD drone is launched from the roof of the CVPD headquarters and is teleoperated by an officer in the command center to the location of the call. In most cases, the drone arrives well ahead of the responding ground units. 
The Cape Aerial Telepresence™ platform provides a cloud-based system for drone telepresence and data management. With the ability to easily and remotely operate responding drones and view the live stream video in route to the scene, Cape technology enables the real-time aerial visualization needed to prepare responding officers and to better determine and dispatch needed resources before arrival.
"Chula Vista is modeling the future of drone integration in public safety by utilizing drones as first responders" said Chris Rittler, CEO of Cape. "We are honored to be a part of one of the first law enforcement IPP deployments in the country and to partner with Chula Vista to lead the effort in shaping the future of safe commercial drone integration in the U.S. We look forward to continuing to work with CVPD and the City of San Diego to increase the safety of residents and first responders." 
San Diego's IPP local program also will include projects like flying medical specimens from UC San Diego for expedited results and cost savings, testing food delivery from restaurants to consumers using Uber and testing the integration and communication between driverless cars and unmanned aircraft systems.
The City of San Diego's Homeland Security Department is collaborating with more than 20 regional organizations to implement the IPP. In addition to the City of Chula Vista, partners include: San Diego Regional Economic Development Corporation, Cape, AirMap, Qualcomm, AT&T, California Governor's Military Council, California Governor's Office of Business and Economic Development (GoBiz), Uber, UC San Diego Health, Intel, GE Ventures and others. 
"The continued success of the San Diego Regional UAS IPP will benefit residents and businesses, as well as government agencies," said John Valencia, City of San Diego Homeland Security Director. "This program will greatly enhance the safety and security of residents, particularly through the added capabilities of public safety organizations such as Chula Vista PD and San Diego Fire-Rescue. Drones will help us save lives."
Another critical factor of the new drone program is to provide real-time airspace management. "AirMap is proud to support Chula Vista Police Department and Cape with technology for assessing the airspace environment of each drone flight," said Sezen Jones, Counsel at AirMap. "AirMap's drone traffic management infrastructure is essential to scaling these life-saving drone operations while keeping skies and citizens safe."
The San Diego regional IPP is one of only 10 agencies nationwide chosen to participate, including the states of Kansas, Virginia, Alaska and North Dakota and the cities of Reno and Memphis. The San Diego region also was selected as one of 10 autonomous vehicle testing sites in the nation in 2017. The designated testing sites form a national community that share information and collaborate with the private sector to advance the safe development of unmanned vehicles.
The federal Unmanned Aircraft System Integration Pilot Program is an opportunity for state, local, and tribal governments to partner with private sector entities, such as UAS operators or manufacturers, to accelerate safe UAS integration. The program is expected to foster a meaningful dialogue on the balance between local and national interests related to UAS integration and provide actionable information to the USDOT and FAA on expanded and universal integration of UAS into the National Airspace System.
For more information on the drone program, visit www.chulavistaca.gov/smartcity or
www.sandiego.gov/ohs/unmanned-aircraft-systems. 
Podcast: Play in new window | Download
Subscribe: RSS