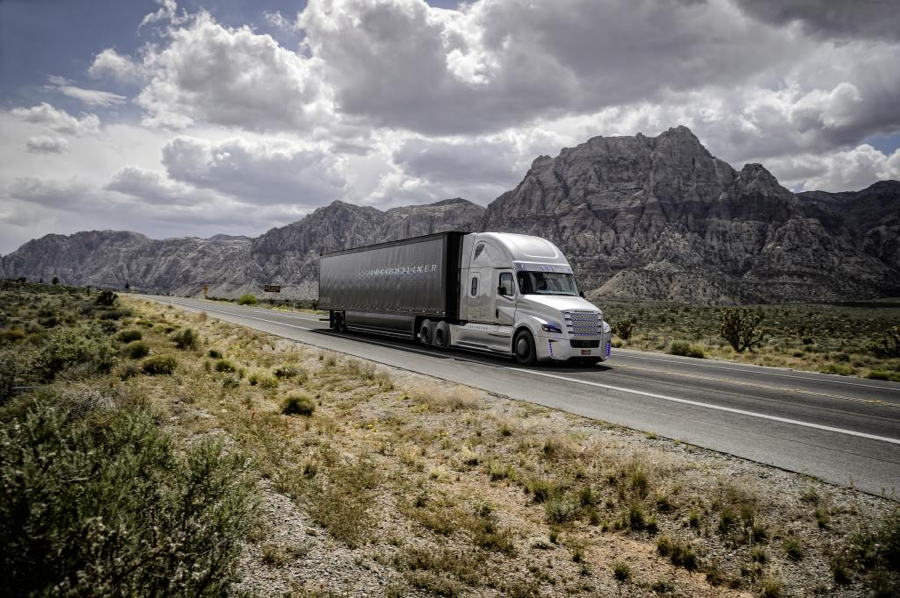 Earlier this month, heavy-duty truck manufacturer Daimler Trucks North America unveiled the Freightliner Inspiration Truck during an event at the Hoover Dam.
The Freightliner Inspiration Truck is the first autonomous commercial truck licensed to drive on public roads, according to a news release. It was developed by engineers at Daimler and underwent extensive testing before the Nevada Department of Motor Vehicles granted it a license to operate on public roads in the state.
"The Hoover Dam provides the ideal setting for a debut as significant to the trucking industry as this," said Dr. Wolfgang Bernhard, Member of the Board of Management of Daimler AG, Daimler Trucks and Buses, according to the release. "Not only was it built primarily using trucks, but it signifies inspiration like few other structures in the world. To show the significance and opportunities of autonomous driving functions for the global trucking industry we were willing to go ways that people did not dare to think about before."
The truck features Highway Pilot sensors and computer hardware based on a series production Freightliner Cascadia Evolution, fully certified to meet all U.S. Federal Motor Vehicle Safety Standards, according to the release. The sensors link together camera technology and radar systems with lane stability, collision avoidance, braking, speed control and steering, as well as other monitoring systems. The truck is designed to reduce fuel consumption, highway congestion and accidents.
Two Freightliner Inspiration Trucks exist today, and media along with trucking industry analysts had the chance to ride in the two trucks on public roads near the Las Vegas Motor Speedway earlier this month.
The truck operates at Level 3 autonomy, meaning the driver can give up full control of all safety-critical functions under certain conditions. While in autonomous mode, the truck must maintain a legal speed, stay in the selected lane, keep a safe braking distance from other cars and slow or stop based on road and traffic conditions.
The driver takes control when it's time to exit the highway, when driving on local roads and when stopping for deliveries. The truck monitors conditions that make it necessary to give control back to the driver while on the highway.
For more information visit freightlinerinspiration.com.