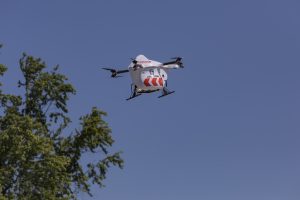 Drone Delivery Canada (DDC) recently completed the third phase of its AED (Automated External Defibrillator) On The Fly project in partnership with Peel Region Paramedic Services and Sunnybrook Centre for Prehospital Medicine.
The tests showed drones can decrease the time it takes to get an AED to cardiac patients in rural communities, according to a news release. DDC's Sparrow drone used its cargo drop capability to place an AED in a designated area for an untrained bystander to retrieve and apply to a simulated cardiac arrest patient. The bystander followed real-time instructions from trained personnel via the drone's audio announcement system.
The team measured response time to drop, retrieve and apply the AED as well as physiological and psychological human factors.
Remote launch and monitoring from the company's Vaughan, Ontario, Operations Control Centre (OCC) and nighttime delivery were also tested. Simulated 911 call locations were sent electronically to the center. After a location came in, the UAS automatically flew from the Peel Paramedic station in Caledon, Ontario, to the destination and back.
The Sparrow was monitored in real time via the company's FLYTE software system. The drone flew about seven miles round trip for these missions and was able to complete the drop off faster than a ground vehicle. This could improve outcomes for cardiac patients in rural and remote areas, ultimately saving lives.
"Working with lay responders, we continued our simulated cardiac arrest scenarios and optimized the ease of use of an AED delivered by drone through real time feedback to lay responders  as well as performing night flights to ensure 24/7 capability of this unique AED solution," said Dr. Sheldon Cheskes, an associate professor at the Department of Family and Community Medicine at the University of Toronto and the principal investigator of the research program, according to the release. "Finally, and most importantly, the launch and monitoring of the drone occurred from the Operations Control Centre at DDC headquarters in Vaughan, Ontario, reconfirming the capabilities of DDC's remote monitoring with FLYTE."
Cardiac Arrhythmia Network of Canada (CANet) and Zoll Medical Inc. supported the project.