Clients in a variety of industries are already using the software, including Luck Stone.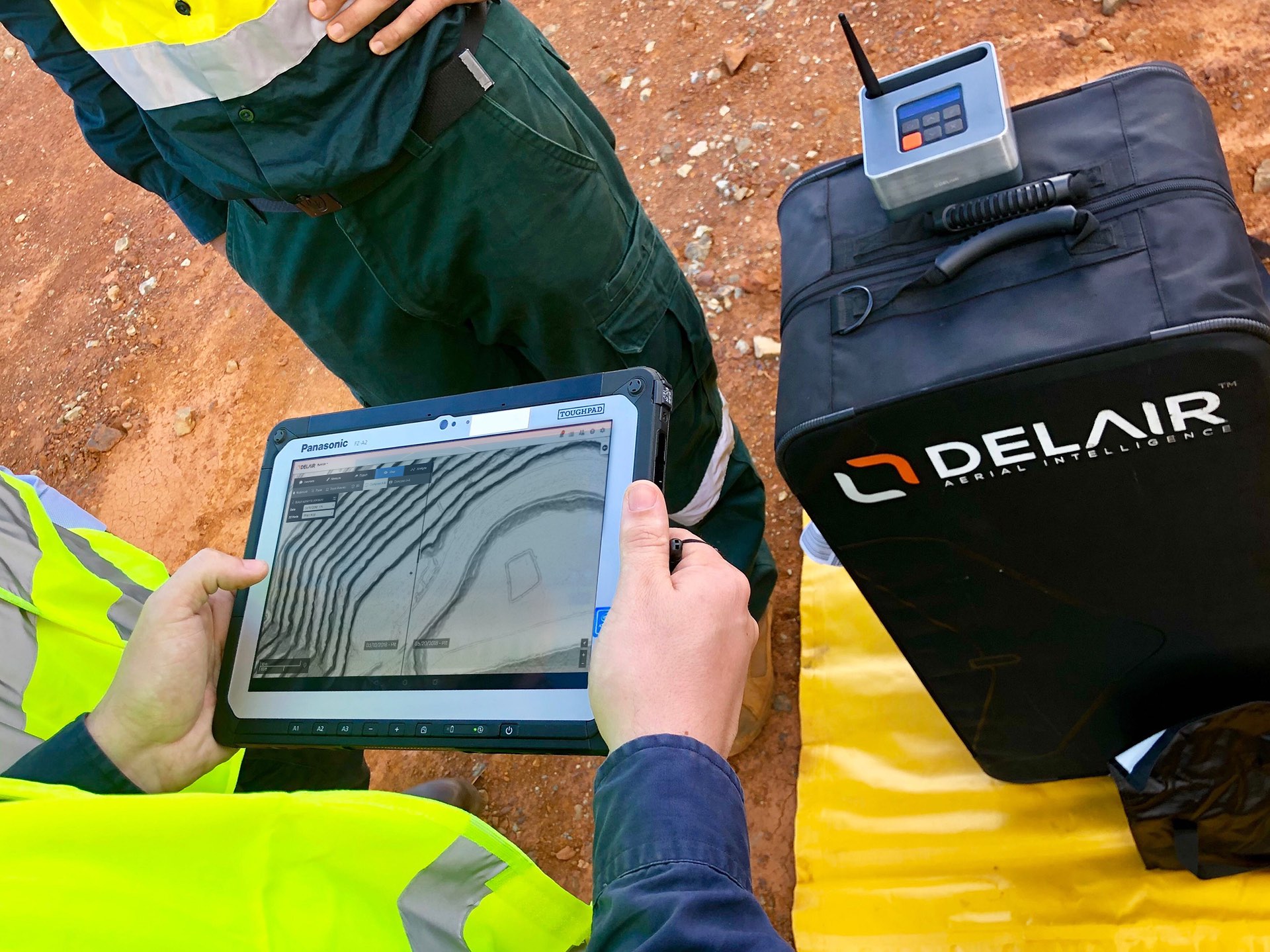 John Blackmore and his team at the family-owned mining company Luck Stone began flying unmanned aircraft systems (UAS) nearly five years ago. They wanted to use drones to get a different perspective, and to access areas difficult to see from the ground. They also deploy drones for surveying and are now mapping stockpiles quarterly (some even monthly) instead of just twice a year. The drone program has proven to be successful, and they're always looking for ways to continue to improve it.
At first, the team processed the data collected in software like AutoCAD or a 3-D modeling software specific to the mining industry. They then moved on to photogrametery software, but that only gave them the model. Now, they rely on Delair's new cloud-based software platform, Delair Aerial Intelligence (delair.ai). They've been using the software, which was officially released in early February, for about three months. With this platform, they get 3-D models and mosaic imagery along with a host of analytic tools.
"One of the primary ways we're using the platform is for inventory product measurement. We also have the ability to compare images, so we can compare this month's flight to a previous flight," Blackmore said. "The most powerful tool is their analytics. Looking at an aerial view of our pit, we can use their analytic tools to understand the width and slope of our haul roads. We can look at traffic patterns and analyze safety berms. There's a very large safety aspect, and we're able to use modeling and some analytic tools to highlight areas that we may need to address."
The Software
The platform offers tools for visualizing, measuring and storing data. Integrated tools make it easy to calculate length, determine an area size, or calculate stockpile volumes. The platform also makes real-time collaboration possible, which is a feature Blackmore and his team appreciates.
"We can share images, 3-D models and measuring tools and analysis tools outside of our engineering group," he said. "That's where the power in this lies."
The software also makes it possible to overlay drone data with other geospatial data, supporting commercial formats and allowing data to be easily exported to industry-standard software suites and reporting formats.
All these features enable users to make quick decisions using information they didn't have easy access to before.
Industry Specific Insights
The software offers specific analytics for a variety of industries, including mining, precision agriculture, utilities, and construction.
"The applications are numerous, but the driver is clearly the business insights and not just the drones themselves," said Thomas Nicholls, Delair's chief marketing officer. "With delair.ai, the industry now has a tool that lets business people extract the business insights out of drone data and operational staff collaborate to optimize operations. All of that is powered by machine-learning AI so that the software can do the tedious repetitive analysis and the end-users can focus on the extracted business value."
Blackmore said the industry-specific features are key. For example, he can now look at berms in the pit and color code them based on parameters he sets. If he wants the berms to be a minimum of four feet high, he can run an analysis to see which berms meet that specification and which don't. This gives him a quick visual tool that tells him if he needs to make a berm taller to meet industry safety regulations.
"That's a very specific tool to mining and it's a safety advancement," he said. "We also can use it for the haul roads within our pits. These roads have traffic patterns. Sometimes they have two-way traffic and sometimes they're only one-way depending on the width of the road. Using the software we can outline the roads with red, green or yellow based on the parameter we set. If we're aiming for a certain width for two-way traffic we can set that up, run the analysis and get a quick visual representation of how wide our roads are. That gives us another opportunity to improve safety."
An Open Platform
Delair.ai is an open platform that works with any hardware. The Luck Stone team uses a variety of systems, including the senseFly eBee RTK for mapping, and systems from DJI. Delair also offers the platform as a PaaS (platform-as-a-service) for companies that want to integrate the platform with their IT system or use it to run their own analytics through a set of open APIs and related SDKs, Nicholls said.