Providing An Extra Layer of Protection
Drones are being deployed to enhance security, whether at crowded outdoor events, around large facilities or near critical infrastructure. The systems give personnel tasked with overwatch access to information they can quickly act on, making their jobs easier and keeping the people and property they're protecting safer.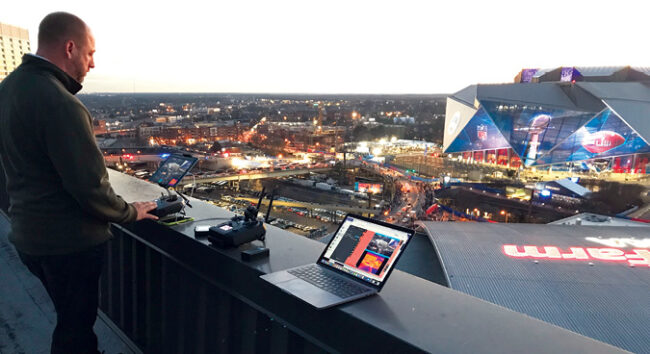 ALLEVIATING RISK

One of the main challenges to using drones to secure live events is the fact they have to fly over crowds, said Guilhem de Marliaveof Elistair. While the systems have become safer, that risk remains. But, over the last few years people have become more comfortable with the idea, allowing more venues to leverage the technology.


Elistair recently introduced the ORION 2.2 TE, which features new tactical functions such as target tracking, automated object categorization and automated scanning routines.
During his time with the Georgia Emergency Management Agency (GEMA), Marc Vincent was part of the team that stood up a drone program for search and rescue (SAR) missions. He became familiar with the technology and its benefits, and saw how the concepts employed for those types of missions could be applied to security—particularly during large outdoor events.
So, when Vincent was tasked with protecting the Super Bowl and related events as part of his role as emergency preparedness manager, public safety for the Georgia World Congress Center, he knew he wanted to integrate drones into his security team. He reached out to his friend Matt Sloane, founder and CEO of Skyfire, who set him up with two tethered drones that kept overwatch throughout nine days of activities.
The drones provided a clear view of areas that needed protecting—even in blind spots the security team couldn't otherwise see—resulting in excellent situational awareness. Vincent and his team, stationed at the emergency operations center, had access to a downlink, allowing them to view videos and images in real time.
"The video, combined with our troops on the ground who were pointing things out as well, allowed us to determine if something spotted was a threat or a non-threat," Vincent said. "We were able to pan the ground from an elevated height and determine if there were traffic management issues, for example. On the day of the Super Bowl, we used the drones to keep an eye on gates where you have large congregations of people."
The deployments were a success, with the team working closely with the FAA and the FBI to ensure deconfliction with manned aircraft and other drones. Since then, drones have been leveraged to provide overwatch on smaller gatherings in Atlanta and are expected to help secure future events at the center, Vincent said.
In general, drone-collected data has become part of the common operating picture for various types of security missions, adding another layer of protection. UAS are being deployed for perimeter security at large facilities and to keep critical infrastructure like utilities and oil and gas assets from falling victim to nefarious actors, said Jack Wu, cofounder and CEO of Nightingale Security. They're monitoring our borders and serving as overwatch for first responders.
And then there's counter UAS (C-UAS). In many cases, security details are also responsible for preventing hostile drones from penetrating an area, Easy Aerial Chief Programs Officer Alex Levit said. These systems can leverage various sensors such as radar to pick up drones that don't belong, and can do so from further distances than a ground-based solution.
Drones have become common tools for those tasked with keeping people and property safe. Tethered versions can monitor an area for hours, providing real-time video footage and vastly increasing situational awareness. The number of drones deployed for security purposes is expected to grow in the coming years, with sophisticated cameras, automation and AI algorithms making them even more effective.
"Drones are absolutely revolutionary for the security market," said Alex Pachikov, co-founder and CEO of Sunflower Labs, a company that focuses on perimeter security for large facilities. "There's going to be very little need to have humans doing this if I can automate with a drone, especially for larger, remote properties."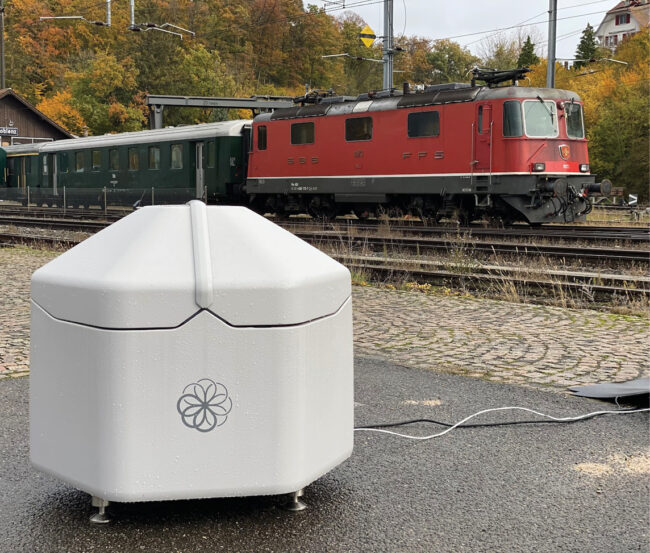 PROTECTING LARGE GATHERINGS
During events, drones can collect video and push it live to ground control stations, said Mike Rogers, Skyfire's vice president of public safety and training, enabling security teams to see the entire venue in real time. These drones typically carry day and night thermal imaging cameras, but some are adding communications payloads and sensors that monitor the air for radiation or detect RFID to better track officers in a crowd.
Beyond the Super Bowl engagement, where drones powered by tethers kept an eye on hundreds of thousands of people for hours at a time, Skyfire also has deployed drones to monitor festivals, graduations and smaller concerts.
These gatherings tend to be a series of micro events, and it's difficult for first responders to move around, Rogers said. Drones travel through the air and can provide them with imagery from various angles.
When there is an incident, security teams can get eyes on the area immediately by adjusting the camera, Rogers said, and determine what's going on before trying to push the crowd. They also can use video to plan a safe route to a disturbance, with the team back at ground control further assessing the situation and deciding what resources to deploy.
Elistair offers small tethered drone kits and larger tethered drone systems that can be deployed over large events, said CEO and cofounder Guilhem de Marliave. Their solutions were put into action at the Super Bowl earlier this year and the World Cup.
The static drones focus on specific areas of interest, de Marliave said, such as the main entrance or shops where money is exchanged. The drone, which could be positioned from a roof top or a park near the event, will send a video feed down to command and control through a local network or transmit via 4G or 5G. Cameras are controlled and images are monitored from the security room. If something seems off, responders can be sent to the scene immediately.
While AI can help detect motion or identify someone wearing a certain color, there still needs to be a person in the loop.
"It's very complicated to automate for these types of events because everything is moving," de Marliave said. "It's easier for traffic control, for example, where you can have the drone send an alert if someone goes through that line or to that spot on a road."
Drones complement other cameras and existing security measures already put in place, de Marliave said. Event organizers simply can't place the hundreds of cameras needed to cover every area of an event; drones offer a temporary solution to fill those blind spots, sending video and images in real time that can be dispersed to everyone on the security team.
"Drones provide a lot of flexibility," Sloane said. "They give you the ability to see an area from multiple different altitudes and angles. The more camera angles you have on an incident, the more likely you'll be able to see what's going on. And you can move the drone. If you just have fixed cameras, you're stuck where you are."
The way drones are deployed during large events is similar to the drone as first responder (DFR) concept, Sloane said. Towns and cities with DFR systems in place through their local police and fire departments already have the infrastructure, and can apply best practices during events.
"[in both cases ]It's responding to an emergency," Rogers said. "Over time, as DFR becomes more prominent, we'll be able to integrate different types of agencies and responses into a package that helps further improve the response at these large events."
FACILITY PATROL
Drones are being leveraged to secure large facilities, extending coverage areas beyond where static cameras can reach. This allows for remote monitoring, reducing the number of personnel needed on site.
"Generally, security cameras are passive. If you wanted to interact with an intruder or someone who's lost, a security guard would have to come out and talk with the person," Pachikov said. "With a drone, you can let them know they've been noticed and maybe that alters their behavior."
Systems from Sunflower Labs secure dozens of sites, Pachikov said. Self-storage facilities, prisons, office parks, religious facilities, mansions, train depots, expo halls, solar farms and automotive plants are among places they patrol.
Easy Aerial's systems are typically deployed for perimeter security at large installations where personnel would usually conduct patrols in pickup trucks, Levit said. Their systems are autonomous, with security teams just needing to set the location that needs protected. Operators can switch between payloads and tilt the camera to see different angles.
"The drone can traverse yards autonomously, responding to triggers," Levit said. "If a smart fence is installed, for example, there's an alert sent to the control room if it's touched. The drone can then go to the location and provide a live video feed so operators can better make a decision about what to do, and respond in a shorter amount of time."
The drones carry typical high-res camera payloads as well as communication devices, Levit said. Many clients have a tactile local network that supports communication between people and devices. That means drones aren't just another node in a 5G network; they can communicate over this "pretty much infrastructure-less network" once deployed.
The drones are stored in a case on site, which opens to begin a pre-set mission or when something triggers a mission, Levit said. Once airborne, the camera is pointed at areas of interest, scanning in a pattern. Embedded AI helps identify pre-defined targets, like an animal, a person or a vehicle.
Once a target is identified, the drone might keep tracking it or create a database that includes a short video and the target's location, depending on what the operator decides. The operator also can pause the mission and activate a loudspeaker or spotlight to let intruders know they've been spotted.
Nightingale drone-in-a-box solutions fly autonomously, which Wu said is critical for surveillance missions.
"You don't know when an incident is going to happen. The time of response is very important, and is where the autonomous aspect comes in," Wu said. "Security drones have to reach a certain level of technical reliability beyond any other category."
When Nightingale's AI detects a potential active shooter, for example, a message is sent to operations command that includes a link to video of the person with a gun, Wu said. The video is also dispersed to the rest of the team, and can be accessed via phones and laptops.
Sunflower Labs systems act as "virtual security cameras," and can fly to various pre-defined security locations. The drone heads to the chosen location, streaming video as it goes and taking still images once it arrives for security teams to analyze.
Operators, who can be thousands of miles away, can click on anything they want to see during the flight and easily change the route, Pachikov said. If a person or vehicle is spotted where they're not supposed to be, the drone takes a picture and sends an alert so the operator can decide what, if any, action to take. The image shows exactly where, for example, a vehicle is located and can be used as supporting evidence if a police report is filed.
And the video feed only focuses on areas that are pre-loaded in the flight software. If the drone is flying over a facility near a park, for example, the park is blurred out.
It's important to remember that while effective, drones are an extension of other security measures you already have on site, Pachikov said.
"You wouldn't rip out everything you have today and just put a drone in," he said. "Security is a layered model, and drones are a complement to the existing cameras and sensors and gates you already have installed."
LEVERAGING REMOTE ID FOR SECURITY AT SUPER BOWL LVII

REMOTE ID ALSO CAN HELP ENSURE ONLY AUTHORIZED DRONES ENTER THE AIRSPACE AROUND LARGE EVENTS.

Pierce Aerospace deployed its technology during Super Bowl LVII—what CEO Aaron Pierce said is the first time Remote ID has been used in operational support of a National Special Security Event.

Working alongside the Department of Homeland Security and other federal, state and local agencies, Pierce Aerospace deployed its Bluebird Remote ID Receivers and B1 Remote ID Beacons around State Farm Stadium. The receivers helped support airspace operations for NFL coordinated broadcast flights, a commercial drone swarm, and law enforcement drone flights and operations.

The receivers successfully detected, identified and tracked equipped drones in the week before the Super Bowl and on game day. Command Oversight or Personnel, Equipment, Response and Situation (COPERS), a web-based situational awareness tool developed by KBR, broadcast local messages collected by Pierce Aerospace's Receiver Network. Data feeds were routed to COPERS to monitor activity in the airspace, with information made available to end users that included federal and local law enforcement.

The Pierce Aerospace B1 Remote ID Beacon secured to a DJI Inspire One Pro. The B1 has multiple attachment options and a slim profile, making it easy to mount to a wide variety of aircraft. Courtesy Pierce Aerospace.
ADDING COUNTER-UAS
In many cases, security details aren't only deploying drones to protect an area, they also need to prevent hostile drones and the clueless and careless from entering it. Where permitted, C-UAS technology is being deployed at mass gatherings and around critical infrastructure, AeroVigilance cofounder Tom Adams said, in conjunction with drones that are providing security.
Authorized drone detection equipment can identify nefarious actors as well as drones that have permission to be in the airspace. AeroVigilance, a consulting and training company, helps clients find the right equipment to detect and distinguish between the two.
When an unauthorized drone is identified, a C-UAS system might send out a system alert via text or email or make a noise that indicates something isn't right, Adams said. That's where the threat assessment starts. Security teams then go through their policies and procedures to determine their response, keeping in mind the drone may not be doing anything wrong. While there are limits to what can be done if the drone is nefarious, this gives security teams situational awareness and the opportunity to take appropriate steps to mitigate risk.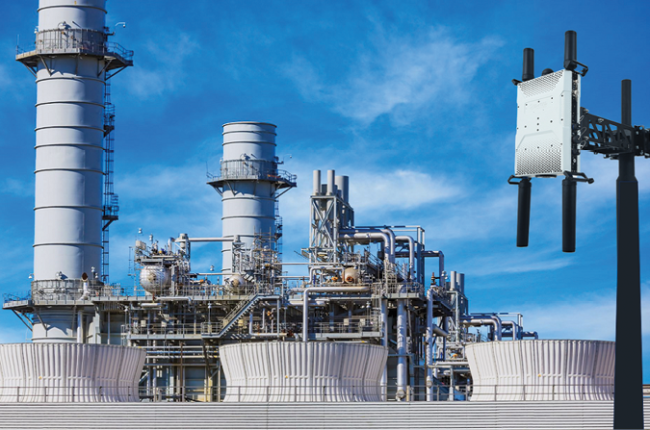 The skies are getting crowded, making it critical to detect careless or malicious drones that are in the mix with systems deployed for security or various other positive applications, D-Fend Solutions Chief Marketing Officer Jeffrey Starr said. And thwarting the small percentage of drones sent out to harm helps move the industry forward, getting us closer to a "drone-powered society."
D-Fend's technology is based on a cyber method, Starr said, and passively detects drone RF signals in designated areas. If an unauthorized drone enters, an alert is issued and that system is tracked. The C-UAS operator, who has access to critical information like drone size and type, can let the drone continue on its way, send it back to where it came from, or take control and land the drone in a pre-determined location so it can be inspected and possibly destroyed.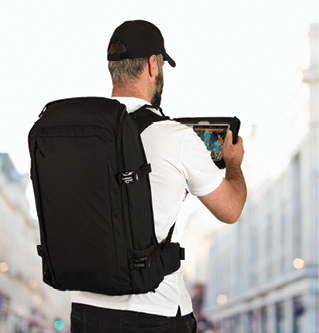 This is a very controlled approach that eliminates the uncertainty that comes with jamming or physically taking the UAS out, Starr said, common mitigation methods used in the military realm. The solution can be deployed on a vehicle, placed in a stationary, permanent location or, with the new EnforceAir2, transported via backpack.
In 2021, EnforceAir was used to protect the Pope, combining two applications: a moving bubble that protects a distinguished person and overwatch for a large event. The Pope was protected throughout his visit to Slovakia, which culminated in a large open-air mass where about 60,000 people gathered.
This was a very complex, noisy RF environment with a lot of electronics, media and friendly drones. During the mass, the system detected an unknown drone entering the protected airspace. The security team received an alert and had to quickly take action.
"There were a lot of communications and media, so the preference was not to jam because that would be disruptive and cause other issues," Starr said. "They elected to use our system, which stopped the drone and sent it away. So, an incident became a non-incident. Everything continued, and that's the ultimate goal. People had no idea this even transpired, so there was no panic."
Of course, there are challenges with C-UAS, one being it can only be used at the federal level in the U.S., Starr said, meaning state and local governments must have federal forces on hand during a large event to deploy such technology. There is legislation in the works to extend C-UAS mitigation authority, which will be critical as drone use proliferates.
LOOKING AHEAD
On the C-UAS side, these solutions will help safely and slowly integrate more drones into society, AeroVigilance cofounder Casey Flanagan said. They'll provide better situational awareness of both crewed and uncrewed aircraft across larger metro areas, instead of just bubbles of protection for large events. This will improve integration and move us toward UTM and Advanced Air Mobility (AAM).
"Security traditionally has been two-dimensional guns, gates and guards, but now we have that third dimension," Flanagan said. "No matter how much money you put into perimeter security, you can be defeated by a drone in that third dimension, so it's vital to understand how you can deploy drones for security and what other drones are doing in the airspace."
C-UAS systems will continually be updated with the technology needed to identify drone threats as drones evolve and become more resilient, Starr said.
"It's not just the counter drone threat today, but it's thinking about what will happen next in drone technology," he said. "It's never ending. We have to be able to anticipate and understand where that emerging threat is."
When it comes to providing event and facility security, the aircraft and cameras deployed will continue to mature and get smaller, de Marliave said. Tethered drones will become more automated and easier to deploy, and AI will begin to play a larger role in analytics. Drones will cover more ground and more easily integrate with patrol teams.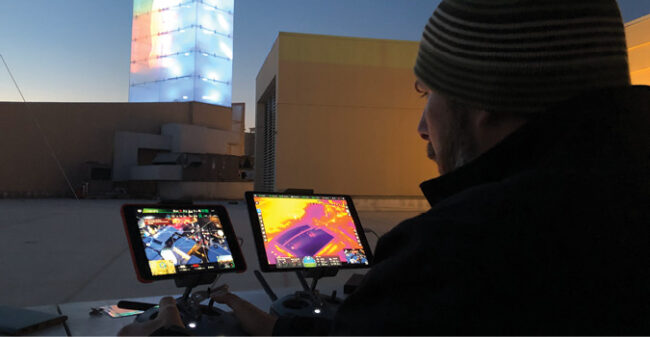 Security teams will move to multi-drone operations, Wu said, with systems working as a team. Once they're told to patrol a specific area, they'll determine which drone needs to go where and for how long. Their ability to communicate with each other will become more advanced, allowing for more sophisticated collaboration.
Advanced technology like radars will be critical to enabling BVLOS security missions, Sloane said, and that will mean more autonomous deployments.
Drones will become a common tool for public safety agencies, improving efficiencies and response times, while also keeping people in the community safe, Vincent said. Every public safety agency will have one, and they'll become the norm for monitoring large events.
"The challenge we as public safety are going to face is deconfliction of what is the public safety drone, the hobby drone and the adversarial drone," Vincent said. "As the technology becomes more advanced, we'll have a better ability to understand which ones we want on campus and which ones we don't, and at some point have the ability to bring a nefarious drone down or scare it away. At the end of the day, our job is to keep a person coming to a football game, a convention or concert safe. It's our job to deliver that by whatever means."
FILLING MANY NEEDS

It can be difficult, even impossible, to send humans to remote locations for security, said Alex Pachikov of Sunflower Labs. Drones represent "the only way to provide observations economically and in any type of condition."

Drones also help reduce the number of people that need to be on a site, he said, which is especially critical as the industry deals with a labor shortage.

Say you want to start covering a perimeter twice an hour instead of just once. You need more personnel to do it, Alex Levit of Easy Aerial said, creating a ripple effect. If you add another person, you need to expand operational costs to support that. Deploying a drone reduces the manpower needed and saves money.

Enhancing security posture with drones also lowers the risk of costly work disruptions, Jack Wu of Nightingale Security said. Having assets that can get to a disturbance quickly, whether it be an intruder or a fire, minimizes damage and reduces the liability of the incident.

"If you receive information about an incident early it means you have more time to respond," Wu said. "When you have more time to respond, you have more tactical options. The difference between 30 minutes and three minutes can be massive."

The Blackbird from Nightingale Security. The rugged autonomous drones provide persistent surveillance; if one knows it's about to run out of battery because it was diverted to an incident, for example, it can call on another drone to take over and finish the route before it lands on a base station. Courtesy Nightingale Security.