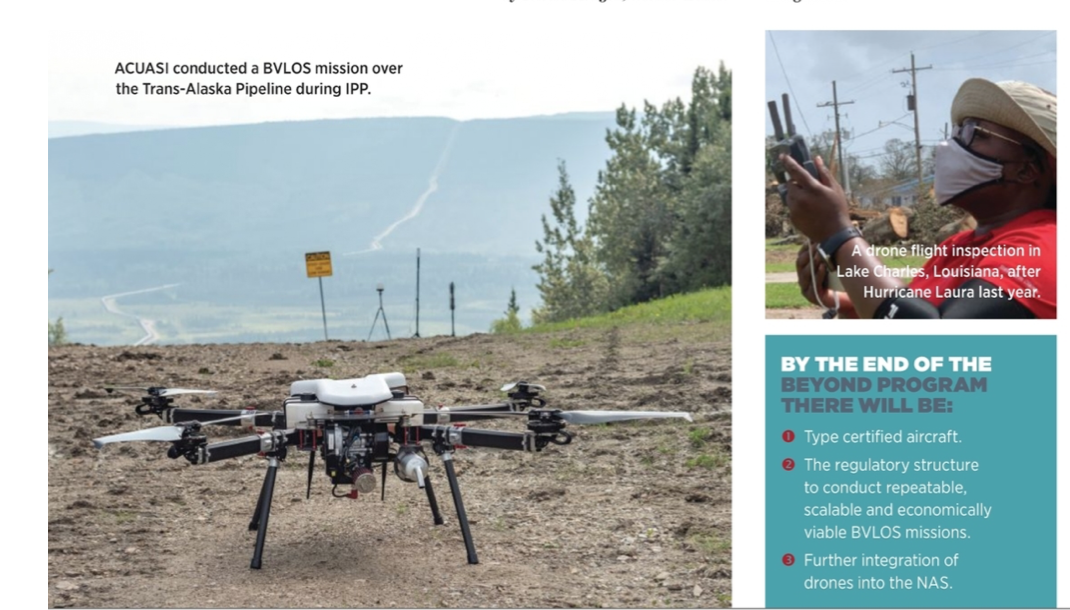 For three years, the FAA collaborated with drone manufacturers, public officials, universities and other stakeholders through the UAS Integration Pilot Program (IPP), with everyone involved focused on one common goal: safely integrating drones into the National Airspace (NAS). But when the IPP ended last October, the work wasn't done—which is why many of the teams are continuing their efforts through the new BEYOND program.
While much progress was made during IPP, such as establishing guidance for ops over people, there's still a need for technological standards and a more robust regulatory framework, according to an FAA spokesperson. To get there, BEYOND will focus on operating drones under established rules rather than waivers, type certifying aircraft, collecting data to develop performance-based standards, addressing community feedback, understanding the societal benefits UAS provide and streamlining the approval process for UAS integration.
Enabling BVLOS operations without visual observers is also a primary focus. The goal is to make these flights repeatable, scalable and economically viable. That will take developing standards for command and control (C2) and detect and avoid (DAA).
Within BEYOND, eight of the nine IPP teams will work closely with their partners to meet these objectives over the coming years, with package delivery, infrastructure inspection and public safety the main areas being explored. The collaborations the BEYOND program fosters are vital to moving the drone industry forward, and getting to a place where communities and other industries can realize the full benefits of this technology.
"These are complex problems; it's not as simple as the FAA saying, 'Here are the rules.' They have to understand the capabilities of the systems, the customer demand and how the systems will integrate into communities," said Mike Jackson, vice president of global operations for Volansi, a drone manufacturer partnered with three IPP/BEYOND teams. "And not one entity has all the answers. There are multiple pieces to the puzzle that are equally important."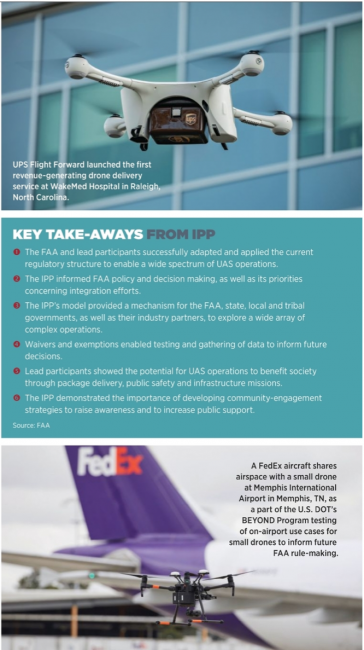 PACKAGE DELIVERY
Teams made great strides on the package delivery front during IPP, and that progress will continue in BEYOND.
The Virginia team, led by the Center for Innovative Technology and with the Virginia Tech Mid-Atlantic Aviation Partnership (MAAP) FAA-designated UAS test site managing the projects, began the first residential drone package delivery program in late 2019 under Wing's leadership. Drones now deliver goods from Walgreens, packages from FedEx, library books, orders from local restaurants and even Girl Scout cookies to Christiansburg residents, MAAP Director Tombo Jones said.
The deliveries began after about six months of community engagement, Jones said. Citizens had the opportunity to ask questions and voice their concerns, making them comfortable with the drone flights—a key component of both IPP and BEYOND.
What Wing learned through this community outreach will carry over as delivery operations expand, Head of Regulatory Affairs Dallas Brooks said. Collaboration also has been critical, and is the only way to get to the regulations that will make drone delivery viable.
"There's perhaps no single thing more vital to any emerging industry, particularly one as innovative as drone package delivery, than collaboration," Brooks said. "When you have dozens of companies all trying to move into this space, all with brilliant yet incredibly diverse approaches, it's a challenge for a regulator to create a policy and operations structure that serves every applicant equally. It's thus incumbent upon all of us to work together to consolidate our approaches where it makes sense to simplify that regulatory challenge."
The University of Alaska-Fairbanks, while mostly focused on linear infrastructure inspection during IPP, will also explore medical supply and long-distance cargo delivery through BEYOND, said Catherine Cahill, director of the Alaska Center for Unmanned Aircraft Systems Integration (ACUASI) at the University of Alaska Fairbanks Geophysical Institute. Because of the logistics of transporting goods between villages, a gallon of milk alone can cost $10 to $12 and usually arrives after the expiration date. Delivering such goods routinely via drone will greatly improve villagers' quality of life.
The goal is to complete a BVLOS flight between Fairbanks and Galina, a small city along the Yukon River, Cahill said, and that's something that can only be done collaboratively. The Alaska team is working with manufacturers developing systems that will eventually be type certified, including DAA solutions providers like Iris Automation and telecommunication companies that have strong C2 links.
Choctaw Nation Oklahoma (CNO) is also looking into drone delivery, and Executive Director of Advanced Technology Initiatives James Grimsely said the public is ready for it. Moving into regular operations, even if limited to certain areas, can yield regular data to guide integration and make the business case for drones.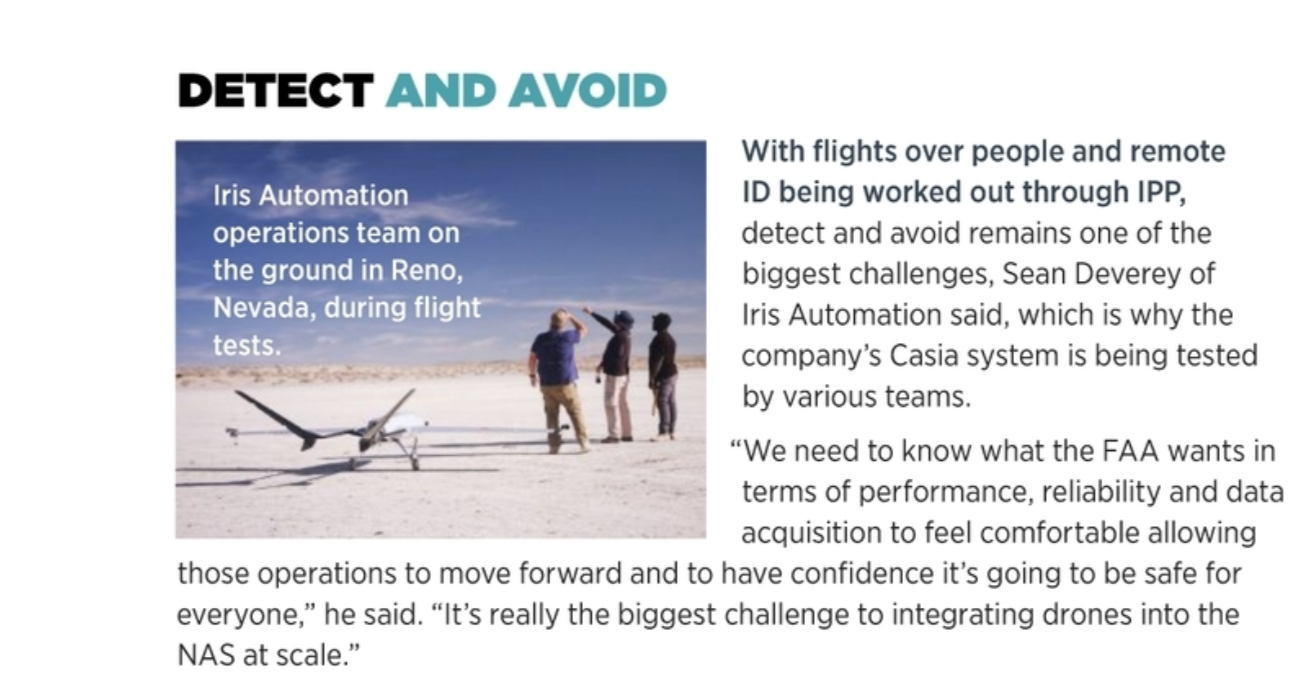 MEDICAL DELIVERY
While the Alaska group hopes to test medical-related delivery soon, other teams already started tackling this during IPP, including the one led by the North Carolina Department of Transportation (NCDOT).
NCDOT is working on various projects, including delivering lab samples on hospital campuses, UAS Program Manager Ben Spain said.
"Medical package delivery is a great first use case," Spain said. "You can charge more because it's medical, so it can be profitable, as opposed to something like Amazon package delivery that you have to scale to make money. And it speaks to people. They're more willing to accept it."
Partner Dr. Stuart Ginn, medical director at WakeMed Innovations, saw the benefits drones could bring to hospitals in 2015, when he reached out to startup Matternet to model what delivery would look like within a health care system. The model was already developed when WakeMed joined IPP, with UPS Flight Forward coming on board to be the Part 135 operator.
Gaining the Part 135 Air Carrier and Operator Certification was a big task, said Jim Ackerson, director of safety and regulatory strategy for UPS Flight Forward. Though they weren't starting from scratch (UPS has operated an airliner for about 30 years), manuals needed to be developed and exemption requests submitted, as the 135 rule is written for manned aviation. Lacking a playbook made it critical to work closely with the FAA and NCDOT.
Once everything was in order, the team began delivering blood samples, flying a simple route that's about one-third of a mile, Dr. Ginn said. Samples are picked up from smaller facilities and then flown to the main hospital campus, a task usually completed via carrier. Samples can be transported shortly after collection, significantly reducing delivery time.
The next step through the BEYOND program is to implement BVLOS flights from a location about 10 miles south of the main hospital, Dr. Ginn said. Eventually, they'd like to add several BVLOS routes.
NCDOT also partnered with Zipline, a company focused on providing quick access to vital medical supplies. During IPP, Zipline worked with Novant Health to deliver PPE and other medical supplies to their medical facility in Charlotte—and was the first autonomous delivery operation to help hospitals combat COVID-19, Zipline General Counsel Conor French said.
"The IPP helped reinforce how, in the domain of transportation, safe, effective and efficient integration of new technologies requires committed partnership among government, communities and industry," French said. "We certainly hope BEYOND can help sustain the ecosystem for productive public-private collaboration that emerged from IPP, but we also need it to be an accelerant of a paradigm shift from a focus on pilot-type programs to more durable and scalable approvals that responsible innovators and operators across the drone industry can rely on to expand our reach and impact."
Volansi delivered vaccines through IPP, partnering with NCDOT and Merck, Jackson said. For now, vaccines for illnesses such as measles, mumps and chickenpox are transported directly from the Merck facility to Wilson, a rural community, but there are plans to expand cold chain delivery operations to other locations through BEYOND.
The project, launched last year, marks the first successful delivery of temperature-controlled vaccines in the U.S., Jackson said.
NCDOT is also involved with non-medical delivery, Spain said, with Flytrex and Causey Aviation delivering goods from Walmart, Starbucks and Pizza Hut in Fayetteville.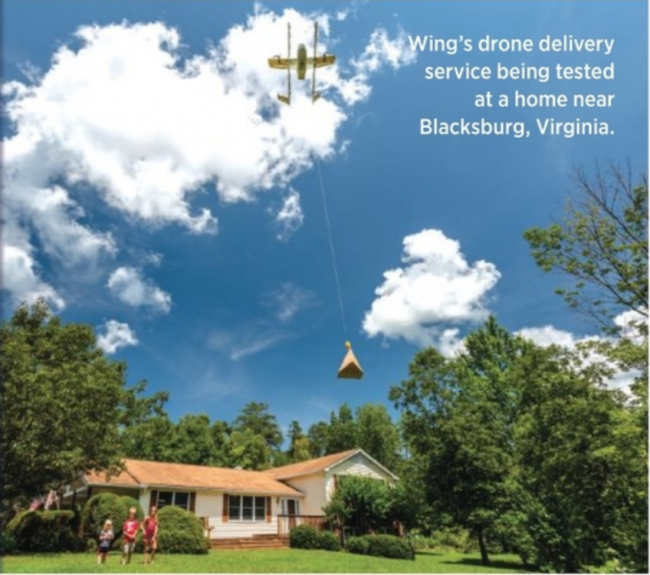 WEATHER FORECASTING
Through the NASA Weather Intelligent Navigation Data and Models for Aviation Planning (WINDMAP) program, the University of Oklahoma is investigating how to use drones to better understand weather and winds at low altitudes, particularly to improve the safety of UAS flying Advanced Air Mobility (AAM) operations, said Jamey Jacob, director of the Unmanned Systems Research Institute at Oklahoma State University.
CNO is among the university's partners, and is the only tribal government designated as a team lead for IPP/BEYOND. Together, they'll investigate how accurate forecasting tools are when deployed on UAS and determine the proper way to use drones to improve aviation weather forecasts. Partnering with CNO gives the university the ability to conduct flights at the nation's large test site and access to more airspace.
The team completed a demo using six UAS last fall and plans to perform BVLOS flights for cloud measurements and observations this summer, Jacob said.
CNO is also working with Iris Automation on this project, with part of the goal to develop better early warning systems for storm fronts, said Sean Deverey, Iris director of government affairs.

INFRASTRUCTURE INSPECTION
Many IPP teams focused on infrastructure inspection, including the University of Alaska-Fairbanks. They flew the first BVLOS operation in domestic airspace, monitoring the Trans-Alaska Pipeline System using onboard and ground-based detection systems instead of visual observers. Iris Automation was among the partners, providing Casia, its onboard DAA, for the mission, Deverey said. Echodyne was used for the ground-based radar.
During the 2019 test, a drone flew 3.9 miles BVLOS, Cahill said. That might not seem like a long distance, but it was a milestone, and achieving it was truly a collaborative process.
The team now has a waiver to fly the same section of the pipeline, but this time to go 20 miles. COVID-19 delayed that project, but Cahill hopes to move forward this summer. The goal is to fly all 801 miles of the pipeline that runs through Alaska in a single BVLOS flight by the end of the BEYOND program.
The Kansas Department of Transportation
(KDOT) also primarily focused on linear infrastructure during IPP, working closely with universities and energy companies to begin the process of fielding BVLOS powerline inspections, Director of Aviation Bob Brock said. That will continue in BEYOND. Agriculture is another area of interest.
The team received a waiver to fly over powerlines in Salina, Kansas, using the Casia onboard DAA from Iris Automation along with infrastructure masking, Deverey said. In this project, there was no ground-based radar or visual observer. The system flew more than 100 cumulative miles BVLOS without incident.
KDOT has partnered with manufacturers working toward type certification, Brock said, enabling them to take on more advanced activities that will truly benefit AAM.
"Collaboration is the single most powerful thing we can do to compete as a country," he said. "These programs are powerful because they represent a higher purpose that keeps in mind the interests of citizens across the entire nation. We're sharing information and best practices and bringing multi-faceted solutions to the table."
The North Dakota Department of Transportation (NDDOT) collaborated with Xcel Energy to fly power distribution lines in Grand Forks, and the Virginia team flew linear infrastructure for Dominion Energy.
Other NDDOT partners include Volansi, SkySkopes and the Northern Plains UAS Test Site (NPUASTS), which administers the statewide BVLOS network, Vantis, a first of its kind, currently undergoing testing.
"This type of collaboration is key," NDDOT UAS Project Coordinator Jeff Horan said of the programs. "The fact everybody has a different expertise helps all of us."
CNO also incorporated drones into rural roadwork, taking on mundane tasks to improve safety, Grimsely said. Agriculture is another area of focus, with an early project deploying drones to remotely bait feral hog traps.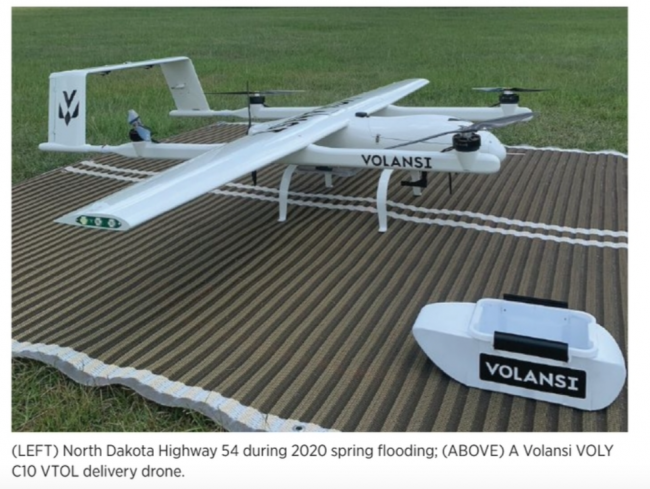 PUBLIC SAFETY
After initially partnering with Flirtey on AED delivery during cardiac emergencies, the City of Reno shifted to standing up a drone program for the fire department.
Reno Fire Chief Dave Cochran said the primary focus for now is river rescue. A drone equipped with video and infrared sensors can quickly locate someone in the fast-moving Truckee River before a search team is sent out, also reducing the risk to first responders.
Iris Automation joined the team toward the end of IPP and recently completed a demonstration to show how its Casia onboard DAA system could enable safe BVLOS river rescues. Testing was completed over Nevada's Carson River at Fort Churchill State Historic Park, a rural area where flights over people weren't an issue.
The next step is to begin testing in a more urban environment, Director of Neighborhood Services Rebecca Venis said. The department would also like to look into package delivery, wildfire mitigation, flood monitoring and infrastructure inspection during the BEYOND program, creating procedures that can be used across the country.
Reno brings the only city perspective to BEYOND, which is critical, Venis said.
"The balance between national and local interest as drones are integrated into the national airspace is an important area of conversation," she said. "We control the ground, they control the air, and we're working hand in hand with them to figure out what policies will look like going forward."
The City of San Diego was also involved with IPP, with the San Diego Regional EDC eventually taking over as lead, but opting not to move forward with BEYOND, Senior Manager, Economic Development Katelyn McCauley said.
The team worked with 22 partners, including the Chula Vista Police Department, developing a drone program and extending operations to 100% of the jurisdiction. McCauley describes this as "a huge win that set up momentum for drone use in public safety throughout the country." San Diego tested package delivery with Uber Elevate as well, among other projects.
NDDOT also focused on emergency response and media, said Russ Buchholz, innovation and facilities manager. During a flight last year, the team flew two drones simultaneously in Class D airspace. One was simulating the media, with CNN as the partner, and the other law enforcement. The team will continue to focus on these areas through BEYOND, but details are still being worked out.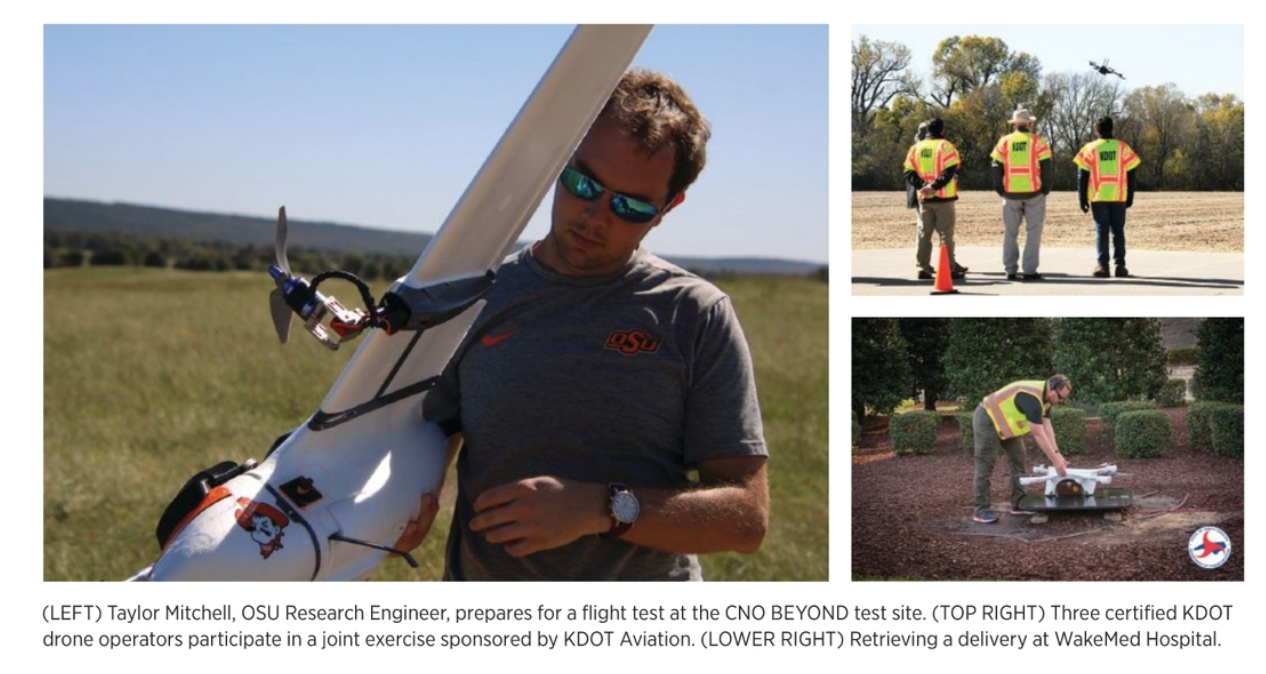 INSURANCE
Insurance operations were a third focus for the Virginia team. They partnered with State Farm, the only insurance company participating in IPP/BEYOND.
Through IPP, State Farm received waivers to conduct operations over people and BVLOS to aid in the response to large-scale weather events, Senior Public Affairs Specialist Dave Phillips said, and was the first company in the U.S. granted these permissions.
One project State Farm and MAAP teamed up on involved researching and presenting a safety case to the FAA on expanded operations over people, Phillips said. This research also looked at impacts related to drone-vehicle crashes, with that data supporting State Farm's successful waiver application for flights over moving vehicles.
The insurance company also received waivers for BVLOS and ops over people in states impacted by hurricanes Florence and Michael in 2018, Phillips said, allowing for better resource allocation and quick assessments.
"The disaster-assessment work the waivers enabled exemplify the purpose of the IPP: to facilitate the next generation of drone applications by working with communities on groundbreaking projects that can improve the public's quality of life and spur innovation," Phillips said.
Through BEYOND, State Farm will continue to conduct roof inspections, a key application for insurance agencies, and explore other uses.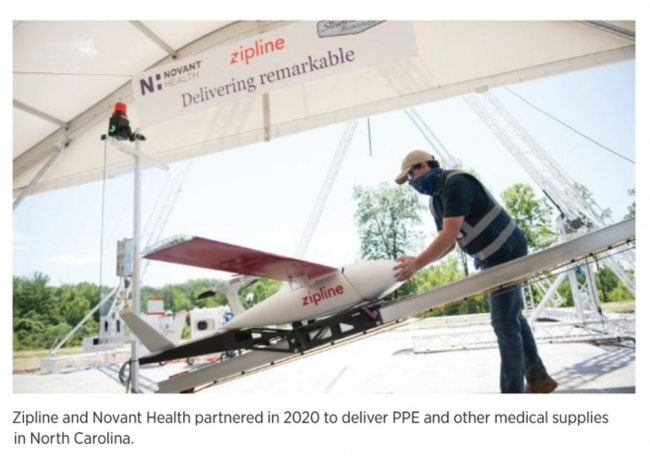 AIRPORT OPERATIONS
The Memphis-Shelby County Airport Authority (MSCAA) partnered with FedEx through IPP and now BEYOND, with the pair focusing on integrating UAS into Class B Airspace with manned aircraft at Memphis International Airport, said Terry Blue, MSCAA vice president of operations.
Learnings from this research will be used to create procedures for flying drones in airports across the NAS, Blue said. In the first phase of the program, UAS were flown in protected apron areas a safe distance from active runways. The goal for BEYOND is to move onto the airfield to fly perimeter fence surveillance missions.
"FedEx and MSCAA are working with the FAA under the BEYOND program with the objective of continuing on-airport drone flight procedures development," said Joel Murdock, managing director of strategic projects for FedEx Express, "including operations over people and beyond visual line of sight, by expanding beyond the FedEx ramp areas to the entire airport property."
FedEx is also performing research to support aircraft inspection, small aircraft parts delivery, airport Foreign Object Debris (FOD) detection and removal, and perimeter security surveillance activities.
For example, FedEx is using drones for general visual inspections of the upper fuselage, wing and tail section, Murdock said, which can take up to 4 hours. Drones can complete the work in an hour.
MOVING FORWARD
Teams continuing with the BEYOND program will play a significant role in establishing advanced UAS operations in the NAS. They'll build upon lessons learned from the IPP to get to a point where large drones are traveling routes in remote areas daily to deliver needed goods, with small UAS being deployed routinely for local fire and police department calls, moving lab samples, medicine and even people seamlessly throughout hospital systems, and flying BVLOS to inspect critical infrastructure.
Working together, the BEYOND teams will continue to innovate and inform policy, with the goal of making drone flights reliable, safe and scalable.
"The FAA has done a lot of work in educating themselves on new technologies. They're focused on it," Deverey said. "We'll see gradual feedback from the FAA that will increasingly enable ops in the real world. It will happen in low-risk airspace first because it's the easiest nut to crack, but toward the end of the three year BEYOND program we'll have a good idea of what they want to see in medium and even some high-risk airspace as well."