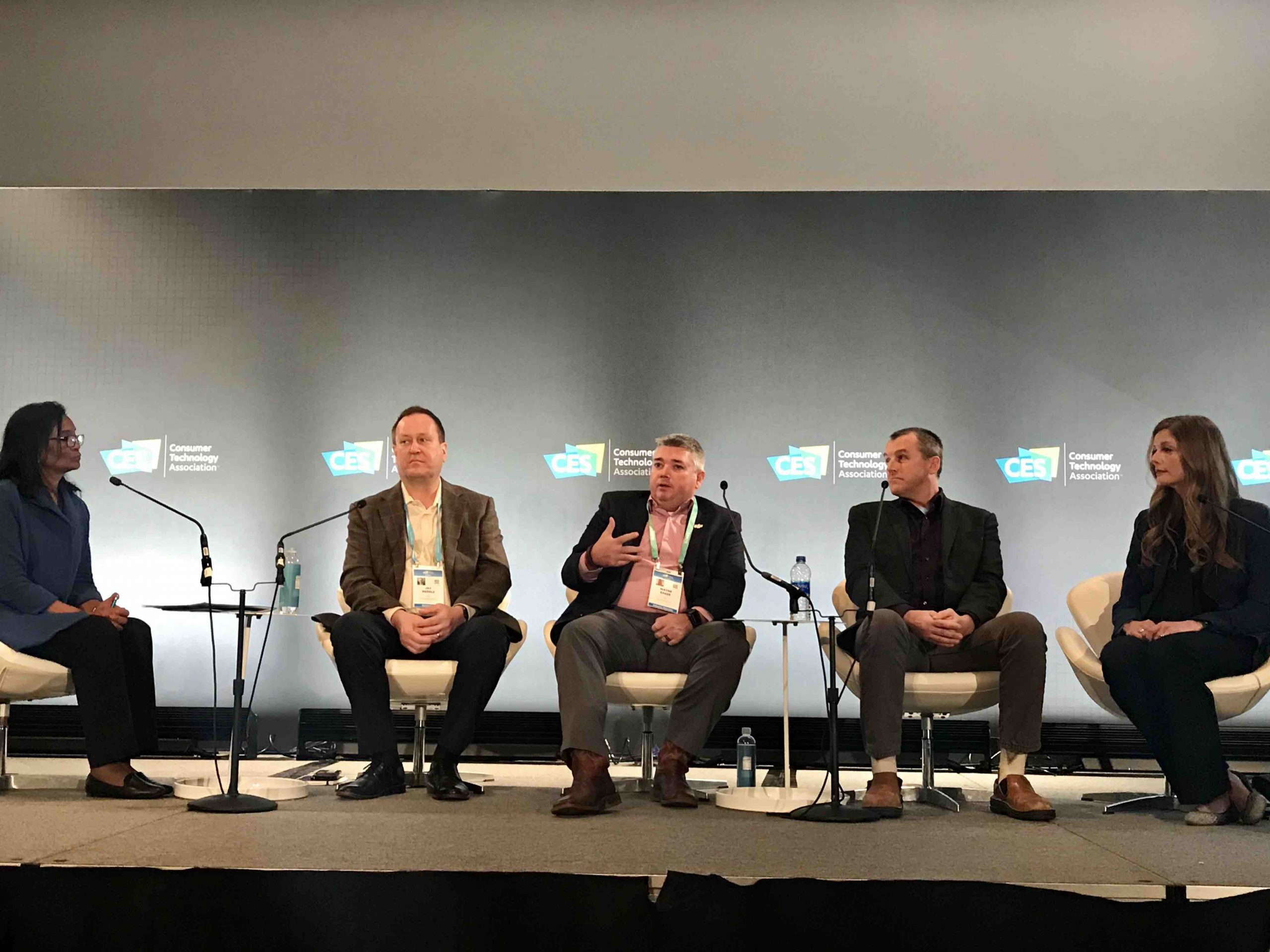 A panel of experts from the Federal Aviation Administration (FAA), public safety, agriculture and insurance came together last week to discuss the rapid integration of drones into operations and work flows during the Drones Making an Impact Globally session at CES 2020.
The discussion, which was led by moderator Sharon Rossmark, CEO of Women and Drones LLC, covered a range of topics posed by an engaged audience spanning U.S. national regulatory standards, international collaboration, urban air mobility and the anticipated timing for passenger drones.
During the panel, Jay Merkle, executive director of the UAS Integration Office at the FAA, emphasized the role of partnership between civil aviation authorities, air navigation service providers and industry to ensure that standards in the U.S. are usable, and used, in other countries. 
"It's important that the way we operate in one country is similar to the way you operate in another," he said. "If we have a patchwork of different regulatory standards around the world, not only will manufacturers struggle to produce these products, it will be difficult to get the societal and economic benefits that we all believe are inherently in this industry to come out." 
Merkle also addressed questions related to Remote ID, the proposed license plate concept standard for all remote drone operators in the U.S.
"We think it will be a great enhancement for the general public, law enforcement and aviation safety," he said. "If we don't all have the same level of standardization, we're not putting in place the foundational pieces for a traffic management system that will allow this sector to truly grow."
Panelist Wayne Baker, the director of Public Safety Integration at DJI who works with police and fire departments to develop new drone equipment that allows them to do their jobs, expressed an interest in seeing that come to pass from a drone manufacturer perspective.
"If we can get a data security standard for the industry across the nation, that's a big component," he said. "It would help all manufacturers."
They may not have to wait long. The public comment period for Remote ID ends March 2, followed by a 60-day review by the FAA before the agency moves toward finalizing the rule. According to Merkle, the agency has already received nearly 4,000 comments.
"We're highly motivated to get this rule out as soon as possible, but we also take the 'crawl, walk, run' approach," he said. "That's the idea that you start with a simple operation, learn from it, and then expand to a more complex operation. We've had to grow tremendously as an agency to meet the pace at which this industry evolves. You don't see that pace in any other part of aviation and it's been a huge cultural change for all of us."
Melissa Seloover, a technology manager who leads the drone research and development team at State Farm Insurance, agrees with the FAA's operations-first approach, and incorporates it into her own work.
"It can be difficult integrating technology into a 100-year-old company, but State Farm was an innovative company from the beginning, a lot like the startups at CES," she said. "With current waivers there are restrictions in place, but by just starting we've been able to develop processes and procedures with our flight operations and learned so much these past years."
Seloover is quick to point out that claims adjusters are still claims adjusters first, and the drone is just another tool in their toolbox. That said, those adjusters are on the front lines with the community when it comes to informing them about safety and tackling public perception.
"When we started our drone program five years ago, we weren't sure at first how the public was going to react," she said. "It's actually been more positive than we expected."
As the industry prepares itself to enter into the next phase of the unmanned frontier—urban air mobility—Merkle said that this public perception element is critical. 
"The biggest challenge for urban air mobility is the same challenge we have with small drones, and that's community acceptance," he said. "Without the community being informed and engaged, they tend to resist. We'll be introducing drones into urban areas where there are noise sensitivities and privacy concerns well beyond aviation safety, which is our mission in the FAA. So, we need to work together with operators, manufacturers and communities as a united ecosystem to bring these operations forward."
How soon does he speculate that we might see passenger drones in cities?
"My corporate answer is: as soon as it's safe," he chuckled. "But based on what industry is working towards, certainly within this decade."