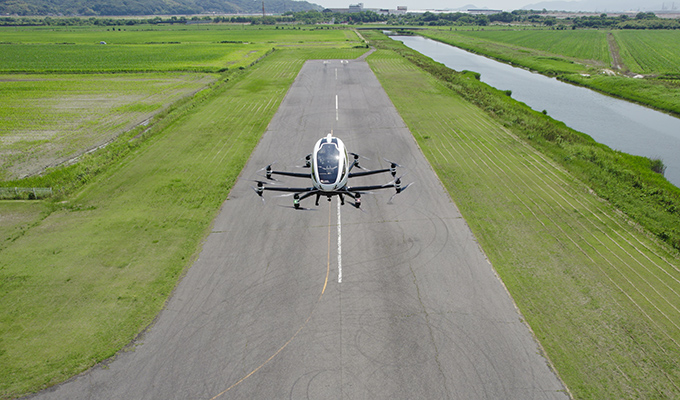 EHang's 216 autonomous aerial vehicle (AAV) recently completed unmanned and autonomous trial flights in Japan, successfully demonstrating its ability to provide safe, autonomous and eco-friendly transport for urban air mobility (UAM).
Before the maiden flight, the vehicle received a trial flight permit from the Ministry of Land, Infrastructure, Transport and Tourism of Japan (MLIT) with a local partner, according to a news release, becoming the first passenger-grade AAV granted permission for outdoor open airspace trial flights in Japan.
The team completed one of the flights at the "Leading the Revolution of Urban Air Mobility" event, organized by the Okayama Kurashiki Mizushima Aero & Space Industry Cluster Study Group (MASC) and EHang at Kasaoka Air Station in Okayama Prefecture, Japan. EHang and MASC plan to continue collaborating to develop new air transportation use cases in Japan.
"I am very pleased that Japan's first trial flight of a flying car took place in the land of Okayama," Mr. Hashimoto Gaku, member of the Japan House of Representatives, said about the event, according to a release. "We have high expectations for flying cars as a new generation for the growth industries. We look forward to developing flying cars as social services through public-private cooperation."
Chief Cabinet Secretary Mr. Kato Katsunobu appointed his secretary, Mr. Sugihara Yohei, to attend the event and deliver a speech.
"At present, many companies around the world have launched such flying car projects, and are conducting research and development and demonstration projects," Mr. Sugihara Yohei said at the event, according to the release. "As the government, we will actively improve aviation regulations while supporting private enterprises in a timely and appropriate manner. "