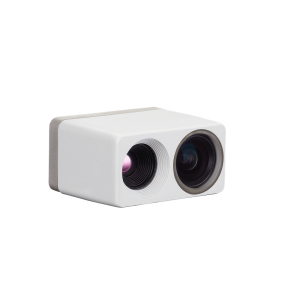 FLIR Systems recently released what the company is calling the industry's first dual thermal and visual sensor module for drone, robotic, and imaging original equipment manufacturers (OEMs).
FLIR Hadron is designed to reduce development costs and improve time-to-market, according to a news release. The compact, lightweight and low power form factor includes a 12-megapixel visible camera paired with the FLIR Boson 320×240 resolution thermal camera with up to a 60-hertz framerate.
FLIR worked closely with drone manufacturers Vantage Robotics and Teal Drones during the development process to ensure the module was suited for use on lightweight drone airframes.
Vantage Robotics has integrated Hadron into its micro-gimbal platform that features proprietary stabilization technology.
"Hadron is far and away the lightest and smallest combined visible-thermal sensor that has ever been commercially available," Vantage Robotics CEO Tobin Fisher said, according to the release. "For an aircraft where you're trying to push the limit on flight performance, every gram matters. The ability to get these sensor capabilities in a package this small makes an enormous difference."
Teal integrated the solution with its Golden Eagle, a 2-pound UAS platform. The compact module creates a lightweight payload that helps preserve battery life and maximize flight time.
"Hadron enables us to speed development and time-to- market for small airframes with thermal and visual sensors," Teal Drones CEO and founder George Matus said, according to the release. "Its high quality, low weight, and compact size allows for rapid integration to quickly develop prototypes."