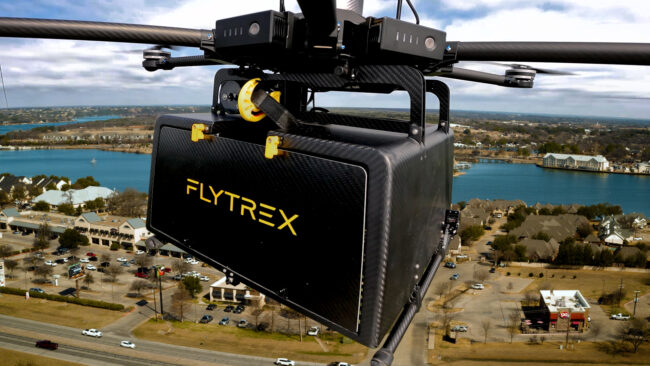 LIBERTY, N.C.—Flytrex, a leader in ultrafast delivery for food and retail, today announced its longtime partner Causey Aviation Unmanned (CAU) was granted Standard Part 135 Air Carrier Certification from the Federal Aviation Administration, allowing Flytrex to operate and complete long-range on-demand commercial drone deliveries in the United States.
This milestone comes after years of rigorous training and testing verifying that Flytrex's drone delivery service maintains the highest safety standards. With this part 135 Certification, Flytrex and CAU will further expand their drone delivery service nationwide, eventually offering food, drinks and other goods to the more than 82 million eligible back and front yards across the U.S. This approval has only been granted to a prestigious list of select companies to date, including Amazon Prime Air, Alphabet's Wing, UPS and Zipline.
"We live in an era of instant gratification, where consumers want to get their food or goods faster, more reliably, more economically and more sustainably, and drone delivery has risen to the occasion," said Yariv Bash, CEO and cofounder of Flytrex. "Flytrex's continued success delivering to customers throughout North Carolina and Texas has put us ahead of the curve. With this certification, we look forward to bringing our super swift, sustainable and safe airborne delivery systems to every backyard across the U.S."
In September 2022, Flytrex opened its fifth U.S. drone delivery station in Durham, North Carolina. Durham marked the fourth station in the "First in Flight" state, joining three other operational stations in Fayetteville, Raeford, and Holly Springs. Prior to this, Flytrex expanded its drone delivery service to Granbury, Texas, just outside of Dallas-Fort Worth. The services operate in cooperation with CAU, delivering tens of thousands of items to hundreds of thousands of homes across its service areas.
"Flytrex's technological expertise, innovation and safety-first approach has helped elevate our service to new heights in drone delivery," said Jeff Causey, founder and chief operating officer of Causey Aviation. "Our close cooperation with the FAA has provided just the right tailwinds to help bring about this drone revolution. We are honored to receive this certification, bringing us one step closer to making drone delivery standard for all U.S. consumers."
Since successfully launching the world's first fully autonomous urban drone delivery system in Reykjavik, Iceland, in 2017, Flytrex and CAU have been working closely with regulators to help ensure the highest safety standards in getting drone delivery off the ground. Together, they participated in the FAA's UAS Integration Pilot Program, which concluded in October 2020, as well as the FAA's subsequent initiative, Beyond, working with the North Carolina Department of Transportation to help tackle the remaining challenges of UAS integration—bringing swift, affordable and sustainable on-demand drone delivery to more partners, communities and consumers across the country.