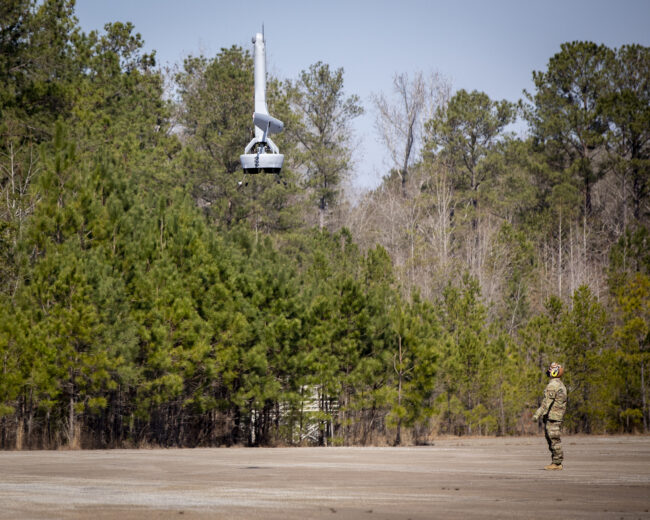 "Exciting."
That's how Col. Danielle Medaglia, unmanned aircraft systems project manager for the U.S. Army, succinctly described the status of the service's FTUAS (Future Tactical Unmanned Aircraft System) program during mid-May's XPONENTIAL 2023. She had a point about the Army's quest for a runway-independent, rapidly deployable, quiet, compact and robust reconnaissance and surveillance vehicle that will embody the service's VTOL aircraft modernization effort.
Starting with three operational needs statements in 2017-2018, the FTUAS program has worked to replace the RQ-7 Shadow, which, although significantly upgraded since its 1991 debut, leaves a gap for a nimble, easy-to-fly, less-detectable aircraft at the brigade combat team level. The search for an FTUAS has been marked by long and silent evaluation periods followed by the Army announcing awardees along the way.
Now things have accelerated. After late-February awards to five systems for project consideration, a seven-week Base Period concluded May 24 with "agreement option 1" awards to four Project Agreement Holders (PAHs). Those going forward are Griffon Aerospace's Valiant, Shield AI/Northrop Grumman's V-BAT, Sierra Nevada's Voly-T and Textron Systems' Aerosonde Mk. 4.8 HQ. AeroVironment's JUMP 20 has not been moved forward, and L3Harris' FVR-90 was not chosen for Base Period appraisal—(see sidebar for details about the remaining models.)
"While we are extremely disappointed with the U.S. Army's decision, we respect it. We are now fully assessing the US Army's evaluation process to determine our next steps," Wahid Nawabi, AeroVironment chairman, president and CEO, said in a statement. "We remain convinced that our JUMP 20 system is the best-in-class Group 3 UAS on the market and we will continue investing in the platform to ensure it remains the top performing solution for our customers."
Rationale
The option 1 announcement from the Army's Program Executive Office, Aviation, further described the program's rationale. "FTUAS will provide a distinct tactical advantage over current systems, due to increased maneuverability through VTOL, improved command and control supported by the on-the-move capability, a reduced transportation and logistics footprint, as well as significantly improved survivability due to reduced noise signature."
Another Army spokesperson outlined the Base Period-to-option 1 run-up for Inside Unmanned Systems. "The clock started with the 27 February 2023 award. The scope included preparation and conduct of the initial technical review—Systems Requirements Review [SRR]. The SRR is a multi-disciplined review that ensures the developer understands the system requirements and is ready to proceed to subsequent acquisition design reviews."
During the Base Period, the Uncrewed Aircraft Systems Program Management Office (UAS PMO) examined submissions for performance, cost, schedule, risk—and the Army's pivotal Modular Open Systems Approach (MOSA) imperative, which is now legally required.
Formerly known as Increment 2, the process is now called the FTUAS Program of Record. Option 1 begins a programmatic flight path across a total of four option periods that are anticipated to yield a fielded FTUAS system. These steps will involve PMO evaluations on a Preliminary Design Review, a Critical Design Review, and flight demonstrations and third-party MOSA verification activities. In option 4, the remaining Project Agreement Holders will furnish four systems, payloads and support equipment for operational assessment, including environmental and electronic environmental effects testing, MOSA verification, and further flight-testing qualification at both PAH and government facilities. A system is scheduled for field testing in 2024, with a final selection in 2025.
"FTUAS will revolutionize the way our soldiers fight and win wars by providing enhanced reconnaissance, surveillance and target acquisition with unparalleled speed and agility," Medaglia said in the announcement that began the Base Period.
The Contenders
Of the four systems now being considered, two have gone forward from an earlier selection known as Increment 1. Another represents the latest of the acquisitions that have marked FTUAS competitors. A fourth entrant is new. All are said to offer small footprints, safety, efficiency, quick set-up and easy transport.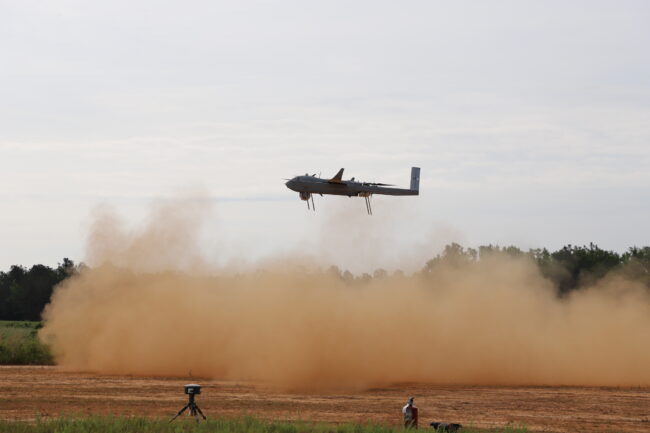 The Legacy Provider—Aerosonde Mk. HQ 4.8: Textron System's Hybrid Quad is purpose-built by the producer of the incumbent RQ-7 Shadow to offer multi-mission capability, with more than 600,000 flight hours demonstrating reliability. This latest model adds propellers to enable VTOL, has an expanded SWaP profile, and offers 14 hours of endurance. It can deliver day/night full-motion video, wide area surveillance and has integrated more than 40 payloads. Its Lycoming engine uses heavy fuel, common to the battlespace. It hopes to leverage two decades of experience flying the company's RQ-7 Shadow.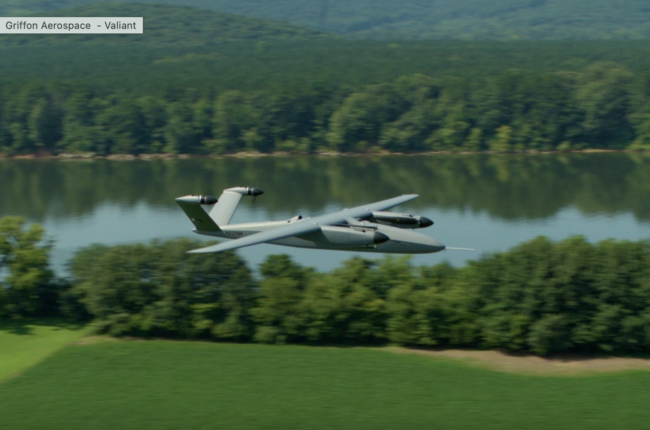 The Upstart—Valiant: True to the Army's word about keeping the competition open, this addition is a relatively unheralded newcomer produced by Griffon Aerospace, a small Alabama company that nevertheless has delivered more than 3,600 vehicles—many of them target drones—to the Department of Defense over the past decade. An eVTOL, it features long, skinny wings for low drag, with large wing rotors and smaller ones on a vee tail, all of which tilt. Power initially comes from stored batteries, with a generator kicking in for forward flight. The structure has been modified for lighter weight.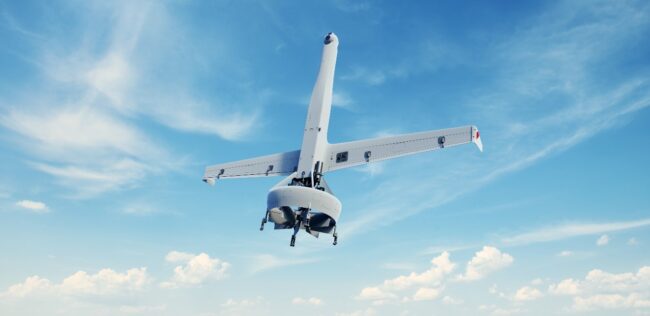 The Tail-sitter—V-BAT: The configuration's sole representative has been upgraded to something of a "Block B" status. It requires less than 12 by 12 feet of takeoff space and can transition into vertical hover for persistent staring. Horizontal flight can last 11 hours with an 81-mile range and a cruise speed of 63 miles per hour (dash speed rises to 104 mph). A 25-pound payload is wide-ranging and interchangeable, and a ducted fan engine protects operators from being exposed to propellor blades. Shield AI bought Martin UAV and its existing V-BAT platform in 2021, and integrated its own Hivemind combat-proven AI autonomy stack for enhanced communications and swarming. The V-BAT is currently produced by Shield AI teaming with Northrop Grumman.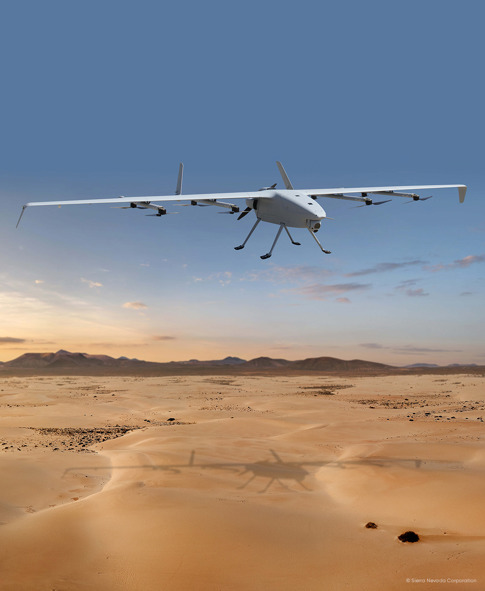 The Acquired Asset—VOLY-T/50: "Technically, it is neither model, as we took the baseline product and modified it from the T," an SNC representative said. This UAS entered what was then Increment 2 without going through the previous stage, only to have parent company Volansi dissolve and its assets picked up by Sierra Nevada. It claims a cargo lift of up to 50 pounds and a range of more than 400 miles, with a top cruise speed of 92 miles per hour. It has redundant lift motors and avionics, and SNC also is drawing on the interoperability expertise of its Kutta Technology subsidiary.
Awardee Response
"This is a multiphase program," Wayne Prender, senior vice president of Textron Systems' Air Systems business, which develops the Aerosonde, told Inside Unmanned Systems, noting he was not speaking for the Army. Prender reiterated the option 1 to option 4 template, then noted its value to providers. "That design process allows for us to engage feedback from the Army. And they obviously want us to showcase our system in a flight environment."
Both the Army spokesperson and Prender stressed the importance of MBSE (Model Based Systems Engineering, in a digital simulation environment) in service of MOSA. "The use of MBSE and MOSA," the spokesperson said, "enables FTUAS to maintain alignment with the UAS Family of Systems and higher-level systems architectures." Electro-optical sensors, laser designators and rangefinders, modern data links and advanced teaming capabilities are envisioned as modular payloads.
"They're very keen on a modular open systems approach, which will then allow them to apply new technology throughout the program lifecycle," Prender said. "As new systems get developed, they want the ability to easily inject those insights." This fits with the military's general trend of enlisting more collaborators rather than reverting to vendor lock.
Prender offered a mini-use case on how programmatic give and take has affected the evolution of the Aerosonde system. "By all accounts, the Army liked elements of that [Aerosonde] system. But what they asked for was, 'Hey, we want more of it.' So, we went back and scaled the system up from the Mark 4.7 to the Mark 4.8," which made it larger, with greater endurance and SWaP flexibility. "But we were very careful ensuring that we retained all the things that they liked and really desired to have in the future system."
He also addressed the human element. "When we look at advantages, they're not only technological advantages," he said. "These are all going to go to Brigade Combat Teams and be operated by soldiers in combat. They need to be simple, reliable and maintainable, at scale."
Other Voices
Representatives of the other option 1 awardees had previously expressed views.
Northrop Grumman highlighted its V-BAT's strengths in a release about its February, pre-option 1 selection. "Our team's enhanced V-BAT embodies more than 30 years of experience designing, delivering and sustaining advanced unmanned aircraft systems combined with a field-proven platform and production facilities," said Angela Johns, vice president, autonomous and tactical air systems.
Earlier V-BAT versions have supported Navy and Marine Corps operations since 2016, and the new model is said to meet Army requests with increased power and the ability to employ electro-optical/infrared, synthetic aperture radar and EW systems.
As early as AUVSI's XPONENTIAL 2022 show, Griffon Aerospace had taken about 30 pounds out of its vehicle and redesigned its structure. "We've come a long way as far as the structures from the first one we did of this," CTO Larry French told an interviewer at that event.
The VOLY-T rounds out the quartet. "SNC designed the VOLY-T series with the flexibility needed to meet the growing demand for rapid delivery of critical assets and offer the ability to conduct ISR missions," said Tim Owings, executive vice president of SNC's Mission Solutions and Technologies business area when the system's previous inclusion was announced.
At XPONENTIAL this year, Medaglia summarized the value of FTUAS. Soldiers won't "be chained to the runway," she said. And MOSA will allow developers and users to "change out payloads rather than having to change the aircraft." Those payloads, Medaglia said, will begin fielding in 2026. She wouldn't hazard what they might be because she "doesn't know what the enemy will be doing in 2026. That's why MOSA is so important; they have to stay ahead of the payloads."
Meanwhile, the Army spokesperson expressed confidence FTUAS development is on track, saying, "The FTUAS program is currently executing as planned."