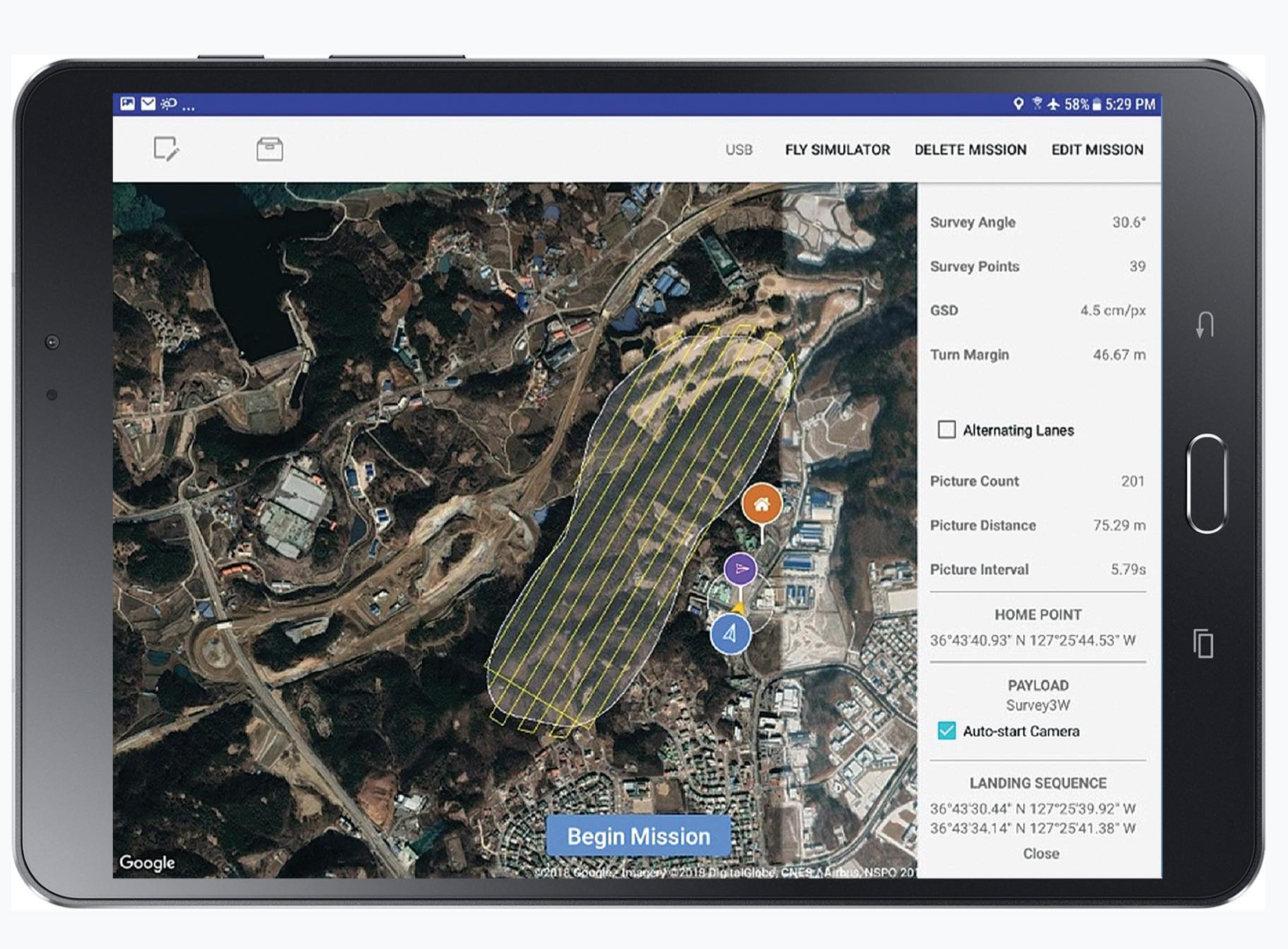 Step aside, DJI and SenseFly—there's a new player in the mapping and surveying drone market.
Meet Hitec Commercial Solutions, the latest drone manufacturer offering a new fixed wing platform that's designed to be innovative, easy to use and cost-effective: the HCS Xeno FX – Fixed Wing Mapping sUAS.
To be fair, Hitec is no stranger to drones. As the largest servo manufacturer in the world and leader in actuator design, the company boasts 40 years of experience making foam airplanes for drones, and for decades it's offered unmanned platforms, mapping and data acquisition solutions, and off-the-shelf, purpose-built custom products with an array of innovative features. 
It was only in recent years, however, that Hitec's team started to engineer its servos for non-hobby UAS applications and realized they had everything needed to develop their own product.
"We were already supplying servos, supplying foam aircraft and making transmitters, and we had all the engineering attributes to make our own complete drone—so there was nothing we had to reach outside for," said Shawn Spiker, drone services sales and training manager at Hitec. 
"While working with all these drone manufacturers, we thought, 'We could do better than this,'" he added. "So, we decided, 'You know what, we will do better.' That's when we decided to build our own from scratch."
HCS XENO FX – FIXED WING MAPPING sUAS
That challenge to do better resulted in the Xeno FX, one of the latest drones to hit the survey and mapping market. Hitec soft-launched it in the Spring of 2019 and began shipping in earnest in July. 
According to Spiker, the Xeno FX is competing directly with SenseFly's eBee X, which has long been the proven vehicle on the market for a fixed-wing mapping type drone.
"We're entering the market with this product that's easier to use, easier to fly and about a third of the cost of what's out there," said Spiker. "It's also going to be more efficient, easier to transport, can withstand high temperatures, flies smoother, has less battery consumption, is easier to launch, and is driven through our proprietary tablet-based app developed in-house."
What's more, customers don't have to carry a laptop to the field, and don't have to be an expert in complicated mission planning software. They can use an Android Tablet with Hitec's app to plan and execute a survey mission quickly and easily.
Both the Xeno FX and Hitec's SUI Endurance – Multipurpose Professional Multirotor use a Pixhawk Cube flight controller and fly ArduPilot, an open source, unmanned vehicle Autopilot Software Suite and an i.MX6, which provides more advanced payload control and software management functions.
Among its many features, the Xeno FX supports interchangeable payload and sensor packages, can be launched with a simple hand toss and is capable of flying for up to an hour at a time. What's more, they're some of the few that are assembled in the U.S. Both the multi rotor and fixed wing are assembled in San Diego, Calif. 
"We inject the foam in Germany, but we're doing final assembly here," boasted Spiker. "We're doing just about every component on all the software and any other engineering here as well. For the multi-rotor, we're probably the most U.S.-made commercial drone that's in the survey market."

SENSORS
Something else that separate Hitec's drones from others in the market is the company's tailored approach to integrating sensors. 
Once a customer identifies the type of sensor they want to integrate onto the Xeno FX, Hitec can customize the software so that it can talk to the Pixhawk and work with the i.MX6 processor. The company also creates the payload pods that hold the sensor and integrate the gimbals and smart.
"This is important because as more sensors come to market, we can integrate the exact features that our customers want," he said. "As long as we can make a sensor fit, and as long as it can be used for a survey or mapping or surveillance, we can integrate it."
In addition to its customized approach and versatility, both the Xeno FX and Endurance drones have the option for encrypted data communication, particularly as utility inspections have become increasingly security conscious.
A customer can request a specific radio for encryption or a completely closed system to manage the data and ensure it remains private, giving them complete control of that data from every step—from the moment they turn on the drone to the moment they download the data onto an encrypted tablet.
"There really isn't a cookie-cutter need in the commercial survey and mapping market," Spiker said. "Everyone is trying to take a hobby drone and make it something else. That's really the wrong way to go about a professional market, especially when it comes to the increasing need for security."
DATA
Hitec also tackles one of the most time-consuming steps after flying a mission: combining all the images the drone has captured in flight with geodata. 
For that, the Xeno FX is equipped with an onboard computer that integrates all the metadata into the images from the sensor on board the vehicle. According to Spiker, once the flight is complete all one has to do is connect to a tablet, click a download now button, and all images with metadata embedded are sent straight to the tablet via WIFI and are ready for post-processing.
"Making the data useful is a big focus for us," said Spiker. "When a drone is flying over a construction site, quarry, pipeline or utility line, it's taking thousands of pictures. You have to combine it with all the metadata that the drone needs to make those pictures worthy of being stitched together and useful."
This is particularly important in the event a customer has a limited window to cover thousands of acres.
"You can fly, fly, fly until you're done. At the end of the day, you have all those flights right there," he said. "Our app will show the mission, the time you flew it and the images—and it's all downloadable. It's organized and presents the most efficient workflow to get that data. At the end of the day, no one cares about the drone. It's all about the data."
MISSION CONTROL APP
Finally, Hitec's Mission Control—the high-precision mapping data acquisition app—was developed by the company in San Diego, Calif. and can be modified according to customers' needs.  
The versatility of the app allows it to fly fixed wing, VTOL and multi-rotors, and through its engineering services Hitec's app has also flown larger vehicles through the use of Pixhawk Cube and ArduPilot.
The Mission Control app is even capable of conducting BVLOs missions.
"We've already built those capabilities in to where a Xeno FX could fly out 15 miles and come back or up to 30 miles if it was a point-to-point mission," said Spiker. "We're waiting for the legal environment to catch up with what the technology can already do."
For more information on Hitec's Xeno FX, click here.