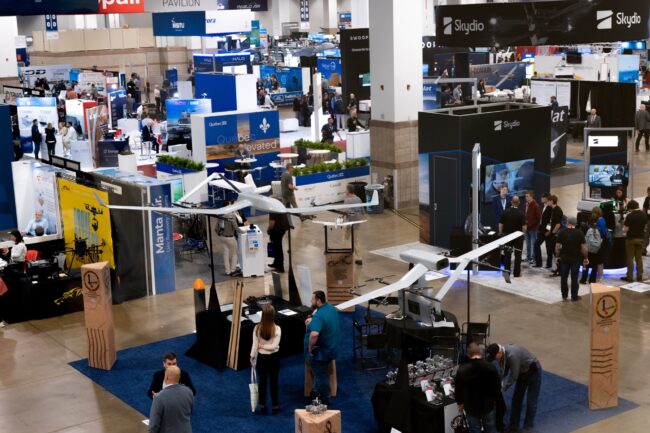 AUVSI wrapped its 2023 XPONENTIAL convention in Denver last week, bringing together thousands of attendees and hundreds of companies to discuss a path toward autonomy.
The show's main feature was the release of AUVSI's Blueprint for Autonomy, a 43-page document that lays out next steps in areas such as technology, operations, airworthiness standards and integration. The full document is available here.
The other major show news was that AUVSI and partner Messe Dusseldorf will sponsor an XPONENTIAL show in Dusseldorf, Germany in February 2025, bringing to fruition AUVSI's longstanding goal of taking the show international.
Beyond this news, the staff of Autonomous Media, from Inside Unmanned Systems and Inside GNSS magazines, noticed several trends at the show.
International Presence Soars
A peppy metaphor for the strong return of international autonomy presented itself when a group of beige-jacketed Korean competitors walked through the lobby of the Colorado Convention Center, cradling their circular drones. As the event unfurled, it became clear that a post-COVID environment and a range of advancements had led to a proliferation suggested by the name of one American company with a footprint in China—A2Z Drone Delivery.
International pavilions dotted the floor, including those of Germany, Spain and Switzerland. So many Canadian companies were present that the province of Quebec could occupy a pavilion of its own. Chenlu Qiao, strategic marketing manager for Ontario-based Trimble Applanix, represented a precision product launch, namely the PX-1 RTX.
"It's essentially designed to provide highly accurate, highly robust positioning and heading information…specifically designed for the commercial drone delivery sector," he said. It achieves that through triple-frequency, muti-constellation embedded GNSS-inertial hardware with centimeter-level continuous GNSS-inertial position.
On another front, multiple Israeli participants promulgated field-tested solutions from InfiniDome's counter-GPS jamming technology to XTEND putting humans in an AI-driven loop to Percepto's and Easy Aerial's drone-in-a-box autonomous inspection and monitoring—all while worrying about violence erupting across their country's own southern border.
"The threat to GPS," InfiniDome CEO Omer Sharar said while waving a jammer, "is no longer a big soldier lugging around a big bag with a bunch of antennae. It's an idiot like me walking around with a GPS jammer."
For these situations, InfiniDome's anti-jammer module and associated antennae can be easily retrofitted and, Sharar said, can make a system "20 to 100 times more resilient to any kind of attack." Meanwhile, working with investor Honeywell, InfiniDome fields a higher-end Resilient Navigation Suite, combining an INS, a radar velocity system and anti-jamming tech. "We basically created sensor fusion that allows you to operate in both GPS-challenged and even GPS-denied environments and complete your mission."
Added-value developers from abroad showed up in strength. Turkey's Tualcom offered a roster of technologies, from anti-jam to datalink to data acquisition and data recording systems. Deputy General Manager Ahmet Salih Erdem shared his criteria for effective jammers across GNSS platforms: "You need to look to the compression level, suppression level, how many jammers you're using. And we take care of all the bands in our products." With a laugh, he added, "You need to be small, perfect in the technology domain, robust and cheap!"
German exhibitors' strong presence extended beyond the national pavilion. Among them, Plettenberg CEO Bastian Greiner put forward a variety of tailored propulsion solutions.
"Our key product are motors, which are very resilient, and are protected from ingress by any environmental substances. Greiner extolled power-to-weight ratio and compactness—and gave a striking example of robustness. "The motors for underwater vehicles go to 6,000 meters depth with titanium housing and special sealings."
Innovation also came from even further afield. Australia-headquartered Advanced Navigation presented multidomain positioning solutions. Cloud Ground Control product head Michal Weiss described a command-and-control solution on the cloud. "It enables remote visibility and control of the entire fleet through the web browser." The system offers easy access in real time.
Many of these companies have opened U.S. offices to serve supply chains and end users while vying for accreditation by the FAA, Department of Defense and other regulators. That's no surprise—when it comes to autonomy, drones span the world.
Partnerships
Many news releases stemming from the show related to partnerships, as companies are increasingly seeking to integrate their wares with products and services from other companies.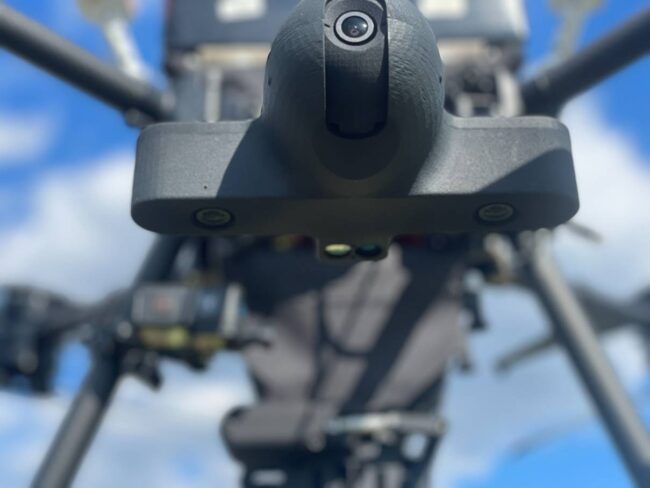 Virginia-based drone delivery company DroneUp announced it has teamed with Wonder Robotics, an Israeli startup, to evaluate Wonder Robotics' WonderLand autonomy technology on DroneUp's delivery systems. WonderLand enables smart precision autonomous landing, vertical detect and avoid and accurate winch delivery, and allows a single flight engineer to safely oversee multiple autonomous drone deliveries simultaneously, which the companies said is crucial to scaling up DroneUp's operation.
"Not only does implementing this into our tech stack improve individual deliveries, but it also gives us a clearer path towards scaling our operation as drone delivery becomes more and more popular every year," said DroneUP CTO John Vernon.
Rajant Corp. announced it will integrate its credit card-sized dual-radio Cardinal module with the Omega drone platform from UVify. Cardinal supports applications like drone swarms for military applications, track verification systems for rail maintenance, inventory management for smart warehousing, industrial security, and mapping for large enterprise sites, as well as drone light shows, the company said.
According to Rajant strategic partner UVify COO Robert Cheek, "Rajant's latest release, the Cardinal, will transform how organizations think about drone swarms, including military, commercial, and lightshow applications," said Robet Cheek, UVIfy's COO. "The low latency, dual-radio lightweight Cardinal enables the expansion of these drone applications far beyond current performance levels."
Advanced air mobility company Supernal, part of the Hyundai Motor Group, announced it has teamed with satellite company Inmarsat to test and share data to optimize hardware and network systems for advanced air mobility uses. Supernal will connect its electric VTOL aircraft to Inmarsat's Velaris satellite communications service to assess capabilities such as aircraft state and telemetry monitoring.
"Supernal is pleased to collaborate with Inmarsat to test the feasibility of integrating space-based and terrestrial data links to serve the advanced air mobility industry," said Ben Diachun, Supernal's chief technology officer.
Volatus Aerospace also announced it has adopted Velaris to expand its offerings in the inspection, compliance, equipment distribution, public safety and drone cargo delivery spaces. Inmarsat's Velaris system will be added to both large crewed aircraft and small unmanned systems.
Satellite Spreads Out
The increasing addition of satellite technology for advanced air mobility, cargo drones and other systems was another trend at the show.
It's a "really exciting time in the industry, especially for us at Inmarsat, taking our experience in commercial aviation and safety communications and applying them to the advanced air mobility space," said Joel Klooster, senior vice president of aircraft operations and safety at Inmarsat.
Size, weight and power considerations come to the fore for smaller vehicles and electric-powered ones, Klooster said, and the company has been working to shrink the systems to allow them to be used. "Every ounce makes a big difference," Klooster said.
Inmarsat also announced it has teamed with uAvionix to add L-band satellite signals to uAvoinix's muLTElink system, which combines LTE technology with radio frequency radios and interfaces with uAvionix's SkyLine command and control system.
"We flew about 60 miles over a lake where we had continuous switching between LTE, C band and the L band satcom link…it worked very, very well, way better than we had anticipated," said Cyriel Kronenburg, vice president of international development and strategic partnerships at uAvionix. "It was actually fairly easy to start flying like that. So, it made us a very strong proponent of starting a partnership with Inmarsat and offering that type of capability as an addition to what we already do with our muLTElink."
Kronenburg added that this sort of packaging of existing technology can help regulators do their work.
"The regulator needs to have something to understand and to grasp, and using satcom technology, that is already in a safety certified environment, using TSO C-Band radios, is something that the FAA understands," he said. "It allows the operators to come up with a case, whether it's Supernal or one of the other eVTOL companies, they will need a package that they can go to the regulator with and say, 'hey, this is all pre-done, this is pre-proven technology, we just packaged it differently.' But, ultimately, you're already flying aircraft with that technology, so it's not that different for urban air mobility or large cargo drones."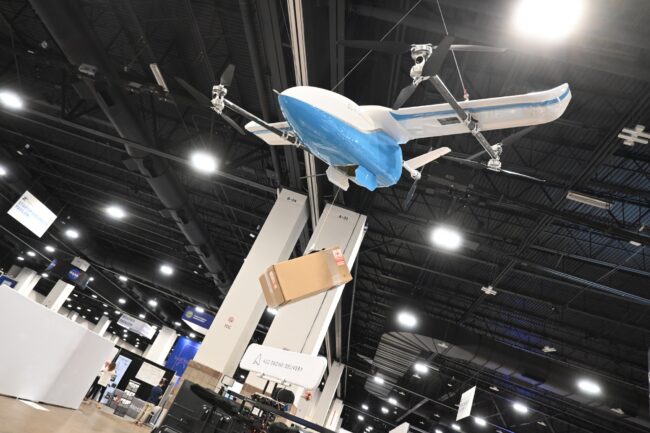 Drone Delivery Delivers
Just a few years ago, drone delivery seemed to be largely over the horizon. There was Zipline, famous for flying medical supplies BVLOS across Rwanda. Amazon began bringing its logistics expertise into the airspace. And various cargo options promised high-payload delivery outside urban density. But if the companies that converged at XPONENTIAL 2023 are typical, multiple delivery solutions are upon us, although the industry still awaits regulation that will allow widespread flights beyond visual line of sight. Here are some of the approaches we encountered:
Urban delivery: Operating over dense populations has been a regulatory and safety hurdle worldwide, but Aerialoop now bills itself as "the fastest-growing drone delivery airline."
"We have an actual urban drone delivery permanent BVLOS network that has been operating for over a year," Chief Operating Officer Santiago Barrera explained. Using its own hardware and software, Aerialoop operates five hubs among the nearly 3 million people of Quito, Ecuador, with the longest route being 70 to 80 miles. "Last year, we reached 10,000 flights, and this year we're expanding," he said.
Barrera scouted South America before Aerialoop become operational. "We found countries that are willing to go step-by-step with us," he continued. He also discovered how UAS could benefit the region. "In Latin America, a lot of same-day delivery is done by motorcycle, which causes a lot of traffic. We're showing [cities] how we can impact traffic with less investment."
Aerialoop runs 100 to 200 flights a week. Its goal: to scale via partnerships to run a thousand flights a day.
Last-mile delivery: Virginia-based DroneUp combines solutions, software and analytics to build "ground-breaking, last-mile delivery programs for enterprising companies that demand innovative solutions." Its digitized-dashboard Airmap airspace management solution allows aviation authorities to create safe, restricted zones, and operators to communicate via SMS or mobile numbers. DroneUp is building a national network of drone hubs throughout the U.S., although it also recently had layoffs, CNBC reported May 16—not the first company to do so as the industry awaits BVLOS rules.
Longer range, lower cost: At 12 cents per kilogram per kilometer, A2Z Drone Delivery's newly introduced RDSX Pelican is a long-range delivery drone designed to deliver low cost per mile. The hybrid fixed-wing multirotor drone, the company's first VTOL, features a swappable payload component and is fully integrated with A2Z's RDS2 Delivery Winch System. "It has no flaps," CEO Aaron Zhang said. "For a 20% increase in cost over a convention octa, we get 100% extra range. And without any flaps, the time between maintenance overhauls is greatly increased."
CTO Evan Hertafeld discussed Pelican's delivery attributes. "We were the first company to bring to market a commercial-grade winch that could work with any drone. Anyone with a UAV can turn that into a delivery drone with our system."
Hertafeld has observed interest in search and rescue and medical. "That's a situation where you have to get there real quick, and not necessarily having to land your drone." CEO Aaron Zhang added intersite activity to the company's expanding use cases. "It's a high-value, time-sensitive scenario as well." Pelican can deliver up to 10 kilos and pick up to five.
Sector expansion: "Changing Delivery for Good" is Zipline's double-barreled tagline: providing those in need of urgent healthcare has also provided lessons for expanding U.S. delivery from pharmaceuticals to pizzas. A Platform 2 Zip flies a 10-mile service radius of up to 10 miles at more than 300 feet above the ground, and then maneuvers a fully autonomous droid down a tether to areas as small as the front steps of a home. Billed as "ultra-precise, nearly inaudible, and up to seven times as fast as traditional automobile delivery," the company has attracted major partners such as GNC, Intermountain Health and prescription deliverer Associated Couriers.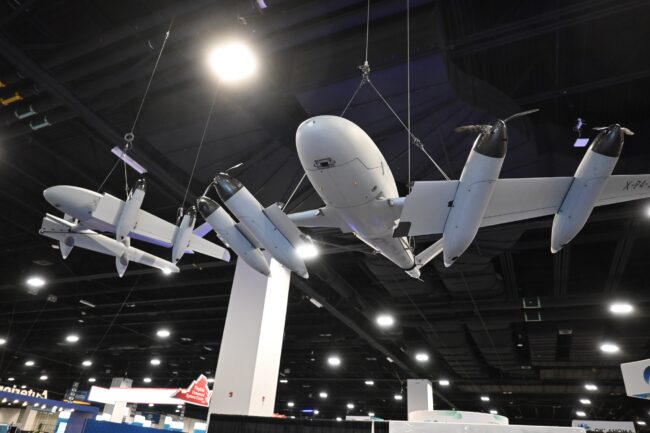 VTOL is the Word
Vertical takeoff and landing quadrotors have long dominated the consumer industry, but the military is starting to see the advantages of them as well. Most of the systems at the show were electric VTOL drones, even ones aimed at military use.
The U.S. Navy is especially interested in the capability, with at least three programs under way to enable deliveries to ships at sea. One is the Blue Water Logistics UAS program, intended to allow the delivery of parts and other equipment to ships at sea.
Several systems intended for that program were at the show, including a Leidos-PteroDynamics collaboration that uses a patented twisting-wing concept, called Transwing, to enable VTOL and forward flight. It's aimed at DARPA's AdvaNced aircraft Infrastructure-Less Launch And RecoverY (ANCILLARY), which wants to create small aircraft for ship-borne intelligence, surveillance and reconnaissance, but a subscale proof of concept vehicle was also delivered to the Blue Water UAS program.
Leidos and Phenix Solutions of McMinnville, Oregon, also teamed to develop SeaOnyx, a prototype for an unmanned logistics helicopter that could carry up to 300 to 600 pounds of payload to a radius of 25 to 100 nautical miles. That's intended for the Medium Unmanned Logistics System-Air, or MULS-A, a program headed by the Navy's Program Management Activity 263 and expected to be initially fielded by the Marine Corps and Army by 2026.
Positioning is Key
To operate safely and precisely, drones need reliable position, navigation and timing solutions—and there were plenty on display at XPONENTIAL. Educational tracks also highlighted the importance of protecting PNT from threats like spoofing and jamming. To read more on this from Inside GNSS magazine, go here.