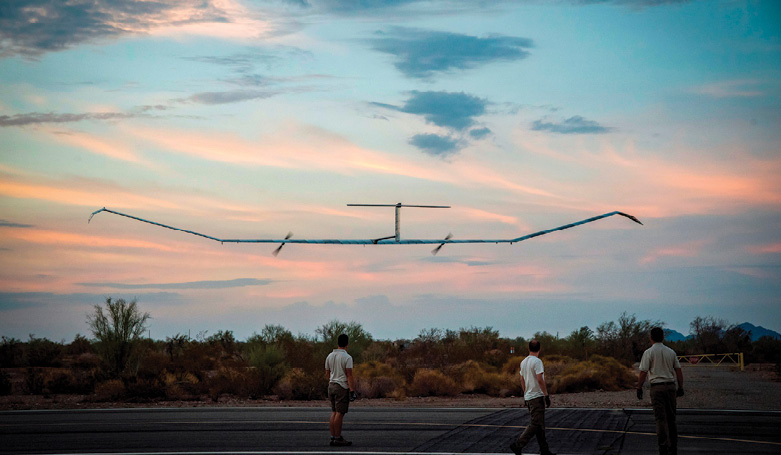 The market for commercial drones is expanding faster than earlier predicted and is drawing record-breaking levels of investment from venture capitalists.
Venture capitalists are set to break their 2017 record for investment in drone firms this year, attracted by faster than anticipated growth in the civil/commercial market for unmanned aircraft systems (UAS), according to a recent forecast by the Teal Group.
Though the global market for UAS includes drones for civil government and pleasure users, it is the commercial sector that is expected to take the lead. The total market is expected to triple from $4.4 billion this year to $13.1 billion in 2027 with the value of commercial drone activity expected to surpass what is currently the largest market for nonmilitary drones—the consumer/hobbyist sector.
The jump in the forecast is startling. In the new study, the annual market value for 2026 is $1 billion higher than what Teal forecast just a year ago. The market value over the total 10-year period in the 2017 study was $73.5 billion. The 2018 projection for the 10 years from 2018-2027 inclusive is $88.3 billion.
And there is room for even more activity should regulatory barriers or other factors turn more favorable. Teal's 2018 forecast, for example, does not incorporate what is expected to be a huge market for delivery drones as this application is seen as blossoming outside of the 10-year forecast period. Also worth noting is that the study includes the market for agricultural spraying but not other agricultural drone applications as these too have yet to mature. Agriculture will someday be the largest market for UAS, according to Teal, though it is not expected to reach that potential during the next 10 years.
VENTURE CAPITAL
Given the industry's prospects, it is not surprising that Teal's 2018 World
Civil Unmanned Aerial Systems Market Profile & Forecast finds venture capital (VC) investment jumped from $504 million in 2016 to a record $511 million in 2017 and is on track to exceed that 2017 number this year. Some $316 million in VC backing had already poured into the drone industry in just the first half of 2018.
"Figures for the first six months of 2018 show that the record will likely be broken this year particularly since DJI Innovations is planning to seek $500 million to $1 billion in a single investment to prepare for an initial public offering," study author Phil Finnegan told Inside Unmanned Systems. "That one financing will dwarf what is normally done for a full year."
Finnegan said Teal follows VC activity directly, analyzing a list of the 91 firms receiving the most venture capital starting in 2012. The investment comes from sources ranging from large firms down to smaller incubators and venture capital specialists. Teal's tracking identified a total of $2 billion in investments in those firms from 2012 through June 30, 2018 inclusive, he said.
The current surge builds on investments made in UAS firms in 2014 and 2015 in anticipation of new rules easing the regulatory environment for drones. Data from CB Insights showed venture capitalists poured $166 million into unmanned aircraft companies from April 2014 through April 2015—a 176 percent increase over the same period the year before. Teal found investment surged from $158 million in 2014 to $493 million in 2015. The release of the Federal Aviation Administration's (FAA) Part 107 Rules in 2016 further heated the competition to identify and bet on potential winners in the new industry, according to Teal.
U.S. WINS INVESTMENT RACE
So far the United States has been the clear winner in the contest for VC cash. According to Teal, American firms secured 76 percent of UAS venture capital investment over the 2012-2018 period surpassing the second and third place winners—China and Europe—by an order of magnitude.
Part of what is capturing investors' attention is U.S. strength in the development of drone software, analytics and services. The involvement of technology leaders such as Intel Corp., Amazon, Facebook, Google, Sony, Verizon, Mitsubishi, General Electric Co., Microsoft, Apple and Samsung—who are turbocharging the sector with talent, technology and resources—is expanding and enhancing that expertise.
"While funding does go for new drones focused on specialized markets, increasingly the venture capital funding is shifting from hardware to software and services that will make existing drones more useful," according to Teal. "Funding is being used to develop the business structures that are needed to quickly allow industry to develop scale, such as national networks of service providers and improved analytics to make UAS easier to use and more proscriptive. It is also going to the companies that will lay the foundations for access to airspace such as detect and avoid technology and unmanned traffic management."
POCKETS OF GROWTH
Construction, energy and insurance are all areas Teal believes will ramp up quickly—in part because growth is being driven by large companies that have the resources and organizational capacity to deploy fleets of UAS once they've determined such a move makes sense.
Of these three, Teal Group projects the largest near-term market for commercial UAS will be construction, which will use systems ranging from small prosumer drones for simple tasks like roof inspections to higher end, relatively autonomous mini systems that are able to track progress across construction sites.
"The 10 largest worldwide construction companies are all either working to integrate or are studying the integration of UAS in their operations," Finnegan wrote. "The three largest construction equipment companies are adding UAS to their product lines, either from an outside vendor or through developing their own systems."
Energy also has emerged as an important sector. There are immediate applications like flair stack and utility pole inspection that offer clear, immediate safety improvements for employees and extremely high cost savings. Other areas—such as transmission line and pipeline inspection—will take more time to develop because of the need to establish a beyond-visual-line-of-sight (BVLOS) regulatory framework. In a vote of confidence on the prospect for such regulatory advances, Teal is assuming BVLOS inspections will be phased in over a five-year period during the 10-year forecast window.
Insurance is an area where there is a likelihood of fleet deployments by large enterprises. The typical UAS, however, is more likely to be a prosumer system that can be used for tasks such as roof inspections according to Teal. The construction and energy markets, however, have aspects—like a need for safety, automated operations and easier integration of data into existing operations—that suggest a greater desire for higher-end UAS.
"A couple of things can make the difference in choosing more capable hardware," Finnegan told Inside Unmanned Systems. "First, let's say you're dealing in an oil or gas situation. You're very concerned about safety. You want to make sure that there're no dangers and so you want the most reliable possible system".
For a lot of the higher value systems, he said, there also may just be a desire for ease of use, for data interpretation or for superior integration into existing workflows that you don't necessarily find with a prosumer system.
HALE THE FUTURE
One of the newer areas of promise for commercial UAS is the communications enabled by low-cost, High Altitude Long Endurance (HALE) aircraft. BAE Systems and AeroVironment are working on such systems and Airbus is already improving on its existing Zephyr system.
"Airbus is clearly in the lead and is willing to invest in the concept," according to Teal. "Airbus management believes that it can bring the market to fruition by showing a willingness to develop the system and even operate a fleet of the aircraft. That will bring down the price enough to make them feasible to operate."
Airbus is hoping to sell its system to end users like Google and Facebook who have already expressed an interest in using HALE UAS to provide internet services to areas without such connectivity. Teal forecasts an initial market of U.S. $25 million for HALE in 2020 will grow to U.S. $1 billion by 2027.
"Low-cost HALE is going to be very important—the solar powered systems—because those have the potential to change the economics for not just things like low cost internet to remote areas but also things like homeland security surveillance," said Finnegan."