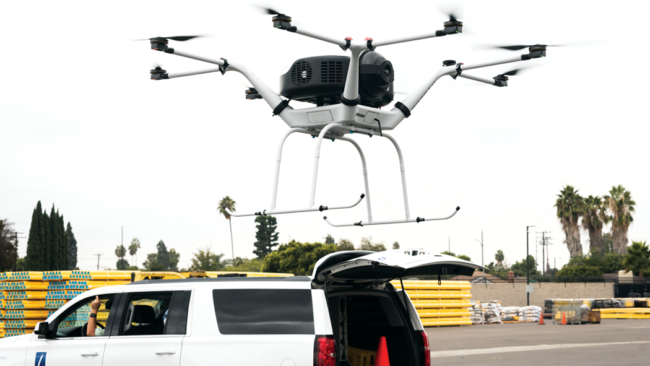 SoCalGas' zero-emission initiatives are including Doosan Mobility Innovation's hydrogen fuel cell-powered drones.
One can debate the lengths of their timelines, but there's little doubt major energy companies are striving for some form of zero emissions. At L.A.-based Southern California Gas Company, the pledge is to realize net zero greenhouse gas emissions in operations and energy delivery by 2045. Promulgated this past January, SoCalGas' "ASPIRE 2045" sustainability strategy commits the nation's largest natural gas distribution utility to "broadening its goals and benchmarks to be inclusive of environmental health, social equity and wellbeing in the communities SoCal serves"—on the way to a "carbon neutral future."
Also in January, SoCalGas took an "energetic" step toward that future at the Consumer Electronics Show Las Vegas summit. There, it announced a partnership with hydrogen fuel cell drone leader Doosan Mobility Innovation and energy transition solutions researcher GTI (now GTI Energy) to launch a hydrogen drone demonstration project. As SoCalGas vice president, clean energy innovations Neil Navin put it then, "adopting advanced monitoring hydrogen drone technology to maintain the integrity of our pipeline systems as part of our mission to build the cleanest, safest and most innovative energy company in America."
DMI bills its DS30 octocopter and its integrated DP30 fuel cell powerpack as "the world's first mass-manufactured hydrogen fuel cell drone." At CES, company CEO Dooson Lee was enthusiastic about SoCalGas putting its technology to work. "Our partnership," he said, "serves as a perfect demonstration of how zero-emission drones can be used, especially in a long-distance application such as pipeline inspection."
It didn't hurt that DMI's drone/fuel system won an "Honoree" award at CES 2022 for "Sustainability, Eco-design and Smart Energy."
To better understand hydrogen's potential contribution to a cleaner, more efficient, more economic and safer energy environment, we spoke with several SoCalGas point people about why a company serving nearly 22 million consumers is finding value in a still-novel technology.
EXPLORING HYDROGEN UAS
Matt Gregori, technology development manager—Research, Development & Demonstration Group at SoCalGas, outlined the company's interest in hydrogen. "Within RD&D, we've been looking at hydrogen as a decarbonization strategy, across many applications and for many years." One effort seeks to decarbonize trucking and locomotives. "Heavy duty trucking appeared to be the beachhead market, and we've made significant progress in that space," Gregori explained.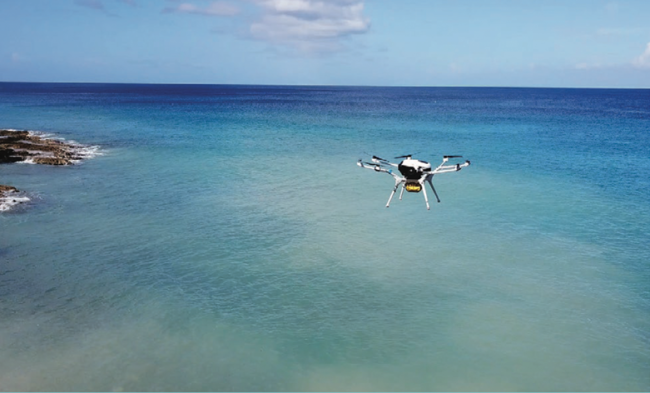 That said, SoCalGas, which has been flying drones since 2016, decided to see how a hydrogen-powered UAS could improve gas inspections while offering extended range and efficiency with zero emissions.
"Aviation is a fairly tough nut to crack," Gregori noted, "because you need high energy densities, high power applications. But there are a lot of different applications that you're looking at: short haul, long haul, freight, passenger. Within that space, drones appear to be a great place to enter the aviation market and start looking at how hydrogen could play a role."
HYDROGEN LIFTS OFF
"We identified a technology out of Korea by Doosan that is a hydrogen fuel cell-powered drone," Gregori recalled. "And we're demonstrating that for the California market to show off the extended flight time and range."
Though parent company Doosan is more than a century old, Doosan Mobility Innovation is developing innovative hydrogen solutions. (See "Gear: DS30" for specifications.)

"I think what was attractive about working with Doosan was that they had commercialized this technology in Korea," Gregori continued. "A lot of projects, we work on early technology readiness level or early stage research. But there's always something very attractive about a product that is very near to the commercialization space. It's lower risk, and it's a quicker payoff if we can actually get to it."
A series of demonstrations has gauged the project's plausibility. The DMI UAS flew last year at SoCalGas' facilities in Pico Rivera, in Los Angeles County. With Doosan's own crew at the controls, the run introduced the drone to SoCalGas' Aviation Services Group, which supervises its drone fleet. (See "An Expanding UAS Fleet," bottom next page.)
"At the facility in Pico Rivera," Gregori said, "we have a location called Situation City, which is a simulation of a pipeline system we use for training our operators to do pipeline repairs, and inspections and meter hookups. We flew it over Situation City to simulate how we might operate to do surveying operations."
Then, at the end of 2021, DMI demonstrated at the University of Texas in concert with GTI Energy under the latter's funding with the U.S. Department of Energy's H2@ Scale program. SoCalGas has a long-standing relationship with GTI, and Gregori cited that organization's research logistics prowess as a core competency. "Within our group, we run pretty lean. We are funding GTI and Doosan in order to demonstrate the capabilities of the technology so that we can help Doosan potentially enter the California market—whether that is within our own operations, or for other applications, including package delivery, facility inspections, mapping, all sorts of different applications that could benefit from the extended flight time that the product offers."
In May of this year, the DMI setup was showcased at the World Gas Conference, conveniently held in Korea. Among the DS30W model's spotlit attributes was an inspection solution that monitors gas pipeline conditions through real-time video control and automatic drone flights, and also a counter-UAS concept featuring a speaker to warn off illegally intruding drones. On the fuel cell side, Doosan Fuel Cell's Tri-gen can simultaneously produce hydrogen, electricity and heat.
"Through a series of demonstrations," Soonsuk Roh, a manager in DMI's Business Execution Team said in SoCalGas' 2021 annual report, "our goal is to show SoCalGas that it can replace its battery-electric drones with hydrogen fuel cell-powered drones."

INTO THE FUTURE
Another demonstration is scheduled for September at SoCalGas' Energy Research Center in Downey, California. "We're planning to operate it at our hydrogen home in order to get some footage to simulate a facility inspection there," Gregori explained. "We also want to show off the quick refueling capabilities and swappable hydrogen storage, and the extended loiter times."
Further deployment "remains to be seen," he added. "The role that we play is to get the SoCalGas team closer to the technology and understand it. For instance, the fueling infrastructure will be different for the [hydrogen] drone than for a heavy duty truck. If you have a model airplane, you can't take it down to the local Chevron station and fuel it up. You need to figure out how to interconnect those two."
Miguel Cara, SoCalGas' aviation & flight operations management team leader and chief pilot unmanned & manned aircraft, envisions a two-pronged approach. The first array involves multiple use cases such as automated flights from remote locations, extended flight times associated with inspections, storage, facility inspections, security and surveillance, and flights between drone station boxes. "I also believe there's a strong opportunity for SoCalGas to continue evaluating that particular technology to support air transportation in the future," he said, "not only in utilization of that particular powerpack, but also as a potential hydrogen provider for air carriers."
The last word went to Gregori. "The hydrogen drone is a really interesting example of how RD&D within SoCalGas can work. We see the potential for decarbonizing our own operations, and improving safety and reliability of our system. We can leverage that potential to help our customers as well. We see it as leveraging our own experience beyond our own internal operations to help California writ large."