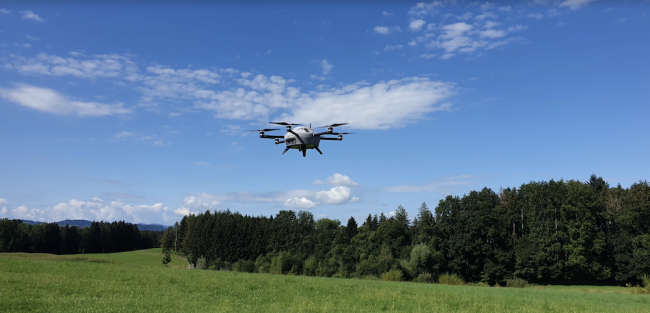 This year marks a decade of excellence for St. Gallen, Switzerland-based Meteomatics, creators of the Meteodrone, the world's first autonomous uncrewed aircraft system (UAS)-weather system-in-one. For its decennial anniversary, it launched a drone-in-a-box (DIB) solution and forged alliances with key partners in the United States (U.S.).
Dr. Martin Fengler, an applied mathematics and weather prediction code expert, founded the company in March 2012. Its original three members provided meteorological consulting and services. By 2014, the group began producing its own weather data processing and distribution software, the Meteomatics' B2B weather API. Over 50 employees strong, in 2020, the company released their latest Meteodrone model to screen low- and mid-altitude atmospheric conditions.
This 100% Swiss-made 6-rotor electric vertical take-off-and-landing (eVTOL) UAS provides hyper-local and accurate micro-weather readings. Its proprietary design includes encased sensors that measure humidity, barometric pressure and wind. Other novel features include a heated rotor system that prevents dangerous propeller icing. This enables safety of flight even in the most extreme conditions including in fog, clouds and through thunderstorms.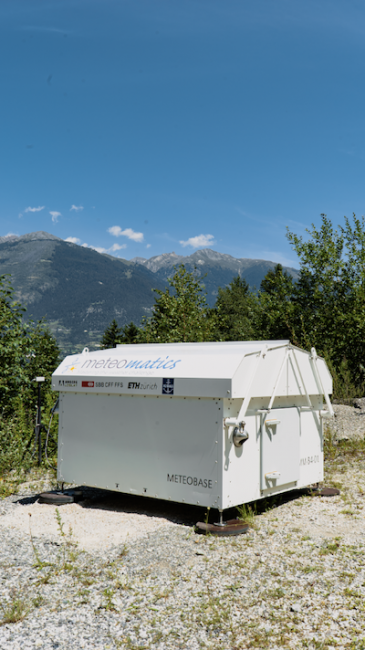 Fengler explained his inspiration for the Meteodrone. "During my training as a general aviation pilot, I remember sitting in my aircraft one day. Grounded on the runway close to St. Gallen, home of our company headquarters. I thought to myself, 'We have sensors on the ground and high up in the air, but none in between.' I knew that if we could solve that weather gap, I'd be flying more regularly, as would other crewed and uncrewed pilots."
St. Gallen, nestled in the Swiss Alps in the northeastern part of Switzerland, has short summers and long winters. One of the highest cities in the country, it experiences precipitation and clouds almost year long, including a lot of snow in the winter. St. Gallen's topological features (e.g. mountains) also may cause weather conditions to generally vary, as well as rapidly change, from one location to another.
So Fengler and his team decided to produce a drone to fill the micro-climate data void. It took them two years to develop the first prototype and another five for the latest model.
Lukas Hammerschmidt, Meteomatics' Chief Drone Officer (CDO), outlined some of the challenges the design team faced. First, they needed to build a UAS that could withstand the inclement weather conditions experienced in the atmosphere. They also needed to find the right quality and quantity of user-friendly humidity, temperature and pressure sensors to provide high-resolution and direct temperature measurements. They found all of these in Switzerland.
Then, they had to determine the right positioning of those sensors in and on the drone. Hammerschmidt explained, "We knew the sensors could not be in a closed case without airflow." Ironically, the sensors also required protection from the very elements (rain, sunlight, etc.) they sought to measure. "The sensors needed to be exposed and at the same time protected from the severe weather in the atmosphere," continued Hammerschmidt. "They needed to measure the actual environment without deteriorated readings from climate interference. And so, our design ultimately evolved into its current state: a flying package of ultrasensitive sensors housed in an incredibly specialized drone," he said.
This design allows the Meteodrone to fly safely in all conditions and at altitudes of up to 18,000 feet above the ground in extreme conditions. And it has done so, thanks to various approvals from the Swiss Federal Office of Civil Aviation (FOCA). The agency, known for its progressive regulations, granted Meteomatics the first approvals to fly within clouds and fog, to operate daylight beyond visual line of sight (BVLOS) and to fly up to 6km (approximately 3.73 miles) above ground level (AGL). For context, in Switzerland, the average drone flight is typically up to no more than 350m, or about 820 feet.
Meteomatics recently added Meteobases, a DIB system, to its Meteodrone solution set. DIBs provide an innovative means for autonomous drones to launch from and return to networked landing/charging boxes. DIBs add value to customers by enabling regularized and scalable industrial remote flights. This translates into more data at a lower price point. Thus far, the company has two operational Meteobases in Switzerland. It plans to dot the Swiss countryside with more DIBs throughout the year. Its target clientele includes the energy sector, logistics and insurance businesses.
Meteomatics also has big plans this year for an international rollout of its Meteodrone and Meteobases. It has partnered with TruWeather Solutions, a U.S. micro weather data and analytics company. Together, the partners demonstrated Meteodrone's capability at the XElevate UAS facility in Leesburg, Virginia and at the University at Albany, SUNY ETEC Building. In April, TruWeather demonstrated the Meteodrone, at the world's premier uncrewed systems event, The Association for Uncrewed Vehicle Systems International's XPONENTIAL 2022, in Orlando, Florida.
The XPONENTIAL Meteodrone demonstrations also served as a soft launch of the two company's much anticipated statewide micro-weather service collaboration with Grand Sky in North Dakota. North Dakota was ranked #1 in the U.S. for drone industry preparedness.
According to TruWeather's CEO, Don Berchoff, a retired U.S. Air Force Colonel and former National Weather Service Science and Technology Director, "Meteodrone provides a great solution to fill the weather 'desert data' gap. Weather uncertainty causes unnecessary grounding of aircraft. Together, we plan to make currently undetected weather threats both visible and actionable. This is key to unlocking BVLOS operations at scale for both small and large drone operations."
Beyond the U.S. Meteomatics is courting customers in Japan, Germany, France and in Europe more broadly. It already has sales offices in both Germany and the United Kingdom.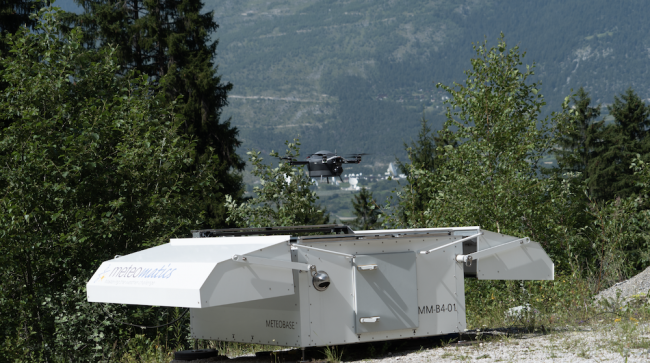 For more information about Meteomatics, visit the company website at: https://www.meteomatics.com/en/meteodrones-technology/