InfiniDome targets proportional GPS protection with navigational resiliency.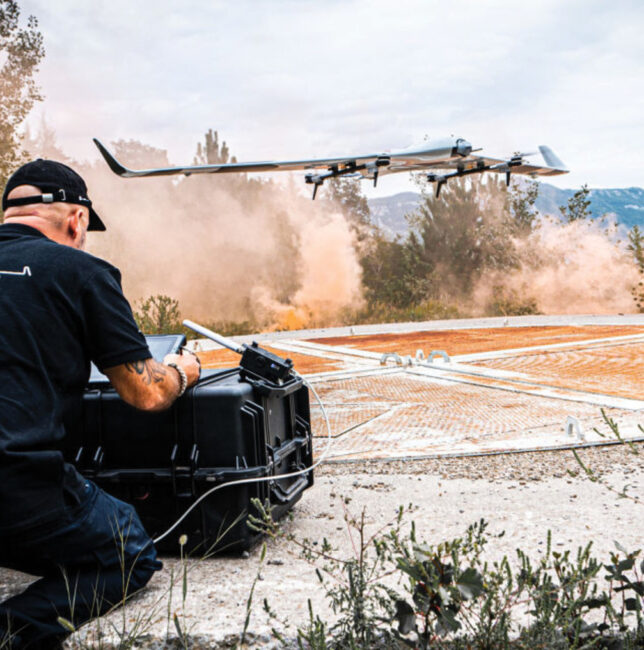 InfiniDome is on a mission to provide GPS protection and navigation resiliency solutions for defending UAVs and, increasingly, other vehicles from jamming attacks. The company seeks to focus more than its competitors do on addressing customer needs for lower cost, weight and size in pursuit of higher volumes in commercial markets.
At June's Eurosatory conference, Europe's largest international security and defense exhibition, the Israel-based company's flagship GPSdome technology was showcased by C-Astral Aerospace on its SQA eVTOL. C-Astral, an industry leader in fixed-wing UAVs, cited InfiniDome's ability to protect its UAVs from jamming attacks, adding resiliency in GPS-challenged environments.
The small retrofit device is compatible with any GNSS-based system but is tailored for Class 1-3 drones. It combines patterns from two omnidirectional antennas and integrates into C-Astral Aerospace's UAV GNSS system, filtering out any RF interference.
"The InfiniDome system really helps us, and especially our customers, to mitigate jamming problems we are seeing in complex contemporary electromagnetic environments," said Marko Peljhan, co-founder of the Slovenia-based company.
HONEYWELL BACKING
The C-Astral Aerospace application is just the latest example of InfiniDome's high-profile support.
In April, the GPS security company announced closure of a pre-series A round of $2.4 million that includes backing from NextGear Ventures, the Israeli lead in an earlier seed round, along with Charlotte, North Carolina's Honeywell Ventures, which joined the latest funding.
"As an early investor in InfiniDome, we know we have a truly world-class team that would emerge as the leader in the commercial and low SWaP (size, weight and power) GPS protection market," said Tal Cohen, Ph.D., managing partner at NextGear Ventures.
"This is a strategic investment for Honeywell, as we see GPS protection as a critical complement to our inertial navigation capabilities," said Matt Picchetti, vice president and general manager of Honeywell's navigation and sensors business.
In April, Honeywell announced several advanced alternative navigation technologies intended to help ensure seamless navigation even when GPS signals are blocked, interrupted or unavailable. Among them were INSs (inertial navigation systems) paired with InfiniDome's GPSdome that showed significant improvement in position accuracy and integrity performance in the presence of GPS jamming.
Late last year, InfiniDome, Honeywell and drone-in-a-box company Easy Aerial demonstrated a first-ever "fully resilient" navigation system—integrating GPS anti-jamming technology, an inertial system and a radar velocity system—that allows UAVs to complete their missions in the harshest environments.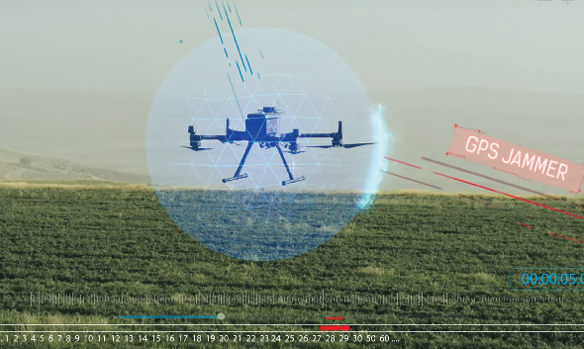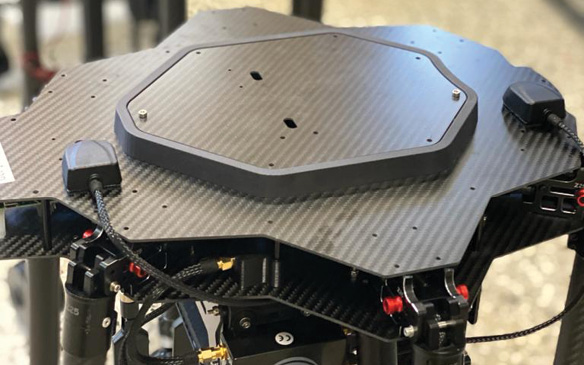 FILLING A NICHE
At AUVSI's Xponential event in April, InfiniDome's founder and CEO, Omer Sharar, and VP of Sales Ben Sandford talked about the GPS security company's end-to-end anti-jamming, monitoring and protection solutions for drone, fleet and critical infrastructure assets, as well as about industry trends and plans for the future.
The company was founded in June 2016 by Omer Sharar; Ehud Sharar, president and VP, manufacturing; and Moshe Kaplan, CTO. According to Omer Sharar, the world of unmanned vehicles has been changing in the past few years. Much of the shift is being driven by desires for lower costs and higher volumes.
"End customers don't want to purchase just a couple of multimillion- dollar UAVs anymore," he said. "They want to purchase hundreds to tens of thousands worth of UAVs."
Most of the anti-jamming technology his company and other competitors offer was born in the military.
"Up until now, it was being led by the big 10,000-pound gorillas out there, the Rockwell Collins, the Raytheons, the Lockheed Martins," Sharar said. "We're the first ones who were coming in saying, 'Hey, we can do it in a different way. Come to a knife fight with a knife and not with a bazooka.'"
His company is looking to fill a niche with "proportional protection."
"We are bringing a new product into the market—smaller, lighter, less expensive than the rest of the products out there—and also less classified," Sharar said. "That is our main differentiator."
InfiniDome offers an alternative to other defense electronics manufacturers such as IAI (Israel Aerospace Industries) and Elbit Systems that are making anti-jamming systems for protection of fighter jets, helicopters and combat ships.
"Even in the military, with a $50,000 drone, you cannot afford, in terms of size, weight, power and sheer cost, a Lockheed Martin or Elbit anti-jamming system that, by itself costs $50,000 and up, and weighs sometimes more than the drone itself," said Sharar. "Our main differentiator is our CSWaP [cost, size, weight and power]. We can basically fit in on platforms that they cannot."
JAMMING GOES MAINSTREAM
The No. 1 threat in performing autonomous missions, specifically in the air, is signal loss from GNSS and global variants GPS, Galileo, GLONASS, BeiDou and RNSS/SBAS, Sharar said.
While some nimble receiver competitors are making their units smaller, lighter, cheaper and more accurate, they don't solve the vulnerability problem, Sharar continued. All a denial-of-service attacker has to do is transmit a signal in the vicinity of the frequency at a bit more powerful level to interrupt the signal—and that's getting easier to do.
A GPS jammer for both L1 and L2 signals from online stores like Alibaba can cost about $50, he said. Though illegal, it can "kill" every GPS in a radius of about 100 meters (330 feet). An off-the-shelf amplifier bought online could expand that zone to the kilometer range.
U.S. consumers are helping to drive this jammer commoditization.
"Americans are very jealous for their own privacy, and they don't want people tracking them," Sharar said.
The easiest way to elude tracking is to use a jammer to hide a location, but it's illegal to transmit something in the GPS frequency because of the collateral damage it can create, Sharar said.
Sandford mentioned the then-infamous example from August 2013, when a truck driver with a GPS jammer who wanted to conceal an on-duty rendezvous with a girlfriend accidentally shut the Newark airport down.
CURRENT AND FUTURE TECH
The GPSdome offering is just 74 x 47 x 25 millimeters (2.9 x 1.9 x 1.0 inches) and 150 grams (5.3 ounces). It uses a nulling algorithm to attenuate the jamming signal in the direction of attack, allowing navigation and operation to continue in GPS-challenged environments.
As Sharar explained it, the technology is a little bit like noise-cancellation headphones. It attenuates the noise—or the jamming—directionally.
"We're sensing from where it's coming, and attenuating it, allowing you to continue on hearing the music, continue on being locked onto the satellite," he said.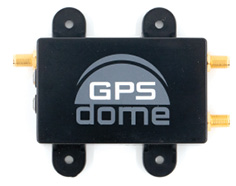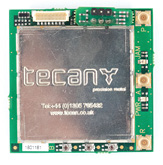 The tech uses multiple off-the-shelf antennas (instead of a single antenna), combining their signal patterns. It is based on an electronic warfare technology called null steering rather than on-beam forming. A key advantage is that the tech is designed for easy retrofitting.
"We can work with almost any receiver on the market and almost any antenna on the market, unlike a lot of the military guys, which are saying, 'Here, take this block with the antennas and the receiver,'" Sharar said. "We try to make the adoption barrier to be as small as possible."
Coming soon is InfiniDome's next-generation technology with better anti-jamming, along with protection from multiple directions at the same time.
"The first prototypes are being released to a very small number of strategic customers," Sharar said. "That is a very important milestone for the company to pass. That is the project that we're doing with the U.S. Army."
Other customers include the Israeli Defense Forces and some of the primes. The new technology will also have use cases in other industries, which, Sharar noted, is very important.
GOING COMMERCIAL
The biggest customer pain-point has been in the defense and homeland security sectors, so that's where InfiniDome has been focused. Looking strategically into the future, the company is setting its sights on other markets.
One of those is the commercial UAV market for drones delivering COVID samples or burgers, Sharar said. The opportunity extends to higher-volume package deliveries from the likes of Walmart, Amazon Prime Air and Google Wings.
"The future of the company is definitely and strategically in the commercial space, because all of these wonderful commercial applications based on autonomous drones or even on autonomous vehicles will not happen without adequate security," Sharar said. "You cannot have drones falling out of the sky on somebody's head."
KEEP ON TRUCKIN'

Beyond the commercial UAV space, another big anti-jamming challenge exists with commercial trucks, with some of the more pressing customer needs coming from Latin America, Sharar said.

"Mexico loses about 1% of its GDP annually to cargo theft," he said. "The cartels' modus operandi is basically using GPS jammers to make trucks disappear."

Once a truck is completely off the grid, criminals can hijack it at gunpoint, take it off-road, unload its cargo and drive away with it—and a dispatcher doesn't even know.

InfiniDome is getting "a lot of requests from the trucking industry for protection of GPS, but also protection for cellular signals, which is another direction that we're looking into, providing protection for that market," Shahar said.

In response, InfiniDome introduced OtoSphere, which, according to the company, is the world's first GPS cyberattack detection and protection solution tailored for commercial and consumer vehicles. It was designed for cash-in-transit, high-end cargo transportation and autonomous vehicle applications that depend on GPS for localization, timing and monitoring.

OtoSphere protects these transit applications, which are disabled by inexpensive GPS jammers bought online, with infiniDome's patented phased-array anti-jamming technology to solve the problem easily and cost-effectively.
CHASING VOLUME
Tactically looking at InfiniDome's initial focus on the defense and homeland security, Shahar saw "a market currently with the hundreds of systems per year that we're selling. We're looking into growth of three to four times, year over year, for the next few years."
However, Sharar envisioned far greater volume potential in the commercial space.
"The estimations right now are at roughly about a million drones that will be in the air," he concluded. "I'm not talking about toy drones; these are commercial enterprise- level drones, performing delivery missions. So, obviously, that is the main goal for us: to be there when the market is ready with the right kind of product."