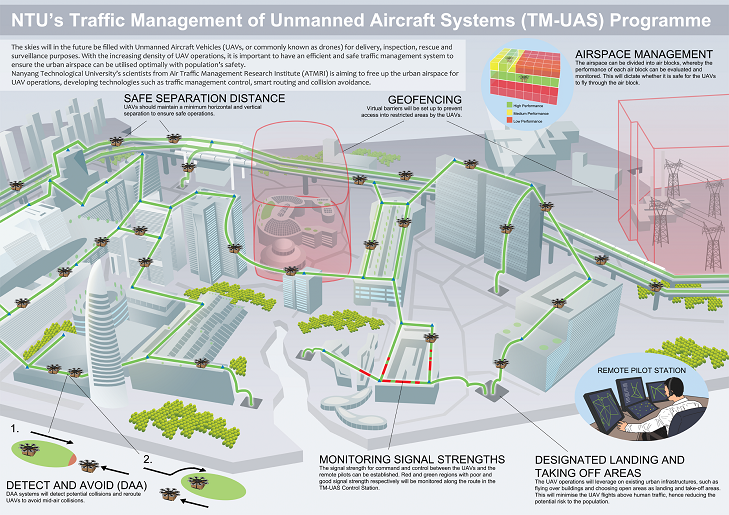 As unmanned aerial systems become a more common sight in the Singapore skies, researchers at Nanyang Technological University, Singapore (NTU Singapore) are looking for ways to make sure those drones can safely share the airspace at the same time.
Singapore has limited airspace and dense population, according to a news release, making it vital to develop a UAS traffic management system to handle the ever increasing drone use. The team at NTU Singapore is focusing on developing a system that features designated air-lanes and blocks, much like how cars have traffic lights and lanes.
The project is called Traffic Management of Unmanned Aircraft Systems and is led by NTU's Air Traffic Management Research Institute (ATMRI), a joint research center by NTU and the Civil Aviation Authority of Singapore (CAAS) that's goal is to develop air traffic management solutions for Singapore and the Asia Pacific region.
"At NTU, we have already demonstrated viable technologies such as UAV convoys, formation flying and logistics, which will soon become mainstream," said NTU Professor Low Kin Huat, who is leading the research. "This new traffic management project will test some of the new concepts developed with the aim of achieving safe and efficient drone traffic in our urban airways."
To ensure traffic is regulated throughout Singapore, researchers are looking at establishing coordinating stations for UAS traffic. These stations would track all UAS in the air, schedule traffic flow, monitor speeds and ensure a safe separation between drones.
Various scenarios will be tested using computer simulations. The goal is to optimize UAS traffic routes and minimize traffic congestion. Researchers will also test several concepts, including geofencing, and work to develop sensors for collision detection.
The project will last four years and researchers are expected to complete the initial phase of conceptual design and software simulation by the end of 2017.