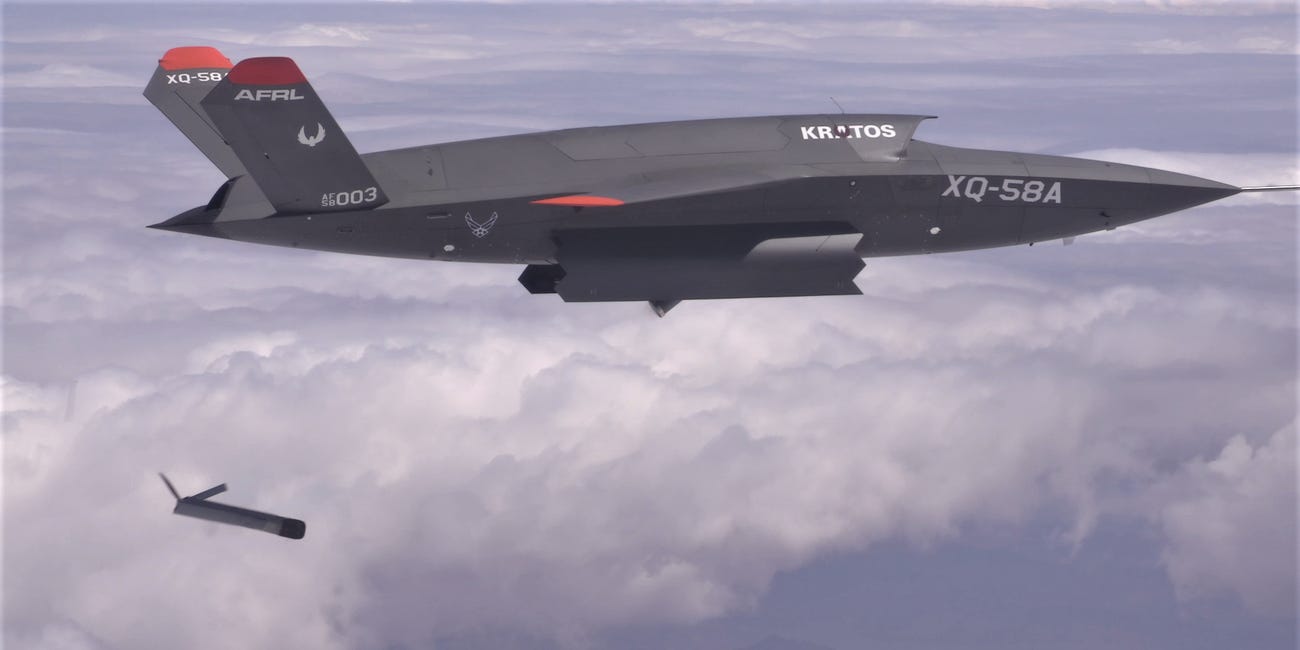 The US Air Force XQ-58A Valkyrie drone launched another drone in a first for the aircraft, during its sixth flight test conducted by the Air Force Research Laboratory (AFRL) on March 26 at Yuma Proving Ground, Arizona.
This test demonstrated the ability to launch an ALTIUS-600 small unmanned aircraft system (SUAS) from the internal weapons bay of the XQ-58A. After successful release of the SUAS, the XQ-58A completed additional test points to expand its demonstrated operating envelope.
The tube-launched autonomous ALTIUS-600 provides support in intelligence gathering and reconnaissance, counter-drone, electronic-warfare, and strike capabilities.
"This is the first time the Valkyrie payload bay doors have been opened in flight," said Alyson Turri, demonstration program manager. "In addition to this first SUAS separation demonstration, the XQ-58A flew higher and faster than previous flights."
The Air Force regards the 30-foot Valkyrie as an autonomous, long-range UAV capable of high subsonic speeds that could support manned aircraft. Such relatively inexpensive — at $2 million a shot — expendable aircraft can act as artificial-intelligence-driven autonomous platforms flying alongside and supporting manned fighter aircraft. A similarly envisioned Air Force program, Skyborg, is developing in parallel.
In December 2020, a Valkyrie flew alongside Air Force F-22 and F-35A fighters and a Marine Corps F-35B. That test proved the capability of the F-22's Intra-Flight Data Link and F-35's Multifunctional Advanced Data Link to communicate and transmit data, demonstrating some of the possibilities for this technology.<
Valkyrie is designed for long-range strike and intelligence, surveillance, and reconnaissance (ISR) missions. Because the system is a "lower-end tech," it can enter production rapidly, according to Will Roper, Air Force assistant secretary for acquisition. The Air Force plans to buy 20 to 30 to continue testing and experiments developing further capabilities.
Both Valkyrie and Skyborg follow in the skytrails of MQ-1 Predator, which inexorably altered the air battlescape two decades ago. New technologies and rapid advances in air autonomy have built a vision of a more diverse unmanned fleet joining the MQ-9 Reaper, RQ-4 Global Hawk, and classified UAVs.
The 30-foot long Valkyrie was built by Kratos Unmanned Aerial Systems for the AFRL's Low Cost Attritable Aircraft Technology (LCAAT) program and first flew on March 5, 2019. Kratos has said it wants to sell the drone in bulk at a cost of about $2 million per copy, in quantities of more than 100.