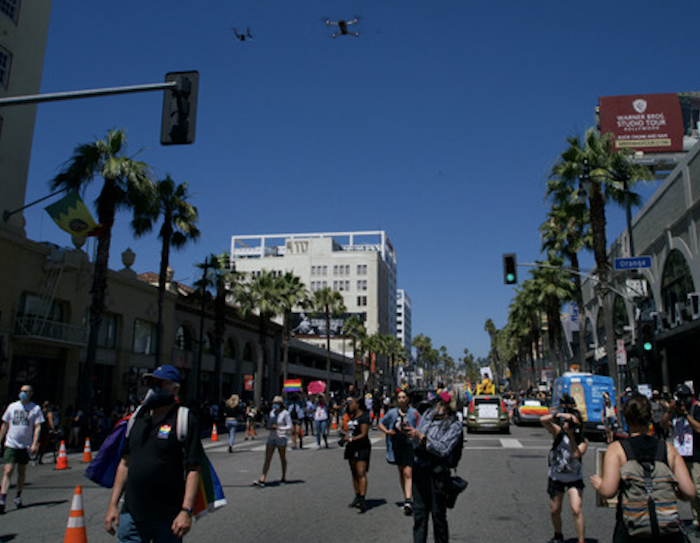 Today, the Federal Aviation Administration (FAA) dropped both the much awaited final rule on Remote Identification (RID) and the Operation of Small Unmanned Aircraft Systems Over People (Ops Over People or OOP) final rule, kicking 2021 into overdrive for the drone industry. Inside Unmanned Systems received an advance copy of both documents. For the thirty thousand foot overview of the final RID rule, see 3,2,1-Done! Remote ID Rule is Final and stay tuned for deeper dives in our February-March edition. Here's our initial first-blush read of the 299 page OOP rule.
What it Is
Today's OOP rule finalized the February 13, 2019 notice of proposed rulemaking (NPRM) of the same name (84 FR 3856). It amends Title 14 of the Code of Federal Regulations part 107 (14 CFR part 107), adding subpart D. It's a bit of a misnomer because not only does it allow for certain operations of small unmanned aircraft (SUA) over people, including routine operations over moving vehicles, it also enables operations of SUAs at night. Operators will no longer have to obtain individual Part 107 waivers from the FAA for any of these ops provided they meet the requirements. However, as explained below, there still is a bit of paperwork to file with the FAA— and maintain—before launch.
Of note, this rule, like the RID, applies specifically to the UA (the unmanned air vehicle itself) and not unmanned aircraft systems (UAS—which includes the control station and data link). That is because only the UA will fall on people's heads, not the control station (hopefully).
Timelines
Like the RID rule, the effective date of the OOP Rule is 60 days from publication in the Federal Register Publication (expected at the end of January 2021). Compliance timeframes and important provisions are summarized below. Mark these on your calendar:
Both OOP and night ops are permitted on the rule's effective date. As a practical matter, safety and eligibility requirements for certain categories (Cat 2 & 3 – below) require several steps and will take longer.
Existing waivers from § 107.29 (night ops) granted prior to the effective date will terminate 60 days after the effective date of the rule.
Remote pilots conducting operations in accordance with a current night waiver will need to complete the updated night operations knowledge area either by retaking the initial aeronautical knowledge test or completing the recurrent online training within 60 days from the effective date of the rule.
What OOP is Needed For
The rule amends Part 107 and therefore only applies to operations conducted under that part. It does not apply to recreational users (see 49 U.S.C. 44809), air carrier ops (Part 135), those with Section 333 exemptions or Part 91 SUAs ops (§ 107.1). Operations over people for those purposes are not changed by this rule-making.
Categories of OOP
The big news is this rule allows operations over moving vehicles and the humans inside—but think beyond cars and trucks as the meaning of the term per the FAA also includes vehicles such as rollercoasters, bicycles and jet skiis. This is a very, VERY welcome change from the NPRM. It also permits, under specified circumstances, "sustained flight over open-air assemblies if the SUA meets the standards in the final RID Rule. The rule defines such sustained flight as "hovering above the heads of persons gathered in an open-air assembly, flying back and forth over an open-air assembly, or circling above the assembly in such a way that the small unmanned aircraft remains above some part [sic] the assembly."
To enable this, the final rule establishes four new operational categories of small unmanned aircraft (SUA) for routine OOP. The first three, adopted from the NPRM, are risk-based. The fourth is an addition resulting from public comments and based on the SUA having an airworthiness certificate issued under Part 21..
Category 1 (§ 107.110). To be eligible for this lowest-risk category, the SUA must simply weigh less than 0.55 pounds at take-off and contain no exposed rotating parts that could lacerate human skin. This second bit is new and based on National Highway Traffic Safety Administration standards and solid research from ASSURE, the FAA's UAS research Center of Excellence. Here's what Cat 1 SUA can do without any additional OOP-specific paperwork (e.g., just weigh it and go):
Operate over all people—those directly participating in the op and those not!
Briefly transit over moving vehicles—this is not sustained flight. This seems a bit vague—stand by while we continue to unpack this one.
Dwell over moving vehicles only if the UA remains within or over a closed- or restricted-access site (e.g., physical barriers, personnel, or both, as appropriate, to prevent inadvertent or unauthorized access) and all human beings located inside the vehicle within that site are on notice that an SUA may fly over them. Notice can take many forms (written, verbal, signage etc.). Think construction sites or movie lots.
Operate in sustained flight over open-air assemblies only if the operation meets the requirements for standard RID or RID broadcast modules established in the Remote ID Final Rule (note: the rule states: "prohibited…unless"—we're being positive here). The RID rules don't prescribe RID for UAs under 0.55 pounds, so the FAA has added this requirement in the OOP for Cat 1 UA.
Category 2 (§§ 107.115, 120, 135).  This category, and the next, relates to UA that weigh more than 0.55 pounds but do not have an airworthiness certificate. To qualify for Cat 2, a SUA must not:
Be able to cause injury to a human being that is equivalent to or greater than the severity of injury caused by a transfer of 11 foot-pounds of kinetic energy upon impact from a rigid object;
Contain any exposed rotating parts that could lacerate human skin upon human impact;
Have any safety defects (exposed wires, hot surfaces that could cause electrocution or burns, damaged or defective batteries that could cause casualties from fires or explosions, sharp edges or projections that could cause lacerations or punctures to people).
This risk assessment model tracks with ASSURE ground impact research and is consistent with the European Commission's Joint Authorities for Rulemaking on Unmanned Systems (JARUS) Specific Operations Risk Assessment (SORA).
The bigger the better, and so too are the Cat 2 UA design and production requirements. The aircraft must:
Display a label on the aircraft indicating eligibility to conduct Category 2 operations.
Have current remote pilot operating instructions applicable to operating the SUA including system description and system limitations and the category or categories of OOPs for which the applicant has declared compliance. These must kept up-to-date and be provided upon its sale, transfer, or use by someone other than the applicant (pilot, manufacturer, designer) and
Be subject to a product support and notification process geared toward both the FAA and the public for any safety defects that cause the SUA to no longer meet the requirements.
The pilot is responsible for ensuring the eligibility and labeling requirements are met, and that the UA is listed on an FAA-accepted Declaration of Compliance (DOC), before taking to the skies. (§ 107.160) The DOC is the means by which the applicant (through the FAA portal) declares it has demonstrated, using an "FAA-accepted means of compliance" (MOC); (§ 107.155) that the SUA, or specific configurations of that aircraft, satisfies the injury severity limit and exposed rotating parts prohibition.
This entire category (plus categories three and four) are completely dependent on the specific MOC submitted by industry and accepted by the FAA. We will cover this in more detail later, but there was a big debate between the FAA and research community (led by ASSURE) on the impact thresholds. The FAA kept the 11 (and 25 foot)-pounds of transferred kinetic energy upon impact from a rigid object standard but put compliance with the standard firmly within the MOC. Although the FAA did not specify an acceptable MOC (leading to fears of the infamous "bring me a rock" guessing game on industry proposed procedures), they did strongly suggest they would accept an MOC being developed by ASSURE. ASSURE's University of Alabama at Huntsville is working a contract with the FAA to develop a MOC and will have it by the end of the year. Confusion is still rampant because the FAA never accepted the test standards ASTM used for their July 2020 F3389-20 ops over people standard. This standard was based on ASSURE's extensive A-14 ground impact research (using cadavers). Indeed, the FAA abstained on the ASTM standard even though Transport Canada is currently using the ASTM standard. To put it bluntly, industry has a lot riding on the FAA's acceptance of an MOC that ASSURE has been working for seven years and ASTM adopted months ago.
Of note, SUA manufactured prior to this rule may be able to operate over people by listing the applicable aircraft serial numbers for the SUA on a DOC submitted to the FAA, after they develop remote pilot operating instructions for the existing aircraft.
The big news is if remote pilots comply with these requirements and have RID, remote pilots can also operate in sustained flight over open-air assemblies. Like Category 1, Category 2 SUA may also transit over moving vehicles with the same conditions. Category 3 levies additional requirements for this.
Category 3 (§§ 107.125, 130, 135). This category of SUA has the same exact requirements as Category 2, differentiated only by potential injury upon impact: it must not cause injury to a human being that is equivalent to or greater than the severity of injury caused by a transfer of 25 foot-pounds of kinetic energy upon impact from a rigid object. It also has the same requirements for the UA and the pilot as Cat 2. Finally, also like Category 2, this one also requires FAA-accepted MOC and DOC.
These ops are riskier. For this reason, Cat 3 cannot operate over open-air assemblies. They are also restricted to operating over people and vehicles when the operation is within or over a closed- or restricted-access site and all humans located within such site are on notice that a SUA may fly over them or the SUA is flying over humans directly participating in the operation of the SUA or located under a covered structure or inside a stationary vehicle that can provide reasonable protection from it if it falls. Some good news here: by adding § 107.145 to the list of provisions subject to waiver, the FAA will allow an applicant to deviate from the conditions and seek a waiver for operating over vehicles provided they can demonstrate safety.
Category 4 (§ 107.140). This one is a completely new and alternate path for OOP. These SUA must have an airworthiness certificate issued under Part 21 and be operated in accordance with the operating limitations specified in the approved Flight Manual (which must not prohibit OOP), or as otherwise specified by the Administrator. Category 4 remote pilots can operate a SUA in sustained flight over open-air assemblies when the operation meets the requirements for standard RID or RID broadcast modules established in the Remote ID Final Rule, just as can Categories 1 and 2 (but not 3). Hence, this category will allow much heavier UAs to fly over assemblies—as long as their airworthiness certificate proves it is safe to do so. These must have maintenance, preventive maintenance, alterations or inspections performed by qualified persons in accordance with specific requirements in the final rule.
Flying by Night
Flying at night will require new, but less, training and new equipment. Remote pilots will need to complete either the updated initial test or the updated recurrent online training, but no longer have to complete in-person recurrent aero test every 24 months. The knowledge test will now include night ops. The SUA must have operational anti-collision lights with a sufficient flash rate and visibility for 3 statute miles.
Show & Tell
The rule also contains inspection, testing and compliance demonstration provisions. It expands the list of who can make the "ask" for various documents (remote pilot certificate and ID) beyond the FAA to: an authorized representative of the National Transportation Safety Board; any Federal, State, or local law enforcement officer; and any authorized representative of the Transportation Safety Administration.
Compliance by Design
Category 1 SUA that already meet the safety requirements (propeller guards/shrouds that prevent the blades from causing laceration to human skin upon impact) may start flying over people when the rule is effective. Similarly, some compliant Category 2 SUA may be ready to fly over humans when the FAA receives and accepts the MOC and DOC. The FAA estimates this will have a 9-12 month approval horizon. Same for Category 3. Airworthiness certificates for Category 4 SUA are estimated to be approved at 6-12 months from the effective date of the rule.
Concluding Thoughts
This rule made much less of a splash than RID when the NPRM posted, receiving only 900 comments. That said, it's also a great example of how comments make a difference—Cat 4 was added as a result.
It is no surprise that this rule posted the same day as RID. When combined, these two rules constitute a huge leap forward for the drone industry, especially those in the filming, media, law enforcement, photography and construction industries. They are key pieces of the FAA's larger UAS integration puzzle, normalizing operations over people, including in moving vehicles, and night ops and moving us closer to repeatable and scalable operations. That said, the devil is in the details, particularly on flying over moving vehicles and the MOC. One man's "brief transit over moving vehicles" might mean having to fly 90 degrees over highways and another's might mean flying up and down highways as long as the UA doesn't hover. One interpretation allows drone package delivery, the other not so much. Then there is the MOC for ground impact. That one sounds simple but it is not and the entire industry depends on a clear MOC that we still don't have. Despite working on one for seven years.
Unfortunately, it seems that the FAA substituted Part 107 waiver paperwork for even more paperwork. Happy filing—and happy flying!
*The views and opinions in this article are those of the author and do not reflect those of the DOD, do not constitute endorsement of any organization mentioned herein and are not intended to influence the action of federal agencies or their employees.
Dawn M.K. Zoldi (Colonel, USAF, Ret) is a licensed attorney and a 25-year Air Force veteran. She is an internationally recognized expert on unmanned aircraft system law and policy, a recipient of the Woman to Watch in UAS (Leadership) Award 2019, and the CEO of P3 Tech Consulting LLC, connecting people with a passion for advanced tech platforms with the policies, plans and programs they need to succeed.
Major General James Poss (USAF, Ret) is a leading expert on UAS having targeted the first armed UAS strikes, designed the U.S. Air Force's remote split operations system for UAS control and helped design the Distributed Common Ground Station for UAS intelligence analysis. General Poss was the Executive Director of the Alliance for System Safety of the UAS through Research Excellence (ASSURE) of the Federal Aviation Administration's (FAA) Unmanned Aerial Systems (UAS) Center for Excellence Team. He is CEO of ISR Ideas – an intelligence, unmanned systems and cyber warfare consulting company with decades of intelligence community experience coupled with insider FAA knowledge.