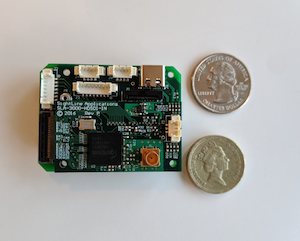 Videology's 25Z2.4-36X camera is now compatible with all of SightLine's hardware platforms, which include the 1500-OEM, the 3000-OEM and the 4000-OEM.
This adds functionality to the 36X optical zoom block camera and makes the integration process easier for the end user, according to a news release. The camera, which features the Sony Global Shutter Sensor IMX392LQR, will now be especially useful in UAS applications in high motion/vibration environments.
The onboard video processor integration provides low latency feedback, which is described as critical for fast gimbal pointing. The video processors allow integrators to take advantage of features that typically require multiple boards like stabilizer/tracking, OSD, recording and encoding.
The camera also features an integrated zoom lens with autofocus and narrow field of view for surveillance applications and shutter speeds as fast as 50µs. SightLine gives the camera, which offers full HD performance, the ability to support multiple digital video inputs and outputs.
"Having Videology's 25Z2.4-36X in our list of compatible cameras expands who we can work with," said Mark Zimmerman, director of business development at SightLine, according to the release. "For aerial applications, we love to recommend high-quality global shutter cameras. This creates an exciting partnership for how we can make continuous improvements, as we work with Videology and their customers."