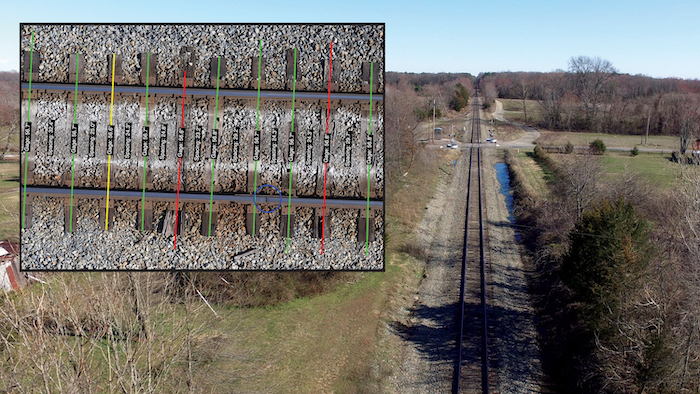 A recently launched image processing service for railroad safety will soon be available as a service exclusively on Microsoft's Azure Marketplace.
Running on the Azure cloud computing platform, the Ardenna Rail-Inspector system can take images of over 200 miles of track and evaluate them in just a few hours, three square centimeters at a time. Reduction in maintenance downtime, increased operational efficiency, and improved worker and railroad safety also are among the claimed benefits.
Ardenna engineers have been working on the railroad since 2013, when U.S. freight giant BNSF Railway asked Ardenna's parent company, Bihrle Applied Research in Neuburg an der Donau, Germany, if it could help BNSF win Federal Aviation Administration approval to operate drones at its tracks and railyards.
Early on, Bihrle engineers realized that to make the new hardware useful, BNSF would need not just FAA approvals but software to process and analyze the drones' aerial views. To handle this business, Bihrle formed a new image processing division, Ardenna, according to David M. Patterson, the division's business development director.
By applying machine learning software first developed for industrial inspection imagery systems, Ardenna engineers developed an algorithm that has now analyzed over 26,000 miles of BNSF track.
Ardenna's system won't replace federally mandated human inspections and the use of track-geometry cars (the expensive, specially fitted railcars equipped with LIDAR, seismic equipment and other sensitive instruments to monitor changes in the track) but it will still play an important role by enabling railroads to keep closer tabs on their assets and monitor long-term usage trends. "Once you can see trends, then you can start doing predictive maintenance," Patterson explained. It should also reduce insurance costs.
Multiple Deployments
The software firm is agnostic about what type of aircraft is used to take pictures of train tracks, according to Patterson. With ground sampling set for 3 centimeters, good images have been taken from airplanes, helicopters, fixed-wing drones and quadcopters. Currently, Ardenna recommends the use of a Latitude HQ-60, an Ardenna-branded M600 Pro, or a DJI MAVIC 2 Zoom. Ardenna offers detailed set-up recommendations for in-house technicians or through a third party.
In addition to BNSF, Ardenna has begun working with another first-tier freight railroad company and is in talks with two others. The firm is about to branch out to industrial railyards as well. The US has 25,000 railyards in all, by Patterson's count, most owned by companies that own rail assets but for whom freight trains are not a core business, such as oil and gas companies and owners of distribution centers. The value proposition for railyard owners: Rail-Inspector can spot 90% of the problems that can lead to derailments—which, Patterson explained, occur roughly once a week in the U.S., and often cause expensive delays.