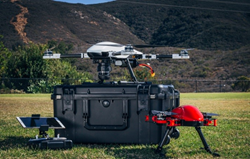 Straight Up Imaging recently released the Endurance unmanned aerial system, a powerful, cost-effective UAS that's easy to use.
The professional grade platform features a robust construction, high reliability and multi-mission capability, according to a news release. Its multipurpose payload mount makes the Endurance modular and efficient. Flights usually last 25 minutes even with a 1 lb. payload installed.
The Endurance is available with three different camera packages—Surveyor, Imaging and First Responder. Depending on the package, it can be used for a variety of applications, including precision agriculture, emergency management, security, infrastructure inspections and wildlife monitoring.
This turn-key solution includes the air vehicle, three flight batteries, a radio transmitter and tablet, a dual-battery charger, a handbook, a telemetry system and a custom storage case. Operations options, leasing and custom design are also available.
For more information visit straightupimaging.com.