Alpha Unmanned Systems launches its new state of the art unmanned helicopter with a significant sale to the Greek Navy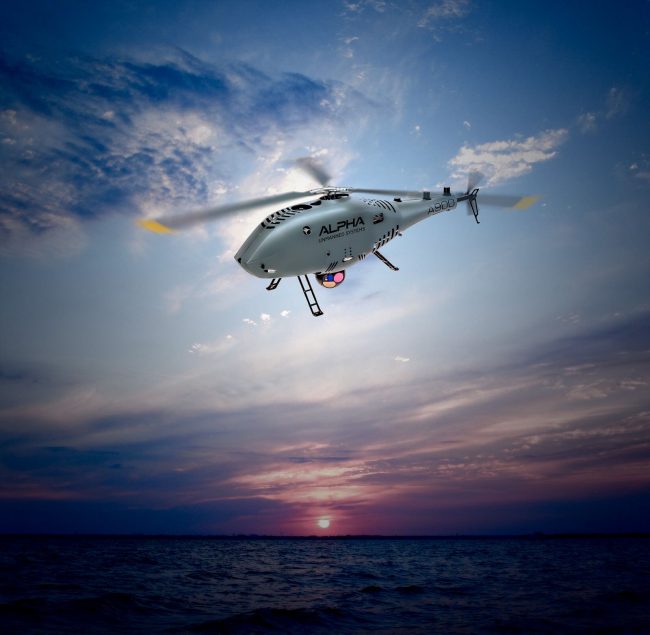 The Greek Navy, a NATO member state since 1952, has signed an important agreement with Altus LSA in Greece and Alpha Unmanned Systems (AUS) in Spain for the purchasing of five new Alpha 900 helicopters UAV for use onboard its ships with the main goal of enhancing its maritime security and surveillance capabilities. This is the first announcement of a major and prominent NATO customer for AUS using the Alpha 900, and it validates the prospects of the product and its positioning in this very competitive market.
The new Alpha 900 can take off vertically from a moving vessel and land autonomously on a navy vessel, requiring little space for those two essential operations. It can also fly relatively longer flight times compared to other similar-sized UAVS (up to 4hrs and carry payloads up to 4kgs) and it is built "Stanag Compliant" so that all critical systems are redundant. This makes it a very good technology for many navies, coast guards, and/or seaborne intelligence, surveillance, target acquisition, and/or reconnaissance operations.
Navies around the world, coast guards, and others have recently shown an increased interest in UAVs for maritime security and critical surveillance missions. For example, more monitoring is being required due to increased migration through the Mediterranean and at key nodes such as straits, ports, and nuclear installations. Naval units and the use of UAVs onboard can provide deployable capabilities and fast and accurate results.
Zacharias Sarris, CEO of Altus LSA, a drone systems supplier to the Hellenic Navy, states, "we are very pleased to help introduce the Alpha 900 in Greece. There are many pressing needs and Alpha and its UAV helicopters are an excellent fit for many mission requirements."
Eric Freeman, CEO of Alpha Unmanned Systems, states, "we are very proud to support the Hellenic Navy with its maritime security efforts in the Mediterranean and that the Alpha 900 helicopter UAV fulfills very demanding requirements.  The confidence the Greek Navy has demonstrated in the A900 has already created a good interest among other potential clients around the world, and we will be soon ready to announce similar commitments with other partners".
The Alpha 900 will fill a gap for smaller military-grade UAVs to take off and land on naval vessels that is not currently filled, substituting larger and much more costly UAVs for ISTAR-related missions. A complete Alpha 900 System includes:
2 fuel-powered Helicopter UAVs Alpha 900 with dual sensor optical payloads
1 Maritime-based Control Station to control the UAV's and the payloads
1 Antenna for transmissions and data control