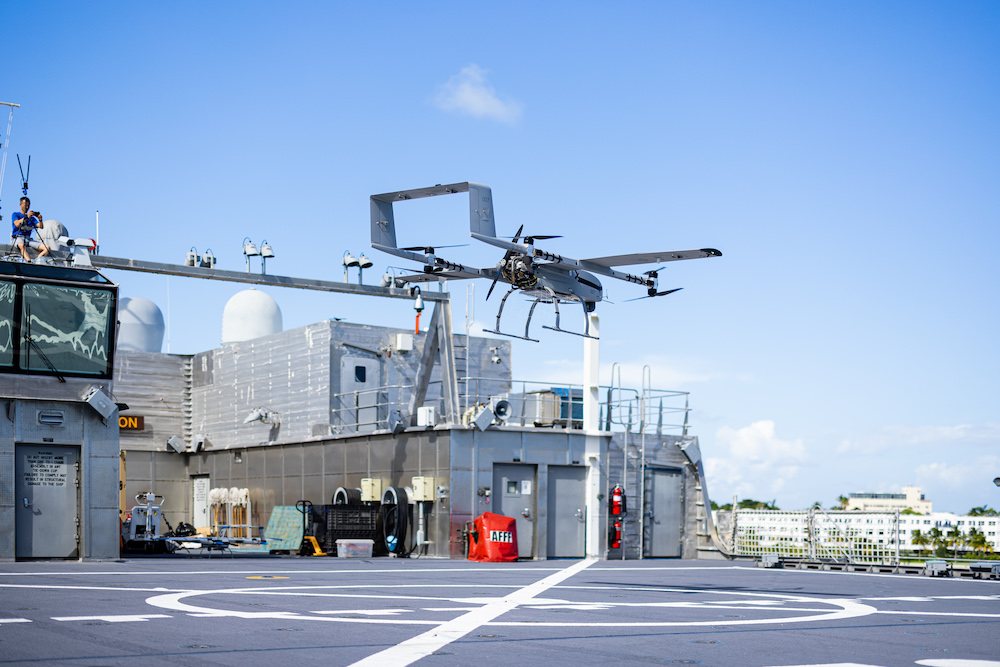 Last month, Volansi successfully completed drone deliveries between naval and U.S. Coast Guard ships in what the company is describing as the first-ever autonomous UAS Cargo delivery between two government maritime vessels.
The VOLY 10 and 20 Series drones worked aboard a naval ship and United States Coast Guard (USCG) Cutter WILLIAM TRUMP for the demonstration, according to a news release. Deliveries were completed over three successful flights, two with the VOLY 10 Series and one via the VOLY 20 Series.
The VOLY 10 Series took off from a Military Sealift Command Expeditionary Transport and flew 15 nautical miles to the cutter. The VOLY 20 series completed a one-mile flight in winds of up to 20 mph to the Gotcha, a USCG Panga, before successfully returning to the Military Sealift Command.
"Working with the military can be good business in principle," Volansi CEO Will Roper said, according to the release. "But in practice, the government procurement system is still adjusting to the speed of startups. I hope examples like Volansi's recent maritime accomplishments highlight the potential benefits of accelerating the system."
The VOLY 10 Series is an eVTOL drone that can carry 10 pounds over 50 miles. The July demonstration was the system's first application as a military logistics and surveillance solution.
The VOLY 20 Series is a larger hybrid VTOL drone with 20 pounds of payload capacity and more than 350 miles of range. The demonstration successfully graduated it to the next phase of its military contract.
The company plans to expand its fleet to deliver heavier payloads and travel further distances in the near future.
"Time-sensitive logistics can be the difference maker in military and commercial missions," Roper said, according to the release. "Volansi has demonstrated unprecedented drone delivery autonomy capable of saving time, lives and money, especially in austere environments where infrastructure is poor."