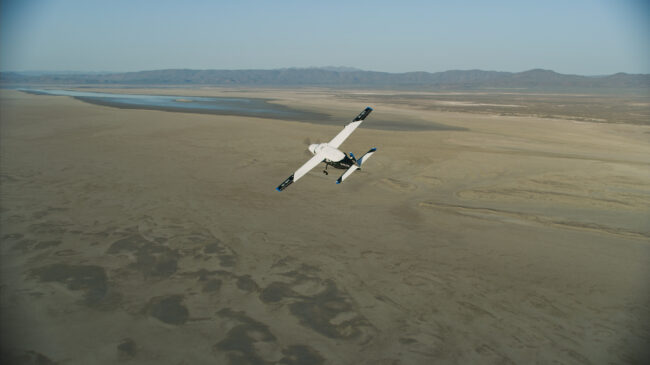 SAN FRANCISCO—The autonomous aviation company Xwing announced Dec. 1 its participation in the Crosscutting Operations Strategy and Technical Assessment (COSTA) project of the Federal Aviation Administration, which studies how large unmanned aircraft will integrate with air traffic control during fire-fighting events.
Wildfires continue to plague the Western regions of the United States, with more than 5,000 occurring in Xwing's home state of California alone.
Current firefighting coordination methods involve dynamic flight operations that primarily require manual coordination among helicopters, small drones, large drones and manned aircraft to safely and simultaneously drop water or fire suppression chemicals in a small area. The FAA has teamed with NASA on the COSTA effort to integrate unmanned aircraft and unmanned traffic management-based information services to improve disaster response efficiency.
As part of COSTA, the FAA, Xwing and the Alaska Center for UAS Integration are evaluating information-centric approaches to improve the management of traffic in the vicinity of fire traffic areas, including that of general aviation aircraft and commercial UAS operations.
"We will be setting up three test environments: wildfire active TFR [temporary flight restriction], dynamic TFR and oceanic operations," Jesse Kallman, Xwing's vice president of commercialization and strategy, wrote in an email to Inside Unmanned Systems. "Each will test live large UAS in airspace with different actors of varying sizes and capabilities. The plan is to test dynamic rerouting, aircraft spacing, ATC interactions, etc. Wildfires are unique because you have so many actors in a small, tightly controlled area."
Xwing CEO Marc Piette said in a statement that "this project will provide us with a more holistic view on how to best integrate large UAS in the existing National Airspace System. Leveraging UAS, we have the potential to make everything from wildfire fighting to oceanic operations more efficient and safe. We believe the data that we collect from these operations will be essential to helping the FAA and NASA bring unmanned flights to more types of operations in the aviation industry."
COSTA is expected to run through April 2023, with flight operations in Northern California. The flights will use Xwing's autonomous flight technology on its modified Cessna Caravan, with a safety pilot onboard for the missions. The airspace won't be sectioned off for UAS flights during the demonstrations.
"The goal is to see how unmanned aircraft respond to real and dynamic flight environments," Kallman said. "During the flight trials, there will be large and small manned aircraft, drones, and helicopters flying in the airspace simultaneously."
Partners including AirSpace Integration and ATA LLC will support in the management of flight data, integrations with other FAA systems, and supporting the operational flight trials.
"Firefighting via aircraft is very dangerous and requires a highly skilled pilot to safely navigate these operations," Kallman said. "By using unmanned aircraft, we are hoping to protect pilots while creating a viable way to put out forest fires. Also, on the cargo front, being able to bring supplies into dangerous areas without putting a pilot's life at risk."
He said the FAA will publish its findings and use the data to better inform how it regulates large unmanned aircraft. The data will also play a role in determining how operational approvals are made in TFRs for large UAS.
The data collected by Xwing will be used to analyze response times between an air traffic controller and autonomous aircraft; how remote operators use information services to fly in challenging operating environments; and how UAS perform when operating near other manned and unmanned systems.