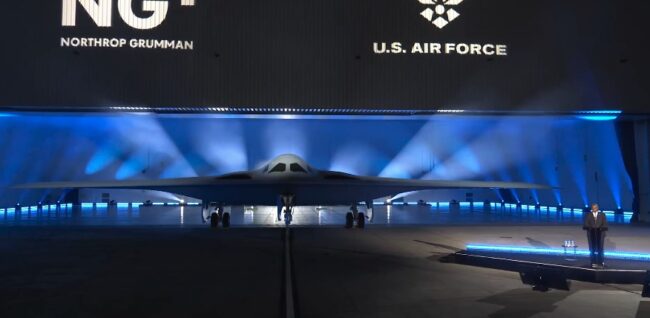 On Dec. 2, Northrop Grumman held a ceremony in Palmdale, California, to unveil the B-21 Raider, a sixth-generation, long-range stealth bomber intended to be augmented with new, unmanned aircraft to help expand its reach and punch.
Kathy Warden, chair, CEO and president of Northrop Grumman, declared the B-21 to be "a bomber like no other." After a flyover by B-52, B-1B and B-2 bombers during the singing of the national anthem, the B-21 was revealed, looking similar in silhouette to the B-2. "The next time you see this plane, it will be in the air," Warden said.
The B-21 is being developed to replace some of the Air Force's aging bomber fleet, and is named after the famed Doolittle raid on Japan in World War II. Just as that raid showed that Japan was not untouchable, the new B-21 is intended to be capable of penetrating enemy air defenses anywhere in the world.
Defense Secretary Lloyd Austin III, speaking at the unveiling, said it has a range no other bomber can match, meaning "It won't need to be based in theater."
The U.S. Air Force plans to buy at least 100 copies of the aircraft at roughly $692 million apiece, according to service estimates, although Northrop Grumman notes some analysts say at least twice that number will be needed. Military officials, however, have said the simultaneous development of advanced unmanned aircraft could obviate the need to buy so many.
Collaborative Platform
Gen. Charles Q. Brown, chief of staff of the Air Force, told the Senate Armed Services Committee this spring the service is conducting an ongoing analysis to see whether it needs to buy more B-21s or instead buy other capabilities to complement the fleet.
"In fact, if you look at a crewed and uncrewed collaborative platform that can work very closely with the B-21 … it may not mean necessarily an increased number of B-21s, but it is additional capability to go with the B-21 as well," he said.
Air Force Secretary Frank Kendall has said the B-21 is part of a family of global strike systems that includes manned and unmanned vehicles, the Next Generation Air Dominance family of systems.
"This family-of-systems will include a sixth-generation crewed platform, as well as uncrewed combat aircraft and a cost-effective mix of sensors, weapons, and communications systems," he said in testimony at the same committee hearing where Brown spoke. "Several years of technology maturation have led the Department of the Air Force to conclude that crewed-uncrewed teaming for air dominance and other tactical missions is within reach. The NGAD core crewed platform is funded for development in the fiscal year 2023 budget, and the work to define other elements of this family-of-systems has been initiated.
"The Department of the Air Force is working to determine an affordable family-of-systems that will be associated with the B-21 and include uncrewed combat aircraft with comparable range. Like NGAD, the B-21 is envisioned to operate as part of a more extensive set of systems with significantly more operational performance than the B-21 alone," his testimony said.
Kendall has said elsewhere the service is looking for unmanned systems that cost about half as much as the B-21 or NGAD manned fighter aircraft, according to news reports.
The B-21 and advanced unmanned system team will also include more artificial intelligence, Kendall has said. "The Air Force is investing to accelerate the development of advanced collaborative weapons systems to leverage AI and increase lethality in highly-contested environments. Human-machine teaming will enable Airmen to process massive amounts of data and arrive at sound operational decisions more rapidly and with confidence," he said before the Senate Armed Services Committee.
The B-21 also uses a cloud-based data system, including a "digital twin" map, which Northrop Grumman says will make it easier to maintain and sustain, and has an open architecture so it can be upgraded as needed with new technology or weapons without having to wait for block upgrades.
Northrop Grumman has held the B-21 contract since 2015, and six test aircraft are in various stages of final assembly in Palmdale. The aircraft's first flight is scheduled for 2023.
Warden said the aircraft is "digitally designed, enabled and maintained," and, with rapid technology insertions, "will be the backbone of U.S. air power."
As Austin put it, "this bomber will be able to defend our country with new weapons that haven't even been invented yet."