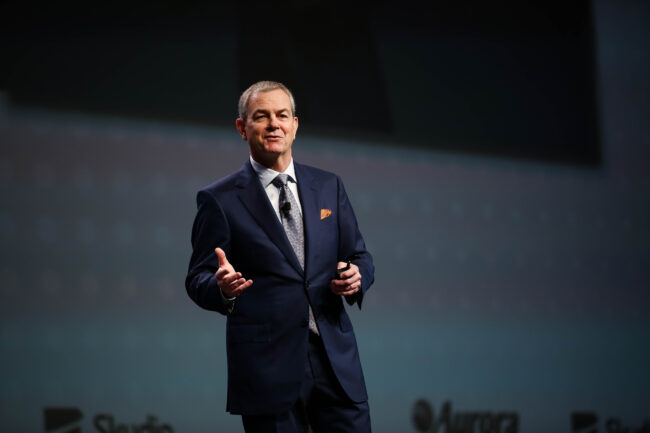 AUVSI's XPONENTIAL annual conference and exhibition this year is focused on one topic, although one that covers a broad range—autonomy.
"We're actually going to be releasing a blueprint for autonomy," AUVSI President and CEO Brian Wynne told Inside Unmanned Systems. "That is a document that has been worked on for about a year now, through our usual committees and it's literally getting its Is dotted and Ts crossed as we speak."
The blueprint, which will be revealed at the show in Denver, from May 8-11, covers the steps industry and government will need to get to autonomous operations to unlock the full potential of unmanned systems.
"It's really important that folks realize that there's a continuum here, and at the end of that continuum is what we're calling autonomy," Wynne said. "Like it or not, that's where we're going. Things have been automating for a long time and you can argue about what does autonomy mean and how to define it. I tend to think of it more as an ideal than a goal. But it's a perfect thing to sort of put up there and say, this is where we're going now, let's break it down into the manageable pieces that can be distinguished and sequenced to get from here to there."
One key step is to have regulations from the FAA. Wynne served on the FAA's BVLOS ARC, the Aviation Rulemaking Committee, which released an extensive series of recommendations more than a year ago, and which are now being considered by the FAA. Asked when the Noticed of Proposed Rulemaking from the FAA might appear, Wynne said it's not likely this year.
"I'm not a betting man when it comes to the FAA, but I'd say probably early next year. And, and it's a little frustrating that I think it's going to be that long…we'd be just fine if they produced an NPRM utilizing the guidance that was provided by the ARC, but not everybody agrees with that," Wynne said. "We'll see where we get to. And that's not obviously the final state using in the process. Last time after an NPRM came out for remote identification, it took years to get to a final rule and then a little while after that to get it implemented."
However, he said, "I have assurances that it is being given the proper level of attention at the FAA."
Pivotal Time
Wynne said it's a pivotal time for the industry, as demand is growing and regulations are nearing.
"The market signals are strong and getting stronger all the time, but capital is not infinitely patient. We have some really good companies out there that are ready to go…it's just, we're not the only ones that are waiting on regulations."
Advanced air mobility, also called urban air mobility—think flying taxis, smaller aircraft that will move people around cities and suburbs—are the next "shiny object," Wynne said, but must be taken in steps.
"I've been laboring to connect the dots, which is why this blueprint for autonomy is so important." The AAM systems will need to be highly automated, "but to get to scale with those things, we need to be comfortable with a lot more automation than we are at this time. "The quickest way to get there is to create safety cases. And the safety cases can be made with much smaller platforms, re drones. And, so the sooner we get BVLOS and we start building serious UTM [unmanned traffic management] systems that are largely automated, if not completely automated over time, the faster we will be able to scale up the operations with larger platforms."
Next Steps
Asked what needs to be done once the FAA's current BEYOND program winds down, Wynne said, "I think we're done with demonstration programs. I hope we're getting done with demonstration programs. The demonstration programs have frankly been very limited."
They have been useful, and have taught companies the steps they need to get waivers to fly BVLOS and conduct other operations, but "I think we've done enough of the demonstrations and we've talked enough about what the principles are in the ARC now. Now I think the next step has to be a regulation where we can fly under regulatory authority."
Even that isn't a final step, Wynne said. "I think getting to a place where we can fly beyond visual line of sight under regulations is frankly in some ways just beginning, because that doesn't guarantee scale. You know what guarantees scale is, I'm going to call it a UTM [unmanned traffic management] system, U Space in Europe, where drones from multiple service providers are able to integrate with one another, and integrate into operations with crewed aircraft. That level of complexity is going to grow over time. That's what I'm talking about when I talk about automation. That's a system that needs to be built in and it can't just be bolted on to our current ATC [air traffic control] system."
On to Europe
Wynne had one other bit of news. AUVSI partnered with Messe Dusseldorf North America (MDNA) last year to co-host the show. This year, Wynne will be announcing a new show with the new partner, namely an XPONENTIAL in Europe starting next fall, with a "full blown trade event show" in 2025, with others beyond that.
"They're helping us both get into vertical markets to help grow the show in the U.S. as well as into other geographic markets," he said of MDNA. "To me it's always about, how do we make it better? How do we energize people to collaborate, to move this whole thing forward?"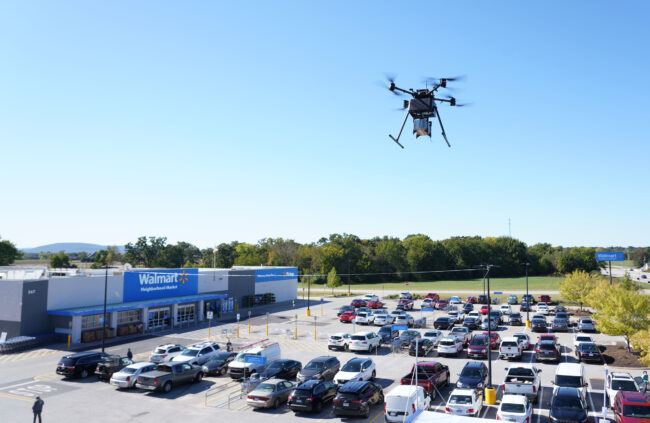 A Roadmap to BVLOS at XPONENTIAL
With autonomy the focus of the show, there will be a strong component of companies displaying and discussing their BVLOS systems and practices. Inside Unmanned Systems has put together a short roadmap for attendees wanting to focus on this critical capability.
Enabling Technologies
Detect and Avoid
Accipiter Radar (Booth 4432). The Orchard Park, N.Y., company provides surveillance systems to detect, track and provide alerts of non-cooperative aircraft for BVLOS operations, such as drone delivery, counter-UAS systems and more.
DroneUp (Booth 4037). DroneUp, based in Virginia Beach, provides services including drone delivery, inspection, commercial real estate work, aerial photography, construction management and more. In 2021, the company received a significant investment from Walmart, and the companies launched Walmart's drone delivery service in Arkansas, which later expanded to other states.
Andy Thurling, DroneUp VP of airspace innovation, will speak on a panel, "Open Sourcing Design and Evaluation of Autonomous Detect and Avoid," on Wednesday, May 10, at 4:30 p.m. in Room 110/112.
Iris Automation (Booth 2039): The Reno, Nevada-based company uses AI-based vision technology systems in its Casia family of detect and avoid systems. Two types of the Casia system are aerial and one is ground based.
Iris Automation CEO Jon Damush will speak on a panel, "BVLOS Pathways Enabled by Autonomous Tech," on Tuesday, May 9, at 3:00 p.m. in Room 104/106.
Outsight (Booth 4427): San Francisco-based Outsight provides software that allows users to incorporate 3D LiDAR data into infrastructure, smart vehicles or industrial applications.
Outsight CEO Cedric Hutchings will present "LiDAR-Based Multi-Sensor Fusion for 3D Situation Awareness," on Tuesday, May 9 at 3:30 p.m. in Room 108.
DAA-Related Presentations
Sightec: CTO Yonathan Samet will present "Visual Situation Awareness—Detect and Avoid Using a Monocular Camera," on Tuesday, May 9 at 3:30 p.m. in Room 110/112.
TTP pld: Vidyha Sridhar, Head of Autonomous Technology, will speak on a panel, "Is Detect and Avoid Possible Without Weighing Down Drones with Expensive Sensors?" on Thursday, May 11 at 12:55 p.m. in Room 110/112.
Unmanned Traffic Management
OneSky (Booth 1808): OneSky, based in Exton, Pennsylvania, is a global unmanned traffic management company developing airspace assessment, operations and traffic management systems.
UTM-Related Presentations
ANRA Technologies, NAVOS Air: Anra CEO Amit Ganjoo and NAVOS Air Technical Director Matt Burton will speak on a panel, "Bridging the Gap Between Airspace Traffic Management and UAS Traffic Management," on Thursday, May 11 at 1:30 p.m. in Room 107/109.
Zipline: Harrison Wolf, head of global aviation policy, will present, "Fast-Tracking the Autonomous Skies: How to Make UTM Work," on Wednesday, May 10, at 2:00 p.m. in Room 103/105.
Autonomous Operations
AeroVironment (Booth 3216): Arlington, Virgnia-based AV provides a variety of unmanned air and ground systems to the military, first responder and other markets, including the Jump 20 and Puma UAS and the Telemax and tEODor ground robots.
Andrew Browning, senior program director for autonomy at AeroVironment, will present "Transitioning from Demo-Focused Autonomy to Operational Autonomy," on Tuesday, May 9, at 4:00 p.m. in Room 107/109.
Charles River Analytics (Booth 4942, MR 7): An employee-owned company, Cambridge, the Massachusetts-based company conducts AI, robotics and human-machine interface research and development to create custom systems.
Arjuna Balasuriya, senior scientist at Charles River Analytics, will present "Challenges and Progress in Behavior-Based Adaptive Autonomy," on Tuesday, May 9, at 2:30 p.m. in Room 110/112.
Autonomous Operations-Related Presentations
Spleenlab: CEO Stefan Milz will present, "AI for Drone Autonomy," on Wednesday, May 10, at 2:30 p.m. in Room 110/112.
Wing: Nicholas Devereux, manager of policy and government affairs, will present, "What Does Drone Delivery Look Like at Scale?" on Thursday, May 11 at 11:00 a.m. in Room 107/109.
Communications and Control
Sagetech Avionics (Booth 3630): Based in Bingen, Washington, Sagetech provides situational awareness products for manned and unmanned aviation, including transponders and detect and avoid systems, including for small UAS.
uAvionix (Booth 2720): Based in Leesburg, Virginia, uAvionix provides avionics and connectivity systems for manned and unmanned flight operations, including its SkyLine Ecosystem command and control system and pingRID remote identification module.
Communications and Control-Related Presentations
AURA Network Systems: Jim Williams, FAA regulatory affairs director, and William Tolpegin, CEO, present "Unlocking the Potential of Certified BVLOS Operations," on Wednesday, May 10 at 3:30 p.m. in Room 103/105.