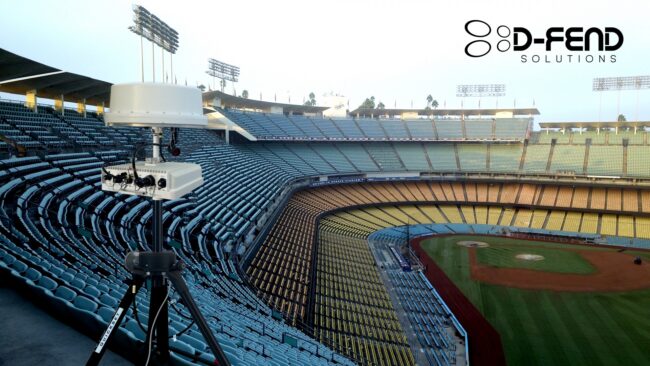 RA'ANANA, Israel and MCLEAN, Virginia—D-Fend Solutions, which provides radio frequency, cyber-based, non-kinetic, non-jamming, counter-drone takeover technology, today announced the release of Version 23.03 of its software for EnforceAir, its flagship product that allows users to take control over hostile drones.
"We're constantly increasing our capabilities in terms of the commercial drones that we detect and mitigate," Jeffrey Starr, D-Fend's chief marketing officer, told Inside Unmanned Systems. "Now we've added 20-plus more additional drones that we have this kind of capability for. We're constantly overcoming more drone threats in terms of greater breadth of commercial drone coverage."
The company said this upgrade continues D-Fend's commitment to frequent software updates to expand threat coverage and extend capabilities.
The C-UAS security system has been upgraded with features that build on its existing award-winning and market-leading capabilities. This includes enhanced core drone takeover capabilities and coverage, enhanced Remote ID functionality, new reporting and analysis features, and upgraded information sharing for the SAPIENT C-UAS standard.
EnforceAir's Version 23.03 provides a comprehensive update to the technology's cyber detection and mitigation methods and capabilities, including the new detection, identification and mitigation capabilities Starr mentioned, as well as strengthened and focused coverage on most popular drones with high threat grades.
"We prioritize drones based on their risk potential, their risk capabilities," Starr said. "Obviously drones that can carry heavy payloads, that can travel long distances, that are more durable and that are popular in terms of their installed base or market share."
The software upgrade also includes Remote ID enhancement, including support for long range detection, identification and tracking of drones and add-on modules that comply with Remote ID standards of the United States, European Union and Japan; and a situational awareness upgrade with seamless merger and data enrichment of Remote ID broadcasted data with other drone information.
The Remote ID data layer now is embedded across all EnforceAir products and configurations, including tactical deployment configuration and networked MSC2 system, with real time display, API and analysis and replay capabilities, the company said.
The update also enhances EnforceAir's data analysis capabilities, including new reporting capabilities to leverage a replay feature, and a New Drone Activity Overview report. Reporting an analysis "has been a big demand and growth area in terms of our functionality," Starr said.
SAPIENT Support
EnforceAir also now supports information sharing with external command and control systems via the Sensing for Asset Protection with Integrated Electronic Network Technology (SAPIENT) standard from the United Kingdom's Ministry of Defence.
Its application programming interface (API) has been updated to share more drone information elements across systems in an integrated defense. Additionally, the system APIs will continue to be periodically updated to ensure effective and holistic data sharing with connected, multi-layered command and control systems.