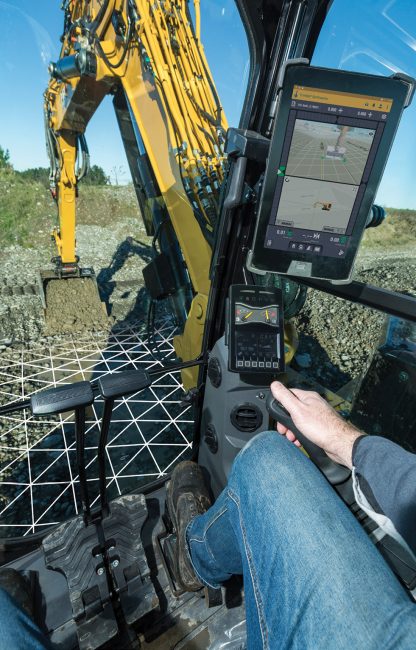 High-quality digital tools for 3D geolocation are helping to unlock the full potential of next-generation transit systems, enabling increased efficiency in all phases of action while improving safety and the end-user experience.
Today's social and technological landscape continues to evolve, with companies undertaking complex and long-running infrastructure and transit projects facing tremendous pressure to deliver on-cost and on-time. Increasingly rapid urbanization, changing environmental and customer demands, and disruptive technologies all require flexibility and quick reaction on the part of transit contractors. Meanwhile, safety and security, throughout design, construction and operational phases remain paramount.
"Complete survey data and building information modeling [BIM] are key technologies that we use to develop accurate digital twins, which in turn underpin infrastructure development and operations," said Nassim Saoud, director EMEA at Trimble Consulting. "Survey data empowers the design phase with accurate 3D context, but also paves the way for the use of autonomous vehicles and other technologies. The combination of BIM and GIS [geographic information system] capabilities allows delivery and operations staff to access the data needed to support all stakeholders, during the design and construction phases, and even beyond into operations and maintenance."
Companies like Pennsylvania-based Bentley Systems help customers create and use digital twins to essentially replicate what's physically out there in the field. Bentley Vice President, Road and Rail Asset Management Dan Vogen said: "Digital twins allow users to immerse themselves in the model, whether it be transit infrastructure or any other physical asset, in a more efficient, safer and less costly way. Because of this, engineers are now able to perform in the office many tasks that traditionally had to be done in the field."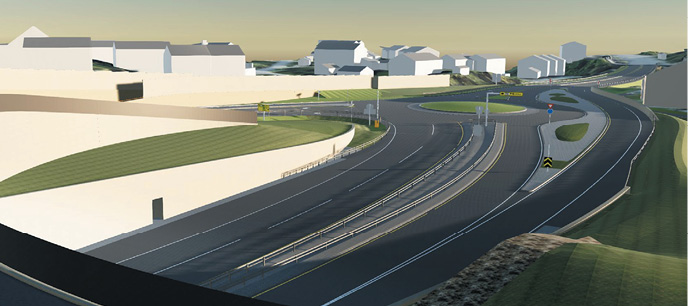 REPRESENTING REALITY
Bentley's digital twin technology is built on Microsoft's Azure platform and can combine engineering data, reality models and inputs from Internet of Things (IoT) connected devices, as well as drones and a variety of instruments. All these components link physical elements in the real world with their digital counterparts, providing a holistic view of assets above and below ground. "One of the biggest advancements is what's known as a 'reality mesh,'" Vogen said, "the visualization for a digital twin that gives yet another dimension to our understanding of the infrastructure and surrounding topography."
As Meg Davis, industry marketing director, roads, added: "Owners and engineers need all their data to be easily available, up to date and shareable. A reality mesh provides more trustworthy data from continuous surveys, photogrammetry, LiDAR and other sensors, and can track changes on a timeline, enabling owners to view the digital representation of the infrastructure asset and related real-world conditions over time."
Reality meshes can be viewed on a computer or tablet, but new tools like the cloud-connected Microsoft HoloLens headset offer a different viewpoint, allowing remotely located users to zoom in, get up close and see every inch of a structure in high resolution. Companies such as Collins Engineers use the HoloLens with software from Bentley Systems to speed infrastructure inspection operations. The HoloLens asset inspection workflow is currently part of Bentley's AssetWise system.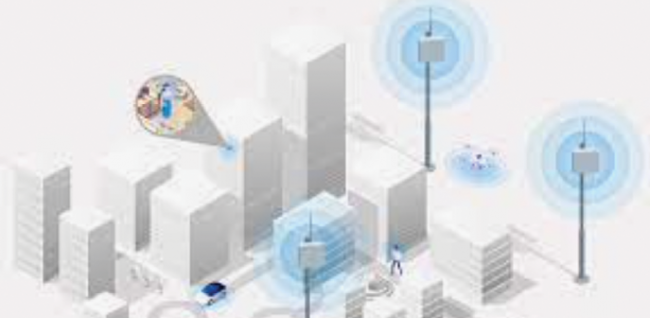 EMERGING TECHNOLOGIES FOR TRANSIT DEVELOPMENT
"New technologies such as augmented reality [AR] and mixed reality [MR] allow agencies and contractors to bridge the digital and the physical worlds," Trimble's Saoud said, "and this gives extra capacity to bring the design data closer to the job site and unveil what, up to now, has not been visible with current displaying technologies." Saoud cited work being done by SNCF, the state-managed railway network in France. "They recently tested augmented reality on their jobsites and were able to see problems and identify specific issues that they would not have seen without this new ability to merge the physical and digital worlds."
Trimble, Sauod said, is doing its part to help customers respond to challenges in new transit system development: "For the construction execution phase, we offer a wide range of field technologies such as machine guidance, surveying, monitoring and other solutions to boost productivity, safety and efficiency. To help transit owners manage their operations, we also offer an array of rail infrastructure, rolling stock and network solutions for life-cycle management of rail transport assets, from operation through maintenance and repair."
Bridging the gap between the physical and digital worlds is what Trimble is all about. "It's in our DNA," Saoud said. "Our solutions have been used for many years to capture data from the physical world. We have built an extensive and comprehensive portfolio to cover the continuum from plan and design to construction and operation. This includes end-to-end, holistic solutions, based on connected hardware, software products and services, through a global network of partners."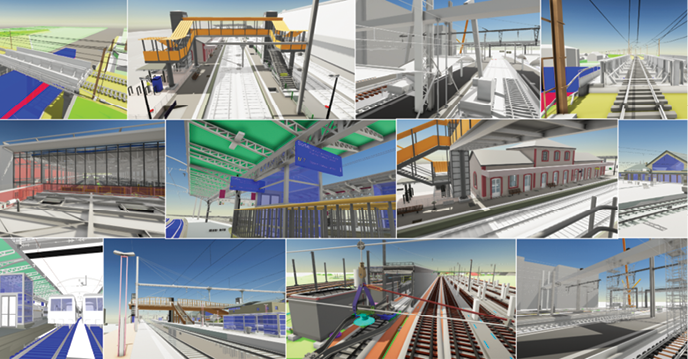 CHANGING TIMES
"Transit is a dynamic sector," Saoud said, "and the various stakeholders in the value chain have become more digitized in the post-COVID world. We have witnessed significant investment across regions in connected transit infrastructure, and, as more governments invest in new transit systems, we see more agencies requiring their contractors and engineers to deliver digital models, to help them better manage key assets throughout their networks."
Meanwhile, population growth and the accompanying growth in demand for mobility represent an additional set of challenges for transit agencies, including the need to build faster. "It took Paris 100 years to build its Metro network," Saoud said. "Now, with the Grand Paris Express extension, they are going to double their scale in just 10 years. The implementation of digital technologies is the only way to enable this rapid growth. Around the world, there are a number of strategic, multi-year infrastructure projects underway, like HS2 [High Speed 2] in the UK, where Trimble is deeply involved with various stakeholders."

NEXT IN NAVIGATION
California-based NextNav, formerly known as Commlabs, was founded in 2007 and immediately took up the challenge of indoor positioning, understanding high-precision performance requirements and ecosystem issues, with an eye toward the economics of the location market. The company is now deploying its urban and indoor positioning service for public safety and commercial applications across the U.S.
Dan Hight, VP of business development and partnerships at NextNav, said: "Pinnacle, which is our service for vertical location, covers over 4,400 cities and towns, as well as 90% of buildings greater than three stories in the United States. The vertical location capabilities we provide continue to be integrated into applications across verticals and will ultimately become critical for consumer services, including navigation, ride-sharing, delivery and in-store pickup for a number of industries. We're excited to continue to bring these capabilities to mass-consumer devices and support more efficient products and services aimed at transit, retail and hospitality operators, among others."
Hight talked about some of the wider challenges for transit: "One that we're trying to solve is updating the technology framework for the development of new transit systems. The foundational technologies that will power these breakthroughs, like location intelligence, need to be a priority across these initiatives. We've all experienced the challenges of GPS, responsible for positioning, navigation and timing, not working well in 'urban canyons,' which is where many of the innovations in transit will be taking place."
Indeed, GNSS technologies, which include GPS, are notoriously unreliable in dense city environments, leaving both aboveground and underground transit systems without basic location services. Accurate positioning data, if it were available, could be used to inform travelers of arrival and departure times, for example, or to provide other notifications and scheduling information. "This kind of data impacts the overall efficiency and safety of consumer mobility," Hight said, "and ultimately future public transportation systems."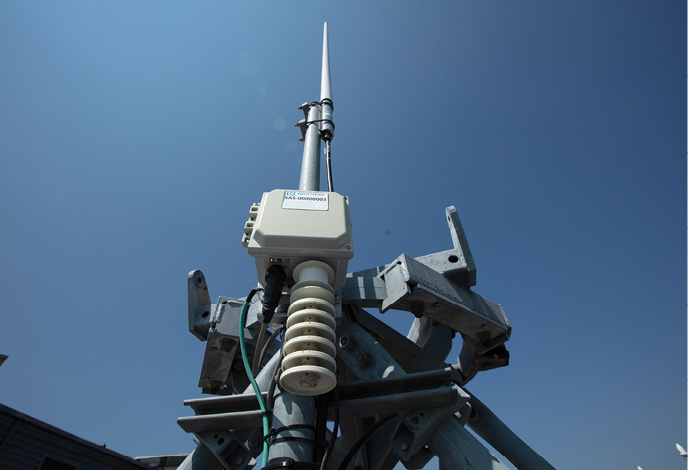 A GREAT TIME FOR SOLUTIONS
"While the innovators continue to invest heavily to build technologies and solutions," Hight continued, "the infrastructure that they'll have to rely on is in need of modernization." With the recent enactment of the Infrastructure Investment and Jobs Act, companies working in the U.S. now have a golden opportunity to get modern geolocation technologies firmly anchored within wider transit networks. "As projects take shape across the country," Hight said, "including efforts to build high-speed rail, urban air mobility and autonomous vehicle systems, there will need to be significant investment in developing and implementing the digital infrastructure that supports these initiatives.
"On the other side of this is the collection of data," Hight said, "which requires the latest sensing solutions. State-of-the-art sensors act as the brains behind these technologies and systems, delivering data to operators to ensure safety, detect maintenance needs, and provide insights into every aspect of functioning and usage. We're already seeing incredible strides in sensing, and in the coming years we'll see these foundational technologies become even more important to the success of our transformative projects. And the thing is, the building blocks—3D geolocation and advanced sensing solutions—are already available on the market today to help enable these innovations."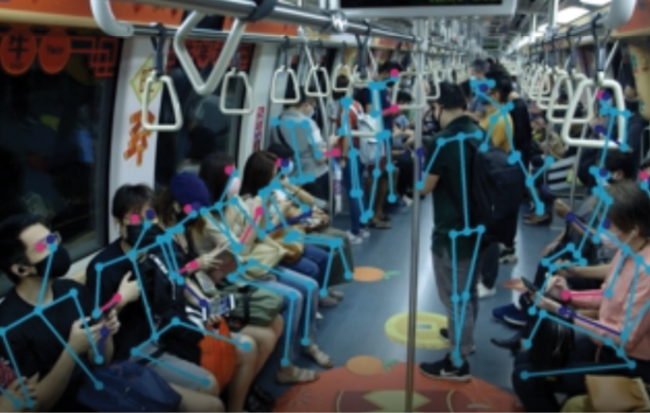 WHY 3D MATTERS
The world is becoming increasingly urbanized, and that means increasingly vertical. Today, nearly 90% of the U.S. population lives in cities, making the vertical dimension more and more relevant in many people's daily lives, especially affecting how they get around (and up and down).
"Just as today's airspace is closely monitored and regulated to ensure the safety of commercial flights," Hight said, "we need to bring the same monitoring capabilities, powered by commercial 3D geolocation solutions, for coming transit systems such as eVTOLs and drone delivery systems. Without 3D geolocation and GPS resiliency, these urban air mobility systems, along with other future transit systems, will remain unable to navigate both ground and air environments safely and efficiently."
One of NextNav's key partners, NASA, has been leveraging the company's TerraPoiNT technology at its Langley Research Center, as a part of the CERTAIN program (City Environment for Range Testing of Autonomous Integrated Navigation), which supports drone and urban air mobility.
Hight said the market for products and services like those provided by NextNav is maturing rapidly, with autonomous technologies in particular taking off in recent years. "Beyond autonomous vehicles, the transportation market has received a surge in investments," he said. "eVTOLs are a really hot topic at the moment, and in the next 5 years we're likely going to see more companies bringing this kind of technology to market, changing transit for cities all over the U.S. and beyond. And as this is happening, both users and providers will continue to demand improved digital infrastructure products."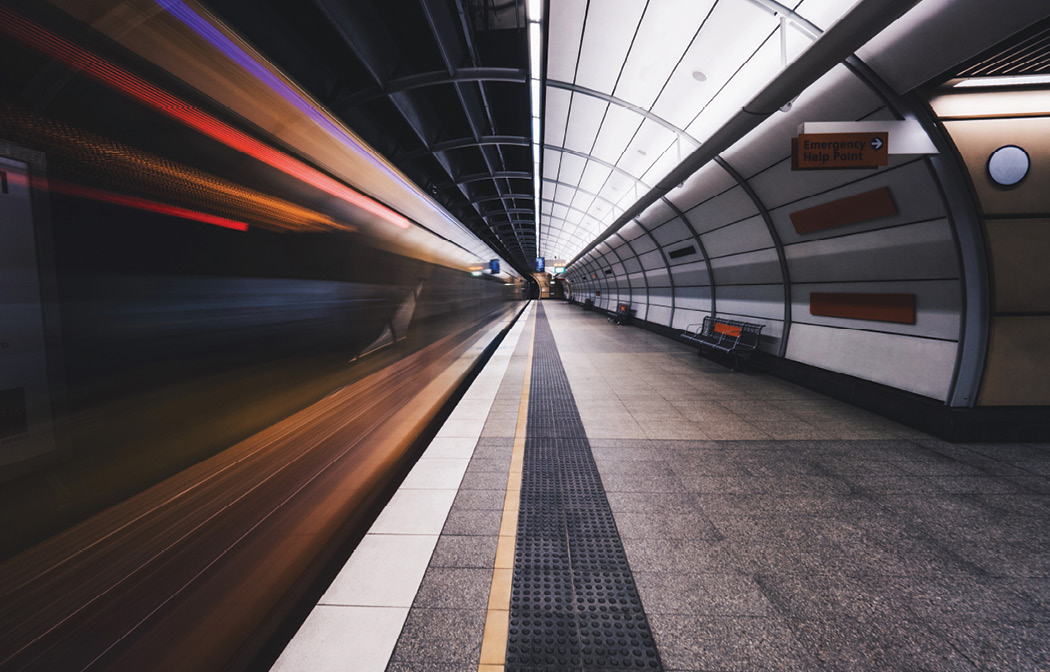 TRAINS WE RIDE
Another company making big waves in the transit sector, particularly in relation to rail transport, is France's Thales. "Today's national, regional and urban transport authorities are dealing with ageing systems, many of which are using technologies more than 20 years old," said Amaury Jourdan, chief technical officer of Thales Ground Transportations Systems. There is an urgent need for seamless upgrading of these systems, without disrupting customer services. There is also a new and growing emphasis on environmental performance, making public transportation "greener," in particular developing further rail usage and connecting to road and micro-mobility solutions, for easy end-to-end journeys. "And we also want to improve the passenger experience," Jourdan said, "offering more safety, comfort and punctuality. Digital technologies can provide answers in all of these areas."
Thales is looking into a number of powerful digital technologies for transit applications. "We are investigating how to use 4G and 5G, Internet of Things technologies for secure connectivity for train and ground communications," Jourdan said, "replacing Wi-Fi for enhanced performance and security. We have already introduced the first communication server, our Media Communication Gateway for urban rail, which is compatible with these technologies, and we are waiting for upcoming standards to address replacement of main line GSM-R [Global System for Mobile Communications–Railways]. We are also interested in modern connectivity solutions such as ultra-wideband and 5G that can be used for accurate positioning, and we are pioneering 'hands-free' fare validation gates."
Thales is innovating in the area of cloud and edge IT, even for safety-critical systems connected with software-defined networks. "This will allow us to centralize control centers," Jourdan said, "overseeing more vehicles and kilometers from a single location, improving efficiency and reducing costs." The company is also investing in data and video analytics and AI, for data-driven operations and maintenance activities.
And the list goes on. "Thales is looking at sensor-based autonomous systems," Jourdan said, "adapted to highly safety-aware, mass public transportation systems, driven by European CENELEC and American AREMA standards. This includes mandatory cybersecurity enforcement, as we are developing connected safety critical systems. We are the first to introduce autonomous positioning, in our Metro Seltrac CBTC [Communication-based Train Control] solution, bringing performance and life-cycle cost benefits by reducing the need for wayside equipment, as well as simplifying significantly the migration from legacy systems compared to standard approaches."
Thales is also prioritizing cybersecurity, with protection and supervision embedded in its digital solution from the design phase. "Both our safety and digital platforms target the highest level of certification," Jourdan said, "and we continue to work on newest technologies such as blockchain for secure transactions, on-line key management for trains and AI applied to cybersecurity supervision."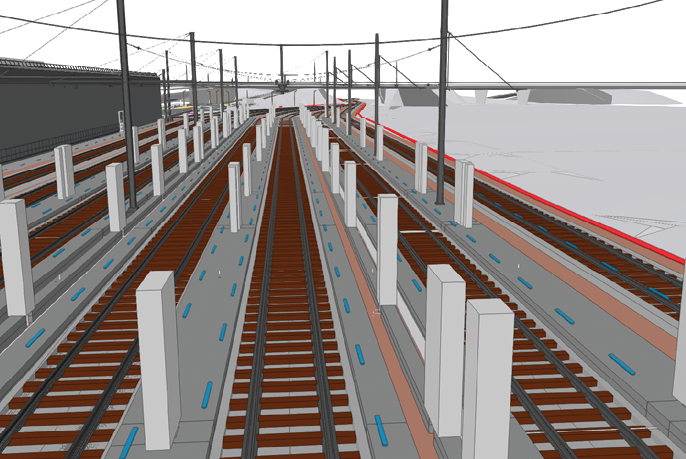 THE BLOCKCHAIN CHANGE
Players in today's transport ticketing market have to respond to emerging and evolving customer needs and expectations. At the same time, these operators are faced with new threats, including cyberthreats. Blockchain technology, which involves lists of records linked together using cryptography, makes it possible to guarantee an unalterable and verifiable sequence of transactions.
Thales' is applying blockchain solutions as a means to store and transmit ticketing but also for other kinds of information without the need for a trusted third party.
"The data is embedded in the blockchain to make it authentic and irrefutable," Jourdan explained. "The data is authentic because the technology effectively certifies that the chain is uninterrupted and that a fraudulent transaction cannot be added."
Secure and virtually incorruptible, blockchain technology is already changing the way digital information is distributed, Jourdan said. "We can use it to help ticketing services improve data integration and the customer experience. This is significant, because it adds value to data solutions by ensuring the transport system is secure on multiple levels. Communication channels, login authentication, the data itself, with signatures applied to batches of transactions and/or a single transaction—all of these levels have to be protected."
THE FUTURE ARRIVES
It is clear sensing location and other digital technologies are becoming increasingly important in the transit arena. They are enabling precise 3D geolocation, digital twin development, and faster and more efficient construction and infrastructure operations, promising to deliver smarter rail transport, eVTOLs, other autonomous vehicles and delivery systems, and, finally, fully integrated smart cities.
Looking to that future, Trimble's Saoud cited important factors that could affect tomorrow's mobility: "Rapid demographic and economic shifts will result in a high pressure to continue to reinvent transit systems. Any significant changes in temperature, climate variation, sea level rises, storms, heavy precipitation will change drastically how transport infrastructure are designed, built and operated. The rise of cloud computing, big data and the IoT will open a new page of more integrated and intermodal transport solutions.
"Transport passengers are getting more demanding about quality, safety, and certainty about being on time and getting real-time information," Saoud added. "We see new business models that are performance- and satisfaction-based that will definitely improve the overall travel experience. Nanotechnologies and new materials will reshape the new generation of vehicles, which will be faster, greener and more comfortable, with new services. And finally, energy is becoming more and more a central focus in the rethinking of transportation.
"In addition to shifting from an old source of energy, the new generation of transport vehicles are becoming more and more autonomous," Saoud said. "Autonomous vehicles can improve safety, efficiency, and may reduce long-term costs. However, accurate data from embedded sensors integrated within transit infrastructure are still going to be crucial for real-time connectivity with autonomous vehicles. Apart from this integration of sensor technology, rigorous monitoring and maintenance operations will also be required as we employ more and more autonomous vehicles."
Major shifts are on the horizon. "Around the world, in the coming decades, innovative technologies will reshape the most fundamental aspects of daily life, in ways both big and small," NextNav's Hight said. "Transit providers will deliver improved services more efficiently, providing accurate and trustworthy information to commuters and travelers, so we can all make better-informed decisions about how to get from here to there."