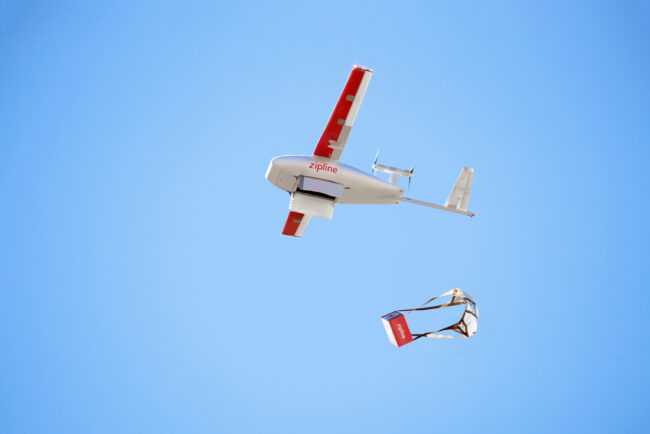 Unmanned aircraft would be allowed to use wireless communications in the 5030-5091 MHz spectrum band and operators would be able to access the aeronautical VHF band to communicate with air traffic control and other aircraft under new rules now receiving public comment.
The Federal Communications Commission proposed the new rules on Jan. 4, noting that UAS primarily use unlicensed and low-power wireless communications, but that won't be enough in the future.
"It is past time that we assess the availability of wireless communications resources for the increasingly important remote-piloted aircraft activity we rely on today," FCC Chair Jessica Rosenworcel said in an FCC release. "The FCC must ensure that our spectrum rules meet the current—and future—spectrum needs of evolving technologies such as unmanned aircraft systems, which can be critical to disaster recovery, first responder rescue efforts, and wildfire management."
Hacking and spoofing of communications signals to drones has become a large concern in recent years, and the rulemaking document notes that's partly due to the type of spectrum the systems are using. Neither of the current spectrum resources "provide the user with any right to protection from harmful interference, and as a result, the reliability of communications using these resources can be uncertain," the document says.
"As UA flights increasingly involve operations with a higher risk profile, such as flights that use large aircraft, carry heavy cargo or human passengers, or travel into the controlled airspace used by commercial passenger aircraft, operators have a growing need for the greater reliability that interference-protected licensed spectrum provides for control-related and other safety-related communications."
The rulemaking notice also ask for comments on whether the FCC's rules for various flexible-use spectrum bands are enough to ensure the coexistence of terrestrial mobile operations and UAS use, or whether changes might be necessary to allow them to operate together. Lastly, the rule proposes a way for UAS operators to obtain a license in the aeronautical VHF band to talk with air traffic control and other aircraft without harming the integrity of the band.
The rule doesn't seek to make all UAS communications occur only in that spectrum band. "Rather, through this proceeding, we seek to provide UAS operators with access to an additional spectrum resource that may complement other spectrum resources that are currently available or in development," the document says.
Many Questions
The rule asks for industry and stakeholder input on a variety of other questions as well. The rulemaking proposes to partition the band, dedicating different segments to line-of-sight operations and beyond-line-of-sight operations, which it describes as Non-Networked Access (NNA) and Network-Supported Service (NSS), respectively.
"To accommodate both NNA and NSS in the 5030-5091 MHz band, we propose to partition the band, to dedicate different segments of spectrum in the band for each use case, and to license each of these segments in a manner that is appropriate to support the relevant use cases," the rulemaking document says.
But how should that partitioning work? The rule proposes to dedicate at least 10 megahertz of spectrum for NNA operations, which is supported by the Aerospace Industries Association, which had lobbied for the spectrum allocation rulemaking. The FCC wants input on how that partition should work: 5 megahertz blocks on either end of the band, or somewhere in the middle? And, how much of the band should be reserved for NSS operations?
The chipmaker Qualcomm recommended the FCC allocate 20 megahertz for direct drone-to-drone communications, including communications between the aircraft to facilitate detect and avoid operations and to broadcast Remote ID information. The FCC has asked for comments on this proposal and on whether that much spectrum is required.
Speaking last week at CES 2023, Harrison Wolf, director of global aviation policy for drone delivery company Zipline, said UAS-to-UAS communication will be critical in establishing routine beyond line of visual sight flights; he identified it as one of the top requirements for regular drone delivery, along with sense and avoid technology and unmanned traffic management, or UTM.
It is "extremely challenging, extremely system dependent, and requiring spectrum allocation from the federal government," he said in a panel discussion on drone delivery. "We just saw the FCC issuing some spectrum rulemaking announcements … those are the types of things that we need more of, and it's only going to get harder from here, but once we get to the other side and have aircraft communicating with each other, with infrastructure through a common language, when we have aircraft that can understand the environment directly around them and make decisions … [along with UTM], then we'll have drones at scale all over."
Those are among the many questions sought by the FCC. The rulemaking comment period is open for 30 days from Jan. 4, with another 60 days for responses to comments.
FCC Commissioner Geoffrey Starks, in a statement appended to the proposed rulemaking document, said, "I'm pleased to see us move toward unleashing more spectrum for unmanned aircraft systems (UAS). As I've said before, this is an area where the United States can clearly lead with the right regulatory support."